Chepstow school have gone through to the national finals of the ECF Team Challenge, after winning the West Country Region. At this event, held at Bristol Grammar on the evening on Monday 5 February, Chepstow A scored 12 points out of a possible 16, just half a point ahead of Sir Thomas Rich's and Churchill Academy.
Going into the final round of this teams-of-four event, played with a time control of 10 minutes plus 5 seconds per move, Chepstow A (David McIntosh, Madeleine Smith, George Smith and Rachel McIntosh), were 1.5 points adrift of Churchill. However, a 3-1 victory in this match saw them win the competition.
Chepstow B-team, ravaged by illnesses to Harrison Postans and Neil Stevenson, still managed a very creditable sixth place in this event involving 11 teams.
The finals will be played at Imperial College on Wednesday 29 April.
Chepstow A, winners of the West Country Region of the ECF Team Challenge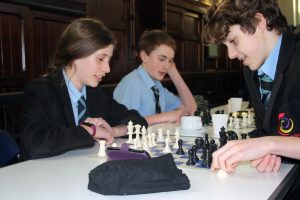 Sam Goodfellow, board one for the B-team, playing a practice game against Madeleine Smith