At the 2018 South Wales and West-of-England jamboree, held at Chepstow School on Saturday 13 January, Glamorgan won the under 9s and under 11s sections. In the under 14s they finished third, behind Gwent and winners Somerset.
The closest finish came in the under 9s, where Glamorgan scored 29.5 points, just 0.5 points ahead of Somerset. Gwent, the only other team in that section that played four rounds, and involved teams of 12, came third with 13.5 points.
Glamorgan were clear winners in the under 11s, netting 37.5 points in this three round, teams of 16 contest. Devon came third on 21.5, Somerset third with 20, and Gwent came last with 17.
Somerset won the under 14s with a very impressive 26.5 points out of a possible 30. Gwent were second with 17, Glamorgan third with 9.5, while Devon netted 7.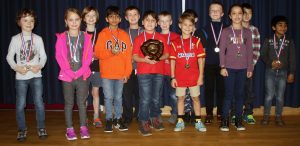 Glamorgan won the Under 9s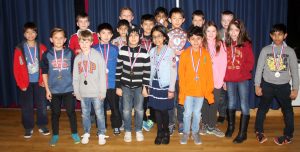 Glamorgan won the under 11s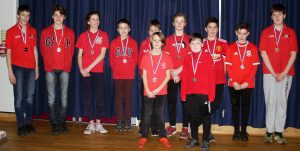 Gwent came second in the under 14s