Making their debut in the 2017 Millfield International, Chepstow School came second in the Major section, just behind Torquay Grammar School for Boys.
Many players put in great performances, with board prizes for Neil Stevenson, Harrison Postans, Steffan Griffiths and Jacob Wynn, playing on boards 3, 7, 8 and 11, respectively, in this teams-of-twelve competition. In addition, Steffan netted the Under 12 prize. Strong performances also came from Madeleine Smith, George Smith, Rachel McIntosh and Sam Goodfellow, all scoring 4/5. Additional contributions to the success of the team came from captain David McIntosh, netting wins on board one against very strong opposition, and victories for Nathan Bridel, Thomas Davies  and Finlay Coleman.
Chepstow also put in a creditable performance in the Exchange tournament on Saturday night. Neil and Madeleine scored 5/10, while George – pairing up with Millfield and Welsh International Caspian Fowler – went one better, managing 6/10.
In the Championship section, RGS Guildford started as firm favourites, having won the ECF Under 19 Open this summer, and comfortably winning the Eton Rapidplay, where they thumped last year's winners, Gonzaga College, Dublin, 6-0.
In the first two rounds, used to determine placement in either the Championship or Major, RGS got off to a great start, scoring a perfect 12 in round 1, followed by 10.5 in round 2. They then led after round 1 of the Championship, but a slip up in round 2, scoring just 50 percent, revealed they were not invincible. From then on it was a two-horse race between them and Gonzaga. While RGS won the individual contests 7-5 in the five-round jamboree, Gonzaga emerged victorious, making it four Internationals in a row. RGS will lose many players next year, while Gonzaga sees just one depart, so Dublin's finest appear to be well set to break new ground and be the first team to win the International five times in succession.
Gonzaga brought two teams, with its B-team coming last in the Championship section. Three other schools from Dublin also made the trip – Coláiste Éanna (two teams), St Benildus College, and St. Andrews – offering more than a hint of why Ireland are such strong contenders in the Glorney-Gilbert.
The Chepstow team received a very warm welcome from all those at Millfield, and really enjoyed their time there. All would agree that the reputation of the Millfield International as the best competition for secondary school chess is well deserved.
Tournament Director GM Matthew Turner is keen to encourage new teams to enter the Millfield International in 2018. He fully understands that some schools may struggle to field a team of twelve, but is willing to combine entries from two schools into one team. He would also welcome an increase in the number of girls involved in the event.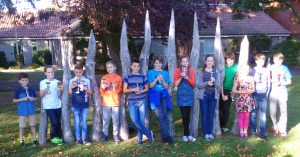 The Chepstow team on Sunday: David McIntosh, Madeleine Smith, Neil Stevenson, George Smith, Rachel McIntosh, Sam Goodfellow,
Harrison Postans, Steffan Griffiths, Gabby Watkins, Lewis Wynn, Jacob Wynn, and Finlay Coleman
(on Saturday Nathan Bridel played in place of Gabby Watkins, and Thomas Davies in place of Lewis Wynn)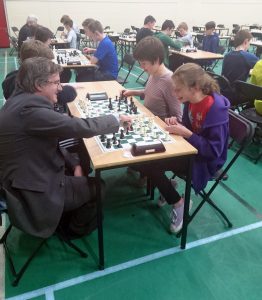 Madeleine Smith facing GM Matthew Turner in the Exchange Tournament on Saturday night.
Her partner, Neil Stevenson, aimed to play really fast, securing the win before Matthew could do any damage.
But it was not to be, with tripled pawns helping to trap his Queen!