Wales at the European National Chess Team Championships – Catez, Slovenia November 11th 2021 – November 22nd 2021 – Jason Garcia
In the current Covid-19 world holding over the board competitions, which are considered safe for chess players, is harder than it has ever been. When the European Chess Union announced this year's National Team Championships would take place in Catez, Slovenia it was a high risk decision with a possibility that such a large scale event would never finish due to Covid-19 infections occurring. This certainly was a factor when the WCU contacted players asking about their availability. After several communications with individuals we did manage to get enough players for a squad of 4 with those players being Grzegorz Toczek, Tim Kett, Allan Pleasants and Jason Garcia.
This was however far from the end of the challenges we faced just to arrive at the event. Firstly British Airways were kind enough to cancel the flights we had booked to and from Zagreb and this resulted in us having to rebook flights which meant travelling to Zagreb via a stop over in Amsterdam. Unfortunately, with limited funds, the WCU was unable to fund the accommodation and flight costs for this event which meant individual players had to pay the additional costs of these rebooked flights. We all knew that we would have to undergo a Covid-19 PCR test within 72 hours of arriving in Zagreb and this added a great deal of uncertainty to our attendance. This risk came to fruition a few days before we were due to travel when unfortunately Tim's son tested positive for Covid-19. This meant that Tim had to withdraw from the squad which was a massive blow to us all.
We were now only 5 days from travelling and we didn't have a full squad. A further email was sent to a large group of players and thankfully two further players, Lee Davis and John Weatherlake expressed an interest in playing. It was then decided that we should travel with a squad of 5 as this would give us some contingency in the event of someone being unwell. It was great to have both Lee and John join the squad.
The next couple of days involved sorting out the logistical challenges of getting both Lee and John to Slovenia as there were no available seats on the flights Greg, Allan and I were booked on. It also meant that John had to stay in a different hotel in Slovenia to the rest of the team which was unfortunate. We all booked our PCR tests for the Tuesday before we travelled hoping these would be a formality. I could not have been more wrong. Unfortunately, John had Covid-19 a few weeks before the event and his PCR test came back positive. This meant up until a few hours before we left we did not know if John would be able to travel. Thankfully the medical advice we received confirmed that John was always going to have a positive PCR test due to him previously having Covid-19. He took the high risk decision to travel to Slovenia knowing like the rest of us that if we had a positive Lateral Flow test result when he arrived he would have to self isolate for the period of the tournament.
We left for Slovenia at 2am on Thursday 11th November and after an 18 hour trip arrived at the complex in Slovenia at 8pm that evening. We than had the nervous wait for our Lateral Flow test results and thankfully the whole squad and a very relieved John had negative test results. It was only at this point could I finally relax and believe we would actually play in this event.
I attended the captain's technical team meeting that night and it was somewhat frustrating to find out that there were 39 teams in the event. This is something that the European Chess Union need to resolve as they had allowed a second Slovenian team to enter which meant 1 country would be given a bye in each round. In my view such prestigious events should ensure there are an even number of teams to avoid this situation. We were by far the lowest rated team in the event with an average squad rating of 2074. Of the 39 Countries playing 33 had average ratings for their squad of over 2400. This is by far the strongest team event in the world and many of the world's top players were representing their countries. As a result of us being the lowest rated country we were given the bye in the first round. This was actually quite funny because for 24 hours it meant as shown in the picture below we were actually leading the event.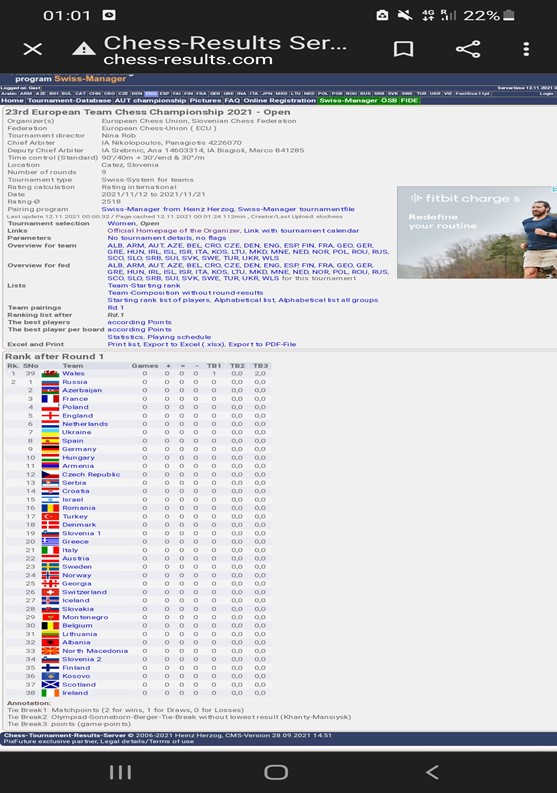 The one positive from having a bye in the first round was that we had 24 hours to recover from the long journey from UK to Slovenia. The complex in Catez was about 2 miles from the town of Brezice and had three hotels each with an indoor water park and it was great to relax in these facilities when we could.
Our first match was on Saturday 13th November 2021 and we were amazed to be paired with the Netherlands who were ranked 6 in the event. This was an absolute honour to play a team which included the current world number 6 and 37 Anish Giri and Jorden Van Foreest as well as two other grandmasters. John rested from this match and it was Grzeg's, Lee's and Jason's debut for Wales in an over the board event. Unsurprisingly despite our best efforts we all lost our games to these professional players.
Round 3 involved us being paired with the Albanian team who had 4 International Masters included. It was Lee's turn to miss this match and John was making his debut for Wales. We came so close to drawing this match. Greg had a fantastic win against his IM opponent and after 17 losses in a row Allan enjoyed his first draw in this event. Both John and Jas battled really hard but unfortunately both lost so the final score was a 2.5 to 1.5 defeat.
In round 4 we were paired with the Slovenian 2nd team which had 1 IM and 3 FM's. Jason rested from this match. Allan had another great draw against his strong opponent and the other games were hard battles but ended in defeats. A 3.5 to 0.5 loss resulted.
You would think after losing 3 matches we would have weaker opposition but in round 5 we were paired with Iceland who had 4 grandmasters in their team. Allan took a break in this game. This just showed the standard of this event and unfortunately we all lost our games.
Day 6 was a rest day and Allan, Lee and Jason went on a walk into Brezice and took a tour of the Castle. Unfortunately, both Grzeg and John had to work during this day. We were all required to have another Covid test which thankfully all came back negative. However one player did get a positive result and had to self isolate for the remainder of the tournament.
Round 6 involved a CELTIC battle with Scotland whose team had an IM, FM and CM. Grzeg had a fantastic win in his game and both Allan and Jas drew hard games against their CM and IM opponents. This meant for the first time in over 10 years in this event that Wales had drawn a match and we were delighted with this result.
In round 7 we were paired with Ireland and this was possibly our worse performance of the week. Lee rested from this match but despite our best efforts we all lost. John had to leave for the UK after round 7 as he was committed to playing in the 4NCL that weekend.
In round 8 we were paired with Kosovo who had an IM and two FM's in their team. We were so close to getting a draw from this match with Allan Pleasants having a fantastic win against his FM opponent and Jason drawing with his FM opponent. Unfortunately we lost the other boards after long battles. After this match, Allan Pleasants had 2.5 points out of 6 matches. I spoke with the arbiters who confirmed that if Allan won his last round match he would be awarded a Candidate Master title.
In the last round we were paired with a strong Belguim team who had 2 GM's and 2 IM's in their team. We tried as hard as we could in these matches but all eventually lost. This was such a shame for Allan with the Candidate Master title at stake.
Despite the challenges of playing such strong players all week I could not fault the resilience shown by the entire squad and how motivated they all remained during such challenging games. We did end up as expected finish 39th but we were very competitive in at least 3 games. The men's event could not have been closer as it was eventually won on tie break by Ukraine with France second and Poland third. Surprisingly, the number 1 seeds Russia finished outside the top three. The scale of this event was summed up for me by the Slovenian President turning up for the prize giving ceremony. Despite the challenges of playing at this level of chess we all found the event incredibly motivational and it was a great honour to represent our country.
Thankfully we had an uneventful journey home despite waiting an hour and a half for my car to be brought to us at Heathrow Airport and all had negative Covid-19 test results upon our return.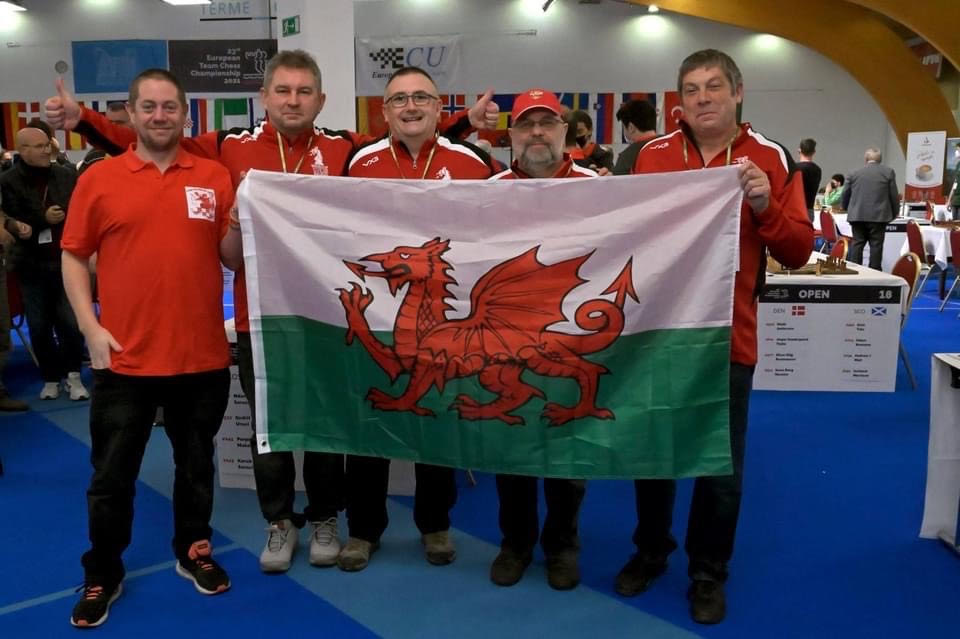 Thanks for reading
Jason Garcia – Captain Wales European National Team Championship 2021
A video of the event compiled by Grzegorz Toczek can be viewed here.
The Closing Ceremony can be viewed here.