The Welsh Chess Union would like to wish Fred Clough a Very Happy 90th Birthday.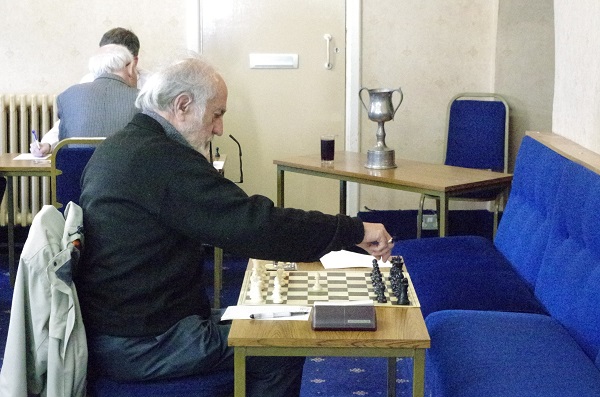 Fred played chess for many years for the Swansea University, Swansea and even longer for the Upper Killay club. He is still very active, playing over the board chess for Penrith, where he now lives, and is still also playing correspondence chess. Fred has recently celebrated his 60th wedding Anniversary to Mair, with his family. Fred started playing chess in the 1950s.
In 1959, Fred qualified and played in the British Chess Championship; in the first round, Fred played Leonard Barden who was the then British champion. In a very long game where Fred was punishing Barden, Barden just managed to hold a draw in an ending with Fred two pawns up.
B H Wood in his chess column wrote:
"One shouldn't be too harsh on Fred here; he outplayed a British champion"
Fred also played EG Sergeant in this event. Seargent actually played Steinitz, and others, such as Rubinstein. On the English chess forum they explain that Morphy would be a M1, Sergeant a M2, and Fred Clough a M3, so that anyone that has played Fred, would be a M4. There are a lot of M4 players in Wales that have played Fred.
Fred is known to be a chess Gambiteer through and through…
After researching Fred's Chess career, International Master Gary Lane had so much respect for Fred that in his Chess Café Column he called him "Mr Clough".
Gary wrote about Fred in his Opening Lanes column:
I have to applaud Mr. Clough for his sterling work in promoting the gambit with his own correspondence games and I thank him for sending on so much information.
Over recent years Fred has had many Gambit articles published over recent years especially on The Portsmouth Gambit and French Defence. He has even named one line The Swansea Variation.
Happy 90th Birthday Fred.
An example of his games is available here.