At the second week-end of the junior 4NCL 2017/2018 season, held in Telford, one of the three Welsh Dragons teams won the second division. Welsh Dragons Green – Merlin Davies, Ellison Smith, Sam Goodfellow, Ben Jaberansari and Tom Davies – netted nine match points, one more than second-placed Barnet Knights 2.
Commiserations to Welsh Dragons blue, who played their Green cousins in the final round. The result of the match remained in doubt for considerable time, until Sam Goodfellow swindled his opponent with a nifty rook-and-pawn checkmate.
Further success came in division one, where a strong performance in the final round propelled Welsh Dragons Red up the leaderboard to fourth place out of the ten teams in that section.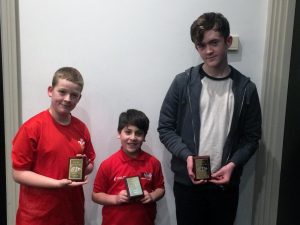 Merlin Davies, Ellison Smith and Ben Jaberansari played for Welsh Dragons Blue, winners of the second division at the junior 4NCL.
Team mates Sam Goodfellow and Tom Davies, not pictured, played their part in this success.