As the restrictions in England has been lifted the over the board Junior 4NCL has commenced in England. Laetitia Davies has been looking after the Welsh Dragons teams together with some help from myself.
Weekend 1:
The 1st weekend took place at the Woodlland Grange, Leamington Spa from 24th to 26th of September 2021. Wales were represented with 2 teams. Team A played in div 1 and found it very tough coming back to OTB chess. They finished at a very low position of 9th out of 10 teams with 3 points. We only manged to make the required grades and were the lowest rated team in the division. The players in no playing order were Yuxuan Wu 3 points, Edward Swartz 0.5 points, Joe Conway-Lees who was a borrowed player from Staffodshire 1 point, Ben Jaberansari 1 point, Milo Davies 3.5 points.
The B team played in div 2 where the players did perform much better than the A team. They finished 6th in the table out of 12 teams with 5 match points, 1 point behind the 3rd place team. The players again in no playing order were Tom Davies 3 points, Oliver Sapsford 3 points, Ethan Challoner 3 points and Louise Davies who shared the last board with another English player.
Weekend 2: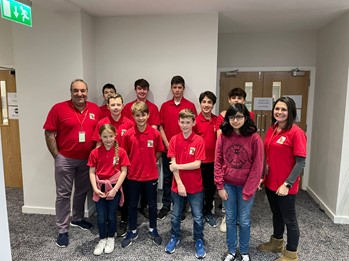 Players taken part on weekend 2: Benjamin Jaberansari, Louise Davies, Tom Davies, Milo Davies, Bence Szakmany, Joe Conway- Lees, Oliver Sapsford, Khushi Bagga, Will Roberts, Joseph Roberts
The 2nd weekend took place this weekend the 5th and 6th of January at the Holiday inn South Normanton. Once again, we had two teams which took part, one in each division. Both teams performed much better than the 1st weekend improving both in their game and match scores.
Welsh Dragons Green played in div one which consisted of 14 teams. The Welsh dragons team finished 11th with 4 match points. The players were Bence Szakmany 1 point, Joe Conway Lees (Eng) 2.5points, Milo Davies 2 points Tom Davies 3 points.
Welsh Dragons Red played in div 2 and manged to finish 5th out of 10 teams with 5 match points. In the process they only lost one match. The players were Oliver Sapsford 4 points, Ben Jaberansari 3 points, Khushi Bagga 1.5 points, Will Roberts 3 points. Joseph Roberts and Louie Davies also completed in all the reserve games to gain the much-needed experience.
Weekend 3 will be taking place in April 2022.