At the Cardiff Stadium event, held on Tuesday 28 November, St John's College Cardiff took top spot, winning all five of their matches by a comfortable margin. Rhydypenau came second in division one, and the winners for the previous three years, The Dell, came third.
In the second division, St Joseph's from Swansea emerged victorious, winning all five matches. Three teams managed to win four of their five matches. Superior game points gave St Mary's Merthyr second, Caedraw third and Roath Park, just one point behind them, fourth.
With 18 teams competing in division one, and another 26 in division two, the event led to around 500 children playing chess at the Stadium.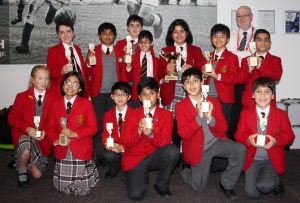 St John's, led by Hiya Ray, won the first division.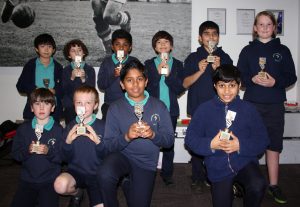 Rhydypenau, footing the division one table last year, have made great strides in the last twelve months. They placed second in 2017.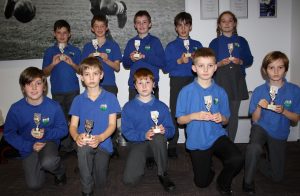 The Dell of Chepstow came third this year, giving them a top three finish for five years in a row.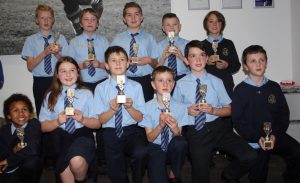 St Joseph's of Swansea won the second division with five wins out of five.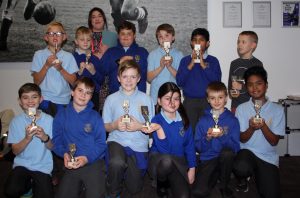 St Mary's of Merthyr came second in division two.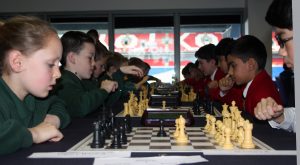 | | | | |
| --- | --- | --- | --- |
| | Division one | Match Points | Game Points |
| 1 | St John's A | 5 | 90 |
| 2 | Rhydypenau A | 4 | 68 |
| 3 | The Dell A | 4 | 60 |
| 4 | The Grange A | 3 | 68 |
| 5 | Melin Gruffydd | 3 | 61 |
| 6 | Whitchurch A | 3 | 54 |
| 7 | Ysgol y Wern A | 3 | 43 |
| 8 | Birchgrove | 3 | 39 |
| 9 | Sketty | 2.5 | 54 |
| 10 | City of Llandaff | 2.5 | 41 |
| 11 | Peterston-S-Ely A | 2 | 50 |
| 12 | The Cathedral | 2 | 46 |
| 13 | Ton y Ywen A | 2 | 45 |
| 14 | The Grange B | 2 | 45 |
| 15 | Peterlea | 2 | 44 |
| 16 | Cwrt Rawlin | 1 | 32 |
| 17 | Howells | 1 | 29 |
| 18 | YGC | 0 | 31 |
| | | | |
| | | | |
| | Division two | Match Points | Game Points |
| 1 | St Joseph's | 5 | 79 |
| 2 | St Mary's Merthyr | 4 | 71 |
| 3 | Caedraw | 4 | 62 |
| 4 | Roath Park | 4 | 61 |
| 5 | Peterston-S-Ely B | 3 | 61 |
| 6 | Cyfarthfa Park | 3 | 57 |
| 7 | Rhydypenau B | 3 | 55 |
| 8 | Whitchurch B | 3 | 52 |
| 9 | Evenlode | 3 | 52 |
| 10 | King's Gloucester | 3 | 52 |
| 11 | Shirenewton | 3 | 47 |
| 13 | Ysgol y Wern B | 2½ | 60 |
| 12 | Inglefield | 2½ | 50 |
| 14 | Duffryn y Glower | 2½ | 47 |
| 15 | Ysgol y Wern C | 2½ | 45 |
| 16 | The Dell B | 2 | 53 |
| 17 | Ton-y-Ywen B | 2 | 50 |
| 18 | Gellifaelog | 2 | 50 |
| 19 | King's Monkton | 2 | 48 |
| 20 | Gwaunfarren | 2 | 42 |
| 21 | Rhydypenau C | 2 | 39 |
| 22 | St Mary's Canton | 1½ | 41 |
| 23 | Grangetown | 1½ | 33 |
| 24 | Whitchurch C | 1 | 28 |
| 25 | Gwaelod y Garth | ½ | 36 |
| 26 | Thornwell | ½ | 29 |