The change of venue for the Girls' Championships from its long-time home at Inglefield House in Monmouth to my home town Caerphilly meant I could have an extra hour in bed!!  Sadly we seemed to lose the Inglefield girls, but there was a good turn out with a few girls coming down from North Wales, as well as players from Gwent and West Wales along with the more local entry.
There was the usual problem of players turning up minutes before the start time wanting to be entered.  Fortunately this year it didn't affect much how I had planned to run the different age groups, so we had a 6 player all-play-all in the U8s, a 7 player all-play-all in the U9s, a 15 player 7 round Swiss in the U10s and a 13 player Swiss for the older age groups, consisting of 2 U14s, 4 U12s and 7 U11s.
Vivien Townsend who has played tournaments regularly this year and has clearly benefitted from doing so, went undefeated in the U8s and beat the highest rated player Amelie Caesar.  But dropping draws to two other players allowed Amelie to catch her by winning all her other games, and the two were joint champions.
In the U9s, Amelie's sister Isabella finished a point and a half clear of the others with 6/6.  Tatjana Guth showed promise finishing 2nd with 4½, losing only to Isabella, with Bryony Boyce 3rd a point behind.  These three have all played events previously and it clearly helps.
Ashika Shahameeran was rated more than 200 points higher than her nearest rivals in the U10s and romped to 7/7 though she was made to work in a couple of games.  2nd was Lyla Taylor who had travelled all the way from North Wales.  Lyla reached 5 ½ being beaten only by Ashika.  The second and third seeds Lara Omidvar and Nia Rathkey came up against each other in the last round.  Lara had been playing catch-up after losing unexpectedly in round 1, with both also losing to Ashika.  A hard fought draw meant a share of 3rd place.
The combined older age group event was so evenly contested in its different parts that 11 of the 13 players went home with a trophy.  Susanna Fraser and Madeleine Smith (U14) and Hiya Ray (U12) were all 500 points ahead of the next group, Ella Toner (U12), Gaby Watkins and Alice Potter (U11) with a 300 point gap to the remainder.
Mads beat Hiya in Round 3, Susanna beat Mads in Round 4 – a game which left a large group of spectators bursting into applause at the finish, and Hiya beat Susanna in Round 5.  But Ella Toner caused a big upset by drawing with Mads in Round 6, which meant both players came 2nd in their respective age groups, behind the U14 winner Susanna and the U12 winner Hiya.   Dilusha Fernando recovered from a default – through a misunderstanding about the round times, and took 3rd in the U12s.  Gaby Watkins reached 4 points and 1st place in the U11s losing only to Hiya, Susanna and Mads, and she was joined in 1st place by Kirby Paul from Caerphilly who has only previously played in 'Starters' events.  Kirby was joined by two of her classmates Alice Todd and Mili Lewis in joint 3rd along with two others Anya Sinha and Alice Potter who had been unlucky with the pairings playing players in positions 1,2,3,4 and 6 on the way to her 3/7.
Apart from a few problems, mostly to do with the younger ones not having much idea how to finish games off, the event as a whole seemed to go well.  I would like to thank Kevin Staveley for setting things up (locally!) and helping me cope with the very late entries, also George Smith (deputy arbiter) and all the parents for being very supportive and without which we would not have had such a successful day.
Trophy winners:-
U8   1st= Vivien Townsend and Amelie Caesar 4/5  3rd= Elinor Burke and Gwennan Evans 2.5/5
U9   1st Isabella Caesar 6/6  2nd Tatjana Guth 4.5   3rd Bryony Boyce  3.5
U10  1st Ashika Shahameeran 7/7  2nd  Lyla Taylor 5.5/7  3rd = Lara Omidvar, Nia Rathkey 4,5
U11/U12/U14 played as one combined tournament
U11  1st= Kirby Paul and Gaby Watkins 4/7  3rd= Alice Potter, Anya Sinha, Alice Todd, Mili Lewis 3
U12  1st Hiya Ray 6/7, 2nd Ella Toner 4.5/7, 3rd Dilusha Fernando 3/7
U14  1st Susanna Fraser 6/7 2nd Madeleine Smith 5.5/7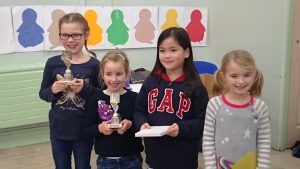 U8   1st= Vivien Townsend and Amelie Caesar 4/5 
3rd= Elinor Burke and Gwennan Evans 2.5/5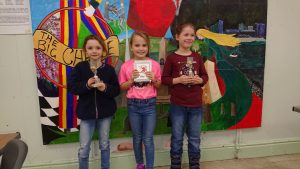 U9   1st Isabella Caesar 6/6  2nd Tatjana Guth 4.5   3rd Bryony Boyce  3.5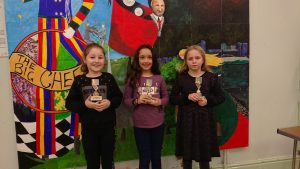 U10  1st Ashika Shahameeran 7/7 (not pictured) 
2nd  Lyla Taylor 5.5/7  3rd = Lara Omidvar, Nia Rathkey 4.5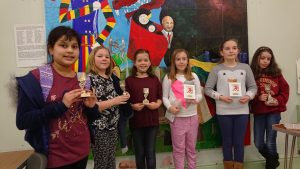 1st= Kirby Paul and Gaby Watkins 4/7 
3rd= Alice Potter, Anya Sinha, Alice Todd, Mili Lewis 3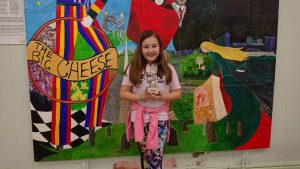 U12  1st Hiya Ray 6/7(not pictured) , 2nd Ella Toner 4.5/7,
3rd Dilusha Fernando 3/7 (not pictured)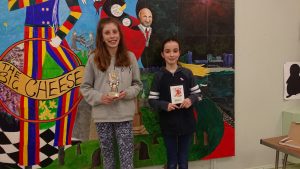 U14  1st Susanna Fraser 6/7 2nd Madeleine Smith 5.5/7