Abedare was built on coal from the 1840s onwards and the membership of the early Aberdare chess clubs reflected that.
The first we hear of a club in the area is in relation to the annual Cardiff soiree held in February 1870. Members of Aberdare chess club promised to attend though there is no indication that they did so.
Much later, in October 1886, a club was formed in the town with William Dundas Wight being elected President and a committee consisting of D. P. Davies JP (landowner), Rees Williams (registrar county court) and George Abraham (bank manager). The man acting as both secretary and treasurer was T. Evans Griffiths (bank cashier). The club met every Monday at 7 p.m. and its home from the start was the Black Lion Hotel.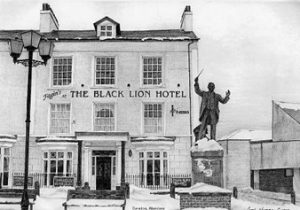 The President was probably the strongest player ever to play for this early Aberdare club. Born in Sunderland in 1851, William Dundas Wight, moved to South Wales in 1875 where he was employed by the Cwmamman Colliery until 1889. He then became chief agent for Cory Brothers. He was regarded as one of the leading mine engineers in South Wales. His achievements include membership of the South Wales Joint (Colliery) Craftsmen's Board, senior partner of Wight & Fidoe, Chairman of the South Wales and Monmouthsire Coal Owners Assoc. and President of the South Wales Institute of Engineers. He retired in 1912 but continued to act as advisor to the Aberaman Coal Company. Between 1908 and 1910 he was President of the South Wales Engineers' Institute.
He was also involved in local politics where his expertise was much appreciated. Serving on the Rhondda Council he was chairman 1906-07 but lost his seat in 1910 when there was a dispute at Pentre Colliery which led to over a thousand men being idle.
He probably moved to Pentre in 1889 in relation to his new position. It was he who proposed the formation of the S. W., C. A. in December 1887. He toured regularly with Hastings chess club on their biannual trips, visiting Germany (1903), Switzerland (1907), Scotland (1909), Netherlands (1911) Belgium (1923) and probably other countries.
He did not play in many match games in Wales but among his conquests was a win against Mrs. Houlding. He also had many chess problems published in newspapers across the country. On his retirement he settled in Penarth.
He played in the first BCF Congress 1904 in an evening tournament. Between 1924-6 he played in the South wales Championships. From 1924 to 1928 he was President of S. W. C. A.
Wight was also the first person to suggest that a knight be notated as N (BCM 1890).
There is no photograph of him but one newspaper report likened him to George Bernard Shaw.
Alderman David Price Davies, J. P., (1843-1921) of Ynyslwyd, was a landowner and a relatively wealthy and influential man in the town. Streets in Foundry Town are named after his family. He became Chairman of Governors at Aberdare Intermediate School and then of the Boys' Grammar School.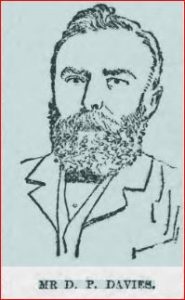 Founder member of Aberdare Chess Club.
The first club match was held at the Black Lion in November 1886 against the also newly formed Rhondda chess club. There were five players on each side and several games were played on each board, Aberdare winning 14½ – 5½. The match concluded with a sit-down meal.
Competition geared up the following year when a combined Aberdare and Rhondda chess team travelled in February to play Cardiff in the Park Hotel. The valleys team was well beaten but notably D. H. Jones drew with Lennox on top board and G. H. Green beat Pethybridge in one of their two games.
George Green was a colliery manager and did not stay long in the area. He served as secretary of the Aberdare club and of the South Wales Chess Association.
There was no competition at this time and all matches were 'friendly'. An internal match in December was between, Club and Town and illustrated the growing number of players interested in the game. There was a visit to Merthyr in October and another match against the Rhondda in December, this time with a closer finish. The club was drawing players from a wide area and several members of the Merthyr club took part in the match.
Several of the club members, notably G. H. Green, W. D. Wight and Rees Williams, took part in the South Wales match against Bristol & Clifton in December when a proper organization was called for in South Wales. Williams was a long-term supporter of chess and is mentioned in a copy of BCM as late as 1917.
1888 was a busy year with matches against Cardiff, Swansea (2) and Rhondda. The first match with Swansea, at the Black Lion on 3rd March was particularly momentous with the home side victorious 7 ½ – 3 1/2 . George Green won one of his two games against J. C. Woods on top board and W. H. Jones, playing on Board 3 won both his games against W. F. Richards. The return match in May did not go quite as well and the five player Aberdare team was trounced.
William H. Jones, one of the club's early stalwarts, was born in Merthyr in 1856 and he remained a bachelor. He was a master at Roberstown 1882, a teacher in an elementary school at Cwmdare 1891 and then head of Capcoch Schools. A fine player, he could compete with the best South Wales had to offer.
The club joined the new South Wales Chess Association and took part in the first ever Challenge Cup. They drew Newport in the first round and lost. Th next year they lost in Round Two to Swansea. The Aberdare team was named as W. D. Gwynne, W. H. Jones, D. Carr, R. Williams, J. G. Churchill and W. H. Flooks. They managed to hold their own on the top two boards but experience told elsewhere. Gwynne held J. C. Woods whilst Jones drew with M. J. Lee.
Their recruiting drive had certainly paid dividends. Gwynne and Jones were two fine players. W. D. Gwynne chaired a meeting of the SWCA at the Black Lion in 1896 but it is difficult to identify him. He was living in Pentre later on and played for both Pontypridd and Rhonnda teams. Carr was a Merthyr player.
In October the British Chess Master, Henry Bird, visited Aberdare taking on 10 players simultaneously and completing 16 games. The only winner was William H. Flooks, an outfitter in the town. When he returned in March 1893, he took on 30 players and won them all. In addition, he played games where the opposition, D. P. Davies, W. H. Jones, Mr. Pugsley and W. Norton all consulted but the results were the same.
In December 1890 George Lennox of Cardiff was the guest visitor. He took on 12 opponents, losing to D. Carr, W. H. Jones and J. G. Churchill (the club secretary) with his game against Flooks unfinished.
In 1891 George Graham took over the presidency of the club from W. D. Wight. Subscriptions were reduced from 10 shillings and six pence to seven shillings and six pence to try and encourage more membership.
In December Joseph Blackburne visited. His display was held at the Black Lion on 5th December as part of a South Wales tour. In total he played about 25 games and conceded draws to Rees Williams, D. M. Richards, and W. E. Rees of Pontypridd.
The nearest the club ever got to winning the Challenge Cup was in the 1892-3 season. They beat Rhondda in Round One and had a bye in Round Two. In Round One the team's Board 5 was D. A. Thomas, M. P. – perhaps the only time that a sitting M. P. has played in the competition.
In the final they lost 1 ½ – 7 ½ to Swansea. The club never had a great number of players to choose from and most of their teams throughout this period were the same i.e. W. H. Jones, W. D. Gwynne, D. Carr, W. Hogg, W. H. Flooks and J. G. Churchill. Walter Hogg was a headmaster and turned out regularly for Aberdare before transferring to the new Pontypridd club.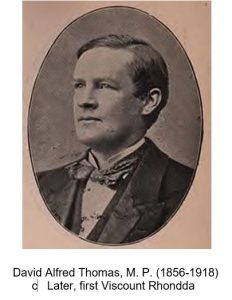 In 1895 the club even lost to their rivals Rhondda who had by then acquired the services of W. D. Gwynne on top board.
In November 1895 the World Champion, Emanuel Lasker played at the Constitutional Hall in Aberdare, making a clean sweep of his 17 opponents though he did comment that the arrangements were almost perfect and the best he had experienced in South Wales. Amongst the guests were D. A. Thomas M. P., S. N. Williams the High Constable of Aberdare and others.
Another effort was made to encourage the game in the area in 1896. The High Constable presented a chess board and set to be competed for between clubs in the region. A competition was organized with teams from Aberamman, Penrhiwceiber and Aberdare.. It looked to be quite successful but was not repeated the following year.
By the 1897-8 season they were clearly struggling for players as D. Carr, F. X. Siedle and Dr. Simons were all Merthyr players representing Aberdare. The failure of the S. W. C. A. 1898-1903 also saw the death of this particular Aberdare club.
MOUNTAIN ASH
The town of Mountain Ash is just over four miles south of Aberdare. A club was formed in the early 1920s but very little information is available and there is no data at all on where the club met.
The club was at its strongest when the three members of the Harper family moved to Mountain Ash from Aston in Birmingham in 1915. Arthur, the father, and his sons Monty and Stanley, featured prominently in the South Wales Chess Championships, South Wales postal chess teams and in representative matches for the area. (They are featured in the Club History of Barry chess club q.v.). However, when the club was first created it was Victor Freed who played on top board and the Harpers did not participate before 1924.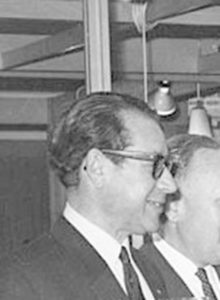 Victor Freed
1883-1966
Victor Freed was a Russian born Jew. He started playing for the old Aberdare club in 1897 just before it was disbanded. He played in several South Wales Chess Championships at Cardiff. In 1927 the press commentary on one of his games went: "Sitting next to them were V. Freed, who, in non-combatant hours is a furnisher in Mountain Ash, and his opponent Mr. F. Jarvis of Porthcawl. Mr. Jarvis wore a charming blue tie and an inscrutable smile and essayed the demoralising effect of a nonchalant attitude.
Mr. Freed, with the advantage of a couple of stone more weight (Do these things count in chess as they do in boxing and racing?) remained unimpressed but I didn't; Mr. Jarvis made no fewer than two moves while I watched him. I think he is a certain winner."
The following year he tied for first place, beating Monty Harper in the last round to draw level. He beat the same opponent twice in the play-off to win the title.
After this he seems to have retired from actually playing competitively. However, he donated trophies to the Welsh Schools Association in 1955 for an annual jamboree Under 15 event and to the North Cardiff club where he and his son served as Presidents.
In 1927 the first Welsh International Correspondence chess match was played against Ireland and two family members, E. Freed and A. Freed, played on boards 38 and 39 respectively in a 50-board match.
The club entered for the South Wales Challenge Cup in 1922 and lost to Blaina and Tredegar. Their Board 3 that season was Joseph Keating (1871-1934). Born to Irish Catholic parents, Keating worked as pit-boy, gardener, clerk, travelling salesman and newspaper reporter, but in the late 1890s turned to writing. He wrote several romantic novels and had one, 'A Perfect Wife' adapted for the West End stage. He listed his interests as chess, music and politics and was for five years a Labour councillor. He also had a spell playing for Merthyr chess club.
Mountain Ash failed to enter the competition between 1924 and 1926 but several of the team members competed for the Merthyr club and the Harpers also played for Cardiff.
It may be of interest to state one of the competition rules relating to clocks: "Any player who can produce for the occasion an efficient chess clock shall be entitled to use it." The time limit would then be 20 moves per hour and a maximum of three hours play was allowed.
The club re-entered the Challenge Cup in 1927 and also joined the Border League which was being dominated by Blaina and Tredegar. The Border League started life in October 1920 as Monmouthshire Chess League but, with the inclusion of North Glamorgan clubs a couple of years later, the name was changed. The league ran for ten years and at one time teams would play 12 matches in a season lasting from November to April with matches over 7 boards. In the event of a tied match the team with the greater number of blacks was deemed to have won. Teams which competed over the years were: Aberaman, Bargoed, Blackwood, Blaina, Brynmawr, Cefn Coed, Cwm, Dowlais, Merthyr, Mountain Ash, Nantyglo, Oakdale and Tredegar.
Both the Challenge Cup and the Border League competitions failed during the Depression and by the time the SWCA revived in 1935 the Harper family were settling in Barry.
There was a lot happening around this time that we only have the merest glimpse of. A meeting at the Aberaman Institute in September 1935 saw representatives of Aberdare, Mountain Ash and Aberaman agree to carry on with the Aberdare and Merthyr Valleys Chess League. This strongly suggests that there was a club in Aberdare at this time and the existence of a league that is otherwise unheralded. The person in charge of the meeting was E. D. Richards of Mountain Ash and M. Llewelyn of Aberaman was the league secretary. Two years later Charles Allington of Aberaman was appointed secretary of the Eastern Valley Chess League which presumably was the same organization.
ABERAMAN
As mentioned earlier, a club at Aberaman existed for a short period in the 1890s. We get a very brief glimpse of the players in one or two of the matches. The club's top player was George Wyatt whose occupation was described as, a steam pipe coverer, and he had been born in Chepstow in 1867. The rest of the team playing Penrhiwceiber was W. Morgan, J. Jones, D. Jones, John Harries and J. Venables. The club proved much too strong for their opponents but they should have been much weaker than the Aberdare club.
The club probably foundered but another emerged in the late 1920s, playing at the Aberaman Workingmen's Institute. They played in the Challenge Cup between 1935 and 1939 and before that in the Border League.
Their 1929 team playing in the Borders League was demolished by Tredegar :1. D. H. Jones 2. W. Morris 3. M. Llewelyn 4. A. Blake 5. D. Jones 6. W. Pitt 7. H. Phillips.
The top player was councillor D. H. Jones of Aberdare. (Was he the same D. H. Jones who played for the club in 1887?) He tried his hand at the South Wales Individual Championships in 1928 and finished with 2/6. As late as 1955 he was named to play on Board 10 for East Glamorgan in the semi-final of the Counties' Championship.
When the team played in the Challenge Cup their team varied a great deal but on the top boards were W. Pitt, F. W. Lewis, W. Morris and D. Jones.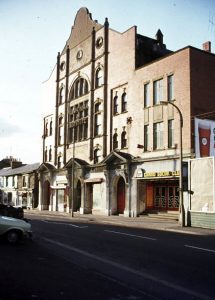 Aberaman Workingmen's Institute
Opened 1910
The club survived the melt-down of SWCA 1930-1935 and re-emerged to compete again in the Challenge Cup. They played between 1936 and 1939 and the stalwarts of the team were W. Pitt, M. Morris,, D. Jones, F. W. Lewis and D. Llewelyn. The club never had any strong players and none of them took part in the South Wales matches and only one (D. H. Jones) in the South Wales Individual Championships.
After the war there was no club from the Aberdare area and there would be none until 1971, except a brief appearance by Aberdare in the new East Glamorgan League 1955-6.
In the interim however, Gareth Griffiths the senior English master at Aberdare Boys' Grammar School, nurtured some very talented young players.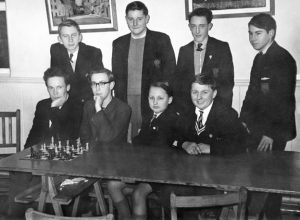 Aberdare Grammar School chess team 1958
Back row L-R David Griffiths, Jim Stephens, David Roberts, John H. Williams
Front Row L-R: Richard G. Jones, Philip Thompson, Dylan Morgan, Gareth Prince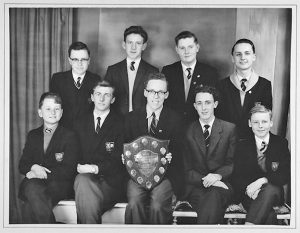 Aberdare Grammar School chess team 1962-3
Winners of the Welsh Secondary Schools National Schools Tournament Shield
Back Row L-R: Keith Williams, Derek Aust, Jim Stephens, Dylan Morgan
Front Row L-R: Gareth Morgan, Gareth Prince, Richard G. Jones, David Roberts, David Davies
They beat Porth, Llanelli and Brecon en-route to the final where they defeated a strong Newport High School.
There were some very talented players at Aberdare Grammar School.
John Dylan Morgan (1946-2012) won the Welsh Under 15 Championships in 1961, was joint Under 18 Champion in 1962 and again in 1964. He played for the Welsh Glorney Cup (Under 18) team in 1962, 1963 and 1964.
Richard G. Jones, (1943-2016) shared the Welsh Under 15 title in 1957 and the Under 16 title in 1958. He came 6th in the British U15 Championships in 1958 and joint 6th in the British U21 event in 1963. He played in the Glorney Cup teams of 1960 and 1961. Richard finished joint 5th int eh Welsh Championships in 1962 and joint 6th the following year. He also starred for the very good Aberystwyth Universirty team in the mid 1960s.
Michael G. Jones , (1935-2012), the older brother of Richard G. Jones, played for Wales in the Glorney Cup in 1953. He won the Welsh Championship Reserves in 1957and the following year came joint 3rd in the Championship itself, 11th in 1965 and 14th in 1968. He played for the Llanelli teqm that won the West Wales League in 1965.
Aberdare Chess Club
1971 – 2016
The Early Days
Records show the club formed in 1971, anecdotally combining various 'pub' teams active in the Aberdare and Mountain Ash areas.
Founder members included Martin Astrand (Professional Photographer) and Roger Scull (Jewelle and owner of A Lea Jewellers), who both served the club for over two decades in their positions of Chairman and Treasurer respectively.
Martin was instrumental in developing the club's younger members, ferrying teams of juniors to matches throughout South Wales in the 1980's and an active club player until the late 1990's, keeping in touch with the club throughout the 2000's until his health took a downward spiral and he passed away in 2013.
Other notable founder members were the famous Woodrow brothers; Jeff, Steve and Mike, who were a self-contained team throughout the 1970 & 80's with Steve, in particular, representing the club throughout the club's full history! (They also played for Nidum in the West Wales League).
Venues
The club's first venue was at The United Services club (known as the Shot & Shell) in Wind St, Aberdare, moving on to The Red & White (Bus) Club in Cardiff Rd, Aberdare during early 1980's, then when that club closed, to Aberdare Rugby Club, Gloucester Street, again in Aberdare Town Centre. In 2009 the club moved to the picturesque venue of Aberdare Golf Club in Abernant village (facilitated by club stalwart, Graham Parker; head groundsman at the golf course)
The Highs
From its inception, the club fully participated in The East Glamorgan Chess Association; although containing some strong club players and a wealth of improving individuals during the 1970's the championship continued to be elusive.
However, during the 1983/84 season, things fell into place. The club's five top rated players; Huw Oliver, John Evans, Chris Buller, Anthony Sheehan and Steve Woodrow were unfailingly available for league matches and with an amazing consistency of selection the 'A' team won the Division One league title.
The club's membership grew throughout the 1980's with special mention reserved for older members, Ray Eggleton, Rob Edwards, and Michael (MG) Jones and many school age juniors who were improving their game. The club was able to field three teams of five players each comfortably in the league structure and Rhondda based players, including Karl Green and Carl Evans, joined the club in 1989.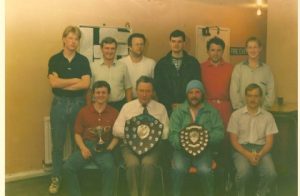 Aberdare club 1989-1990
Top row – Left to right – Chris Morgan, Roger Scull, Carl Evans, Karl Green,
Gwynfor Rees, Paul Williams.
Bottom row – Left to right – Anthony Sheehan, Michael G. Jones (Player of Year),
Peter Bowers, (Club Champion) Mike Forey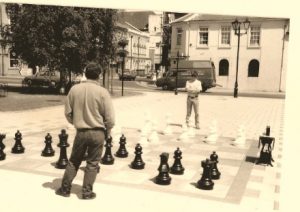 Outdoor Tournament 1991
Final – Steve Woodrow (winner- back to camera) Vs Anthony SheehanThe club was further bolstered in 1998, when Abercynon Chess club folded and some very strong players including Leighton Williams, Dave Llewellyn, Phillip French, David Hill, Andrew Griffiths and Brian Prosser joined the ranks. This led to the team representation growing to five (with some very strange team names adopted- Aberdare Snakes, Bees, Saucepans, Cheetahs, Veterans etc) and the 2nd success of our top team (Aberdare Wasps) who became East Glamorgan Division One champions in the 1999-2000 season.
Unlike the first title victory, records show there was no consistency of selection, with most players participating in just 4 or 5 games during the 18 rounds of matches. Names which crop up most on match cards are; Leighton Williams, Dave Llewellyn, Carl Evans, Derek (D. C ) Jones, Karl Green, Phillip French, Graham Parker, David Hill, Simon Richardson, Andrew Griffiths & M.G. Jones.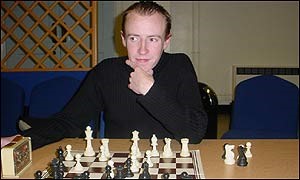 Leighton Williams born Mountain Ash 1977
Three times Welsh champion and an International Master
The finest chess player to come from Aberdare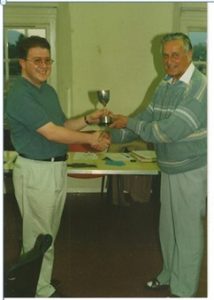 Club Champion 1999
Phillip French. Presented with trophy by Martin Astrand, Club Chairman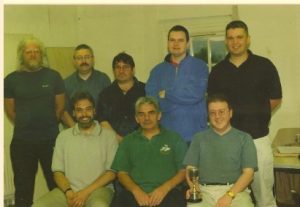 Team Photo 1999
Top row – Left to right – Graham Parker, Dave Llewellyn, Derek C Jones, Karl Green, Andrew Griffiths.
Bottom row – Left to right – Simon Richardson, Steve Woodrow, Phillip French
The End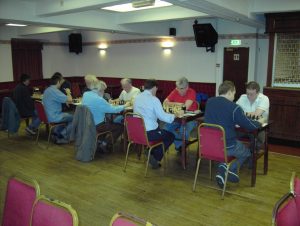 Aberdare (facing) v. Pontypridd, December 2005
Aberdare players – G. Parker, M. Woodrow, S. Woodrow and P. French
During the early 2000's many of the younger members left the area for jobs, university etc and a downturn in membership numbers occurred. Older stalwarts retired from the game, and a small core of 6-7 members continued with the club fielding just one or two teams from 2005 onwards and by 2010 viability was more dependent on infrequent players travelling from the Abergavenny club. Richard Miles and Douglas Spencer were two names that stand out.
By 2015, fielding a consistent team was becoming a logistical nightmare and the remaining members decided to dissolve the club in 2016; donating sets and clocks to junior development contacts at North Cardiff Chess Club and some equipment also passing to Abergavenny.
Aberdare Chess Club
Roll of Honour
Player of year

Club Champion

No record of award 1971-1980

No record of award 1971-1976

(AGM records show)

1981/82 D Jenkins

1982/83 ?

1983/84 A Sheehan

1984/85 A Sheehan

1985/86 R Scull

1986/87 R Edwards

1987/88 G Rees

1988/89 P Williams

1989/90 P Bowers

1990/91 G Rees/C Evans

1991/92 S Richardson

1992/93 K Green

1993/94 DC Jones

1994/95 C Evans

(on the' FA Cup' trophy)

1995/96 J Ryan

1996/97 M Woodrow

1997/98 A Griffiths

1998/99 MG Jones

1999/00 D Hill

2000/01 R Edwards

2001/02 D Hill

2002/03 A Hill

2003/04 A Sheehan

2004/05 S Richardson

(on New Shield)

2005/06 M Woodrow

2006/07 P French

2007/08 D Llewellyn

2008/09 M Woodrow

2009/10 P French

2010/11 S Richardson

2011/12 G Parker

2012/13 D Llewellyn

2013/14 S Richardson

2014/15 D Llewellyn

(on the Emrys Evans Presidents Cup )

1977 H Oliver

1978 J Woodrow

1979 J Woodrow

1980 S Woodrow

1981 J Evans

1982 J Evans

1983 H Oliver

1984 H Oliver

1985 A Sheehan

1986 A Sheehan

1987 A Sheehan

1988 A Sheehan

1989 MG Jones

1990 ?

1991 A Sheehan

1992 C Evans

1993 G Parker

1994 C Evans

1995 C Evans

1996 DC Jones

1997 ?

1998 A Sheehan

1999 P French

2000 D Llewellyn

2001 C Evans

2002 A Griffiths

2003 D Hill

2004 A Griffiths

(Event Not Held)

2005 – 2016
Narrative history of Aberdare 1971-2016 club written by:
Simon Richardson (Club Secretary 2004-2016)