Blaina is a small town midway between Abertillery and Brynmawr, in the Gwent valleys, with a population today of less than 5,000. It, like most valleys towns, has an industrial past mainly connected to the iron and coal industries. The Blaina Ironworks were established in the late 1820s and a town grew up around it. Suffice to say that any chess players emerging from the town would likely to be working in industry.
The first mention of a chess group in Blaina was in January 1875 when a group of players representing the Blaina Literary Society played a match with their colleagues in Tredegar at the Tredegar Institute. There were five players per side, three games on each board, with the first side to win eight games declared the winner! Play started after 3 p.m. and had finished by 4.45 p.m.by which time 14 games had finished. The match was won by Blaina.
When a club started up in 1902 it was deemed to be a re-start so maybe there was some activity after the 1875 match. The club met in September 1902 at the Reading Institute in the town and David Jones was duly elected captain with C. H. Padfield, who worked on the railways, secretary and Alfred Evans, treasurer. The following year Edgar Crockett became captain.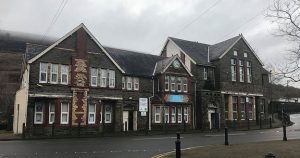 The Reading Institute – today a Heritage Centre
Before Christmas that year the cub travelled to the YMCA in Cardiff and met what was regarded as the best team in Wales. They lost 3-13. This was a time when the South Wales Challenge Cup competition was in abeyance and very few matches were being played. The result was to be expected and the boys from the valleys were put in their place. Down on Board 9 appeared John Lewis who won one of his two games.
The following November, Cardiff made the return trip up the valley and suffered a humiliating defeat 7.5-6.5. The Gwent team was once more led by Edgar Crockett and although they were outplayed on the top boards, lower down the order they were very successful.
It is interesting that when a presentation was made to the secretary in August 1903 (he was getting married) Mr. Crockett reviewed the history of chess in Blaina over the previous ten years. This suggests that there had been some activity. By this time the club boasted more than 30 members. The following month when they held their first AGM at Maynard's Coffee Tavern it was stated that matches were being arranged against Cardiff, Newport, Llanelli, Bridgend, Clifton, Frome and other West of England clubs. Blaina was nothing if not ambitious. There was also a change in personnel with Edgar Crockett taking over as captain.
Chess records are difficult to come by and whether or not all these matches were played is not known but the club certainly had fixtures against Nantyglo, Newport and Tredegar over the next year or so.
In March 1905 the SWCA finally got its act together and a tournament was organised for member clubs to be held at Cardiff YMCA. Cardiff, Llanelli, Newport and Blaina were the four teams that took part. The idea was to have a knock-out event but due to a delay the final was postponed. In the event Blaina defeated Newport and then beat Cardiff in the final by 4 games to 2. The winning team was: Edgar Crockett, D. Jones, George Long, John Long, John Lewis and Evan Richards. George Long and John Long were mining brothers. The old Scottish champion, J. D. Chambers was present at the final and commented that Blaina was the only club in the British Isles composed of miners. Edgar Crockett later emigrated to New Zealand and his departure must have been a big loss to the club.
The Challenge Cup trophy is engraved showing Blaina as the winners in 1904 but there does not appear to have been a tournament completed that year. Perhaps, as sometimes happens with these things, the dating was wrongly interpreted as two tournaments were held in 1905. In the second event Blaina beat Rhondda 4-2 in an October final.
The newspaper headlines in 1905 were all about a miner winning a section of the Third Class at the British Championships in Southport. John Lewis from Blaina lost only one of his ten games. He was a hauling engineer at Messrs. John Lancaster & Co. colliery. It may not have been the toughest tournament in the world but eyebrows were raised because it was a mere miner who won it. He had attended the congress with another Blaina player and the following year when the BCF event visited Shrewsbury a number of Blaina players attended. Edgar Crockett shared first place in the Third-Class Section A event, John Lewis played in the Second Class whilst D. Jones and G. Long also played in the Third Class. Lewis tried again in 1907 at Crystal Palace but finished near the bottom in the Second Class.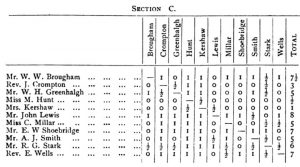 A rare comparison between chess in Wales and chess in Scotland was made possible in January, 1906, when the Scottish champions, Kelty, visited Blaina, the reigning South Wales champions, and played two matches, one in the afternoon and the other the same evening. Apart from one player the Blaina club fielded different teams on each occasion whilst Kelty put out the same seven players. Blaina won both matches by a 6-3 margin (more than one game being played on two boards).
CHALLENGE CUP
Blaina were once more successful in the Challenge Cup in 1913 (beating old rivals Llanelli in the final) and continued to be one of the very best Welsh clubs after the war by winning the title again in 1922 (beating Newport 3½ – 2½ ), 1923 (beating Cardiff) and 1927 (winning on tie-break against Newport after drawing the match 3½ – 3½ ). The winning team in 1923 was John Lewis, Evan Richards, F. Meredith, T. Jeremiah, Alf Evans and A. Williams.
There is no record of them playing again after 1930 but when Monmouthshire teams again competed after the formation of the WCU, Blaina again took part whenever they were Gwent champions. In 1957, 1958 and 1959 they took part ibn the final stages but were unsuccessful.
BORDERS LEAGUE
Blaina was one of the premier clubs participating in the Borders League which ran from 1920 to 1930. Full records haven't survived but in 1928 those taking part were Blaina, Tredegar, Nantyglo, Brynmawr, Oakdale, Mountain Ash, Bargoed and Cefn Coed. Blaina are known to have won the league in 1925, 1926 and 1928.
D. J. Jones of Blaina was the secretary of the league from 1920 to 1929 and became chairman of the Monmouthshire Association in the first year of its foundation. This was not the same David Jones who had founded the club – he died in 1927.
In the Borders League Blaina's closest rivals were Tredegar and they were unfortunate that the experienced Cornish born William Penberthy retired from the game just as the even stronger Bruce McPherson arrived. Tredegar is the only other club known to have won the league.
MONMOUTHSIRE CHESS ASSOCIATION
The Depression took its toll on many chess clubs and Blaina was no exception. The Merthyr Express noted in September 1933 that the club had been dormant for a few years and was then being re-formed. The officers elected were Chairman Joseph Price, Treasurer Edward Williams and Secretary D. J. Jones.
Blaina took part in all competitions run by the Monmouthshire Association when it was formed in 1935 although no records survive of any league activity before the war. The club resumed activities after the war in 1946, and won the league in 1947, 1957, 1958 and 1959 but it was not an easy road. The BCF Year Book commented in 1951 that the Blaina club was dormant. It appears that the club closed in 1950 and did not start up again until 1957, finally closing down in 1960. In 1952 the South Wales Gazette noted that although there was no club at the Institute, some chess was being played. It also remarked on Institute member, Colin Gilbert, winning a chess brilliancy prize at Oxford.
Brian Douthwaite (1958) and Colin Gilbert (1960, 1961, 1962 and 1963), both from Blaina, won the county individual championship. Colin had been county junior champion 1948 and 1949 and was to become Welsh champion in 1967 when affiliated to Cwmbran. Douthwaite also won the Welsh title in 1958.
Another of the star players for Blaina was Alan Page who tied 3rd in the 1959 Welsh Championships and 2nd the following year. He died a few years later in a road accident.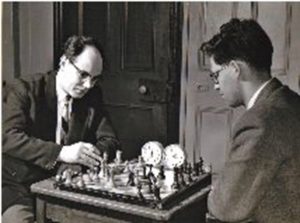 Photo: Colin Gilbert
Colin Gilbert makes a move against Alan Page.
After the demise of the Abertillery club (the remnants joined with Blaina and in the late 1950s had a formidable team with Welsh Ladies' Champion, Dr. Maria MacLean joining the side.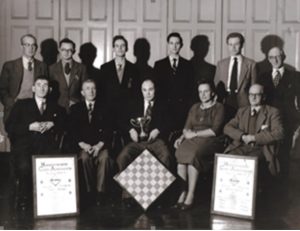 Photo C. Gilbert
Joint Blaina and Abertillery Miner's Institute Chess Club
Rear: E.Griffiths, B. Holland, E.J.Fearne, L.Sutton, R.Griffiths, H.C.Gilbert
Front: T.Evans, J.Price, C.Gilbert, Dr. M.MacLean, ..Herbert.
Photo C. Gilbert
Blaina Chess Club 1958
Rear: B.V. Douthwaite, B. Holland, C. Gilbert
Front: E.Griffiths, T. Evans, J.Price
SIMULTANEOUS DISPLAYS AT BLAINA
November 1906 F.J.Lee won 9 drew 4 lost 1,
February 1908 E. Lasker won 16 drew 4 lost 0. Drew with E. Crockett,
J. Long, B. Lowry and E. Richards.


Advertising Lasker's tour of South Wales
November 1912 F. Marshall won 22 drew 3 lost 0. Drew with G. Long, Evans and W. Penberthy (Tredegar).
February 1922 B. Kostic won 22 drew 3 lost 0 Drew with Jack Lewis, Tom Prout and Tom Bowen
December 1923 F. D. Yates won 22 drew 1 lost 1
1924 F. D. Yates
February 1925 F. D. Yates won 20 drew 2 lost 1 Lost to W. E. Hinley. Drew with J. Lewis and T. Jones.
February 1960 L. W. Barden won 20 drew 1 lost 3 Lost to H. Stephens (Newport), Allan Pope and Leslie Sutton.
Blaina chess club ceased to exist sixty years ago but for two reasons the club remains one of the most important in South Wales. Firstly, considering the size of the town, the club was one of the most successful clubs in South Wales. Secondly in 1905 Blaina proved once and for all that working men could be just as successful as the professional classes at the game. Elitism in chess had gone for ever.
(Blaina Institute records1891-1975 are held at the Gwent archives, they include chess club records.Ref. GB 218 D1594).