Part One
A Stuttering Start
Cardiff was just one of many clubs that were formed as a result of the publicity surrounding the first international chess tournament, held in London 1851. Only a couple of references to this early club have been found. The first was in a newspaper dated 1st December 1854 when it was noted that the club was starting its second season, meeting twice a week at the Assembly Rooms in the New Town Hall. Subscription was 10s 6d per year. Also shown was a game played between the President, who was blindfolded, and a Mr. P.. The game was drawn. A couple of weeks later the membership had grown and Mr. P again featured, this time losing to Mr, L.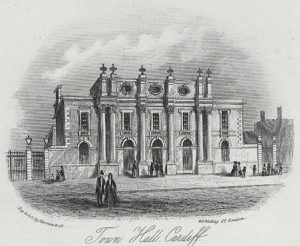 Cardiff's New Town Hall, opened 1853.
The next mention of a club at Cardiff is of a two-game postal chess match played between the Cardiff and Bristol clubs 1859-60 and both scores are given in the 1883 book, "The Bristol Chess Club", written by J. Burt and in the Cardiff Times (25th August 1860). The Illustrated London News commented, "the stir among chess amateurs in Wales, after so long and strange a state of apathy, was a matter to be greatly rejoiced in.". Bristol won 2-0 but in a return match the following year the tables were turned and Cardiff were the 2-0 winners.
Nelson Fedden was apparently one of the Cardiff players involved and he was certainly one of the strongest players seen in Wales in the 19th century.
One of a number of ephemeral clubs that sprung up over the years was at Canton where the 'Canton Amateur Chess Association' was formed in January 1860 with the Rev. Vincent Saulez being appointed president and William Parham, a master at St. John's School, secretary. The new club boasted 20 members, but the schoolmaster moved to Kent shortly afterwards and the club did not last.
In October 1860 the Cardiff club had a visit from Josef Kling, a German master known for his chess problems. He did not play in many tournaments but played two evenings at the Cardiff club and on one of them gave a simultaneous display, losing one and drawing two of his eight games.
A month later Robert F. Langley and Nelson Fedden of Cardiff were guests at the Bristol Soiree when Lowenthal played 11 opponents simultaneously. Both Welsh representatives won their games. Langley (1821-1892) was the President of Cardiff Club. He worked as registrar at the Cardiff County Court and was a high ranked freemason. He was regarded as a gifted amateur but his other commitments meant he had little time to play the game. Langley and Fedden also played consultation games with Phillips and Billings of Bristol and lost.
Following the success of their correspondence games against Bristol, Langley and Fedden represented the Cardiff club in another postal match against Worcester in 1861. Two games were commenced. It ended with a win and a draw for Cardiff after a year's play and the British Chess Association presented the winners with a two-guinea chess board.
That same year Cardiff copied their west country neighbours by holding their first soiree. This took various forms over the years but usually entailed some games, a dinner and a simultaneous display. Guests were invited from clubs as far away as Bristol and Merthyr. The soiree was advertised in the press and tickets sold at one shilling each. The 1861 soiree included a match between members, the teams being made up of (a) Messrs Fedden, Wood (late of the Liverpool club), Wakeford, Townsend, Bowen and Purser against (b) Messrs Gamman, Langley, James, Riley, Howard and Stroud. 'Wakeford' was probably Theophilus Wakeford who ran a stationer's business in the city. He is noted by Tim Harding as playing postal chess in the 60s and is probably the same T. Wakeford who played in the annual match against Bristol in 1894. Townsend may be the Newport problemist who certainly visited the Cardiff club on several occasions. W. F. Gamman, an engineer at Cardiff docks, became club secretary the following year.
A prize of 'a handsome work on chess' was presented by the President for the club Tournament winner. Other generous gifts to the club came from C. R. M. Talbot MP, of Margam – a club board and set of London size chess men; H. H. Vivian MP – two guineas in order to purchase better boards and sets 'which they much require'; and Lt. Col. Stuart MP – two works on chess.
Unsurprisingly the club tournament was won by Nelson Fedden.
Gamman resigned in 1863 and Fedden replaced him. In October a consultation match was held against Bristol at the Town Hall, the Cardiff team being Fedden, Fenton, Rev. Walter Evans (of St. Lythans), Wood, Wakeford and Thorpe. Cardiff won the match and the single-handers which followed.
The consultation match was repeated the following year at Bristol when the home side won after "an arduous contest of several hours duration."
Nelson Fedden was born in Bristol in 1836. He came from a wealthy family and married in Cardiff in early 1860. He owned an iron works in the town and had the money and time to indulge in chess as a hobby. He was listed as a member of the London 1862 Tournament co-operative committee. This was only the second international chess tournament ever held. Later on, he moved back to Gloucestershire where he ran a glass making business and continued as a leading county chess player until his death in 1915. Fedden left the Cardiff club for Bristol in 1880 after his business went bankrupt.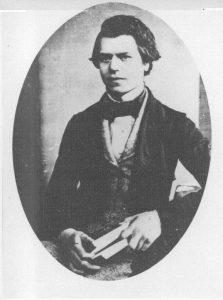 Photo courtesy of T.Teague
Nelson Fedden, about 24 years of age, at the time that he was settling at Cardiff.
Less is known about Fenton but he may be identical with Richard Henry Falkland Fenton (1837-1916) who became a strong Bath and London player. Richard Fenton was born in Blackheath, London, but his father died in 1842 and his mother then re-married marrying George Munro, a timber merchant importing to Swansea docks and they moved there in about 1844. Fenton went to Thistleboon boarding school in Oystermouth.
When he was about sixteen the family moved to Bath for a few years. He returned to Swansea to work for his step-father before moving to London ten years later and becoming a professional chess player. He was an accountant and it is possible that during his time in Swansea he may have travelled to Cardiff on business. An amusing comment attributed to him runs, "A man who takes back a move at chess will pick a pocket."
The penchant for correspondence chess continued with a match against Liverpool 1869-70 which was won by the latter ½ – 1 ½ There was also a match with Chester chess club. This concluded in 1870 with Chester winning one game and the other reported as likely finishing in a draw. Solomons and Wakeford represented the club in a postal match against Burns and Cox of Liverpool and the Rev. Walter Evans took on the whole of Aberdare chess club but the result is not known.
The Bristol book's final reference to the Cardiff club is made in 1872 when on 12th December, a consultation match was once again played between the clubs; Fedden and the Reverend J. G. Ash representing Cardiff against Mr. Thomson and the Reverend A. C. Rowley of Bristol. The game was not finished. The Reverend John Ash was born in Sussex in 1828 and at this time was a vicar living at Tidenham near Chepstow.
This early club moved around quite a bit. Starting life in the Assembly Rooms of the New Town Hall, the club moved to YMCA by 1861, the Queen's Hotel in October 1864 and the following year to Winstone's Hotel in Crockherbtown. For the 1868-9 season they were at Wakeford's Library in Mary Street and in April 1871 at the Cardiff Arms Hotel. October 1873 saw them at the Royal Hotel.
The Illustrated London News reported that in 1871 the Handicap Tournament at Cardiff had 30 participants.
The annual soiree continued to be the premier club event. In 1865 the Austrian consul and the American consul attended plus other dignitaries.
The 1871 soiree took the form of a match between Cardiff and visitors from Bristol. The Cardiff team – Messrs Fedden, Rev. W. Evans, Solomons, Wakeford and Bush won the match with Bush the only loser. At 8.30 p.m. commenced a blindfold display by Blackburne and there was a horde of spectators including the French, North German and Brazilian consuls. The event saw Blackburne sitting in a corner with his face to the wall, enjoying a quiet cigar. The opposition was provided by Thorold of Bristol, Fisher of Malvern, Burt and Berry of Bristol playing in consultation, and local players, Solomons, Fedden and Rev. Walter Evans. Fisher and the consultants drew their games and the others lost. A sumptuous supper was laid in an adjoining room. (Why can't we have events like this today?).
The Rev. Walter Evans (1833-1911) of St. Lythan's wrote what is believed to be the first Welsh chess column in the Weekly Mail from 1870 to 1873. In 1874 he became Rector of Halkyn in North Wales and finished his days as Rector of Castell Caereinion near Welshpool.
Samuel Solomons (1830-1917) was a London born solicitor. He played in a handicap section of the British Chess Association Congress in 1862. By 1881 he had retired to Havant in Hampshire.
The soirée moved to an April date in 1873 to accommodate a visit by Steinitz – his only recorded venture into Wales. To start proceedings, a large gathering witnessed a match between the Cardiff and Bristol clubs, this time won by Bristol after wins by Cardiff in the two previous years. The Cardiff team was Fedden (unfinished), Woodman (drawn), Bush (lost), Bradley (lost), Thompson (unfinished) and Williams (lost). A Mr. Bradley played in the simul against Lasker in 1895.
In the blindfold display that followed the line-up was Fedden, Thompson (Bristol), Birt (Bristol), Bush, Boorne (Bristol), Woodman and Berry in consultation, and Tribe and Lewis (both Bristol) also consulting. By three o'clock in the morning Steinitz had won six of the seven games and his match with Fedden was left unfinished. 3 a.m. !! No wonder he never returned to Wales!
This was to be the last reported soiree.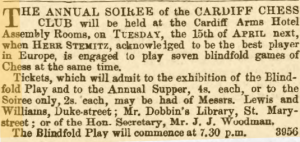 Advert for the 1873 Cardiff Chess Club Soiree
In March 1874 the club was visited by Mr. Pindar, champion of Manchester chess club (1861). He took on five Cardiff opponents, losing to Fedden and Woodman, and expressed his surprise at the strength of the club. Edward Pindar had been born in Estonia and was regarded as one of the rising stars of British chess until eclipsed by Blackburne. In 1877 he was sentenced to five years in prison after attacking a student of his who had rejected a proposal of marriage.
From 1874 to 1883 there is no mention of a club in Cardiff.
Efforts were made to create a new club at Cardiff in 1883, much correspondence on the prospect being published in the Western Mail. Most of the correspondents wrote anonymously. 'Black Knight' referred to the former club:
"The old club was undermined by cards and finally closed. The best players withdrew in disgust and the young card players could not keep it going."
This may also be the reason why most of the early clubs had among their rules one stipulating that only chess was to be played in the club room.
A More Substantial Club
A new Cardiff club was heralded by a public meeting in the Mayor's Court at the Town Hall, on Thursday, 25th October, 1883, when its title was given as the 'Cardiff and County Chess Club'. Sir Edward Reed M.P. was elected the first President, Mr. F. P. Down Vice-President and Mr. G. W. Lennox both Secretary and Treasurer. The need for a club was self-evident from the fact that forty names had already been submitted for membership and by the following year this had risen to seventy actual members.
Frederick Down (1848-1913) was a colliery proprietor and exporter and a stalwart of the Cardiff club for many years.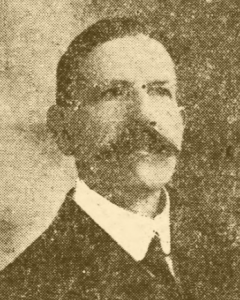 George W. Lennox. (1859-1908) First champion of South Wales.
George Lennox was born in Hythe, Kent, the son of a Scottish minister in the Countess of Huntingdon Connexion – a branch of the Baptist Church. The family were raised in Cheltenham but George and his brother moved to Cardiff where they had a business as 'Chart and Nautical Bookseller, Commercial Stationer, Printer and Lithographer' in Atlas Chambers, James Street, near the docks.
In 1887 he was on the staff of the British Chess Magazine. At this time, he played in the ambitiously titled United Kingdom International Tourney, 1887-1889, with players from England, Ireland and Scotland playing one another at postal chess. Another of the participants was John D. Chambers. Lennox was billed to represent England but he objected and his allegiance was switched to Scotland. Although he did well against some of the stronger players his overall result was poor.
The club became indebted to him not only for his playing ability but also for the depth of his purse as he often helped the club out of financial difficulties. He was the Club's first Secretary and Treasurer and resigned from the club in 1897 but was begged to remain. He did so for another year but nothing is heard of him thereafter. He died in 1908 at the age of 49.
Club Activities
The first recorded matches of the new Cardiff club were against Swansea early in 1884. They won the first match, played in January, by 6½ points to 5½. The match was played on their home ground at the Angel Hotel, and Cardiff were led by the strong Weston player, D. Y. Mills, who was later to win both the British Amateur Championship (1890) and the Scottish Championships. In the return match, played over 5 boards at the Mackworth Hotel in Swansea, Cardiff were without all their leading players and were soundly trounced by 8 points to 2.
Both clubs were also engaged in consultation correspondence chess matches, but no further details are known.
The novel means of the telephone was used to decide which was the best club. The telephone was a very recent invention and the link between the Docks in Cardiff and the Docks in Swansea was the first line in South Wales.
The match, played on Tuesday, 18th March, 1884, claimed to be the first chess match to be played by telephone anywhere in Great Britain although matches of this kind were already known to have been played in America. (A consultation game was played in 1880 between Chichester and Brighton which obviously negates the Welsh claim.) The offices of Poingdestre and Mesnier were made available at both Cardiff and Swansea whilst the postal authorities, through the kindness of Mr. John Gavey, superintendent engineer of the South Wales district, gratuitously placed the telephone between the two towns at the disposal of the clubs and did everything possible to make the match a success. The Cardiff club were strongly represented and led by their Vice-President, Mr. F. P. Down, whilst the Swansea club accepted Mr. J. C. Woods as its leader.
White: Cardiff Black: Swansea
1. c4 e5 2. e3 b6 3. d4 exd4 4. exd4 d5 5. Nc3 Bb7 6. Nf3 Nf6 7. Bg5 Be7 8. Bd3 Ne4 9. Bxe2 Qxe2 10. 0-0 Nxc3 11. bxc3 0-0 12. Re1 Qd6 13. Re3 Nd7 14. Qc2 h6 15. Nh4 dxc4 16. Bxc4 Qc6 17. Qd3 Nf6 18. Rae1 Rae8 19. f3 Rxe3 20. Rxe3 Re8 21. Re5 Rxe5 22. dxe5 Nd7 23. Ng6 Qc5+ 24. Kh1 Nf8 25. Nxf8 Qxf8 26. Qd7 Qc8 27. Qxf7+ Kh8 28. e6 Bc6 29. e7 Qe8 30. Qf8+ Kh7 31. Bf7 Resigns.
A return telephone match was played in May. This was something of an anti-climax as a blunder by the Swansea players led to their resignation after only 12 moves. A third game was immediately commenced and resulted in a draw after 40 moves.
The first of many matches with their great rivals, Newport, was played in November of 1884, Cardiff winning 11-9. These matches continued on at least an annual basis until 1908. On the 20th October the following year, Cardiff played both Swansea and Newport simultaneously by telephone, the Newport team playing from the Chamber of Commerce. On this occasion Cardiff lost to their West Wales rivals, but were successful against Newport.
On 10th September 1885 a visit was arranged for the unofficial American champion Captain George Mackenzie and British Master Henry Bird. However, no record has been found of a simultaneous display although one would expect such an exhibition to have been given.
Correspondence chess matches were popular. Matches were played against Swansea, winning one and losing the other. The club was also playing against the Royal Club in Stockholm in 1884 but no result is known. A match was commenced against Manchester in September 1885. Usually, two players from each club participated in this type of match but it could involve more.
Friendly internal matches were organised such as The Docks versus The Town. Many of the club's members were employed in Cardiff Docks
Edward Reed was the club's president and Frederick Down Vice-President. The latter resigned in 1885 and J. Viriamu Jones, the Principal of University College of Wales, took his place.
One of the most popular of club activities was the Handicap Tournament. This was first recorded in 1885 and a handicapping committee allocated Classes for all those entering and announced what the handicaps would be. It was an all-play-all event. Class One gave odds of KBP and move to Class Two; KBP and two moves to Class Three; and QN to Class Four; Class Two gave odds of KBP and move to Class Three etc… J. Bush and G. W. Lennox were placed in Class One with W. Pethybridge being the only player in Class Two. Twenty players representing nearly a third of the membership, took part. Lennox duly won and was presented with four volumes of chess literature presented by John Cory, the coal magnate. Other prizes of chess sets went to Frank Hybart, James Bush, Werner Cederval and, Rev.Richard Gibbings. The last two named advanced to Class Two the following year and were joined there by W. H. Morris, E. Woolley and Pethybridge.
The Rev. Dr. Richard Gibbings (1833-1914) was a native of Kerry. By 1891 he had moved to become Rector of Llanmerewig near Newtown. A new chess club was formed there late in 1897 and the Rev. Gibbings was their star player leading the club against teams from Rhayader.
William Pethybridge (1834-1912) was a Cornish born accountant. James Bush (1844-1923) from Carmarthenshire, headmaster of the Cardiff School of Art (which later became UWIST) and Swedish born Werner Cederval (1864-1950) a ship broker clerk. W. Hughes Morris (1837-1903), a solicitor, was keen enough to play Gunsberg on a visit to London in 1891, being one of 34 opponents and winning his individual game.
Lennox and Bush played a match of five games but Lennox proved much the stronger.
Bristol was added to the over-the-board fixture list in February 1886 (lost 3 – 13), and Aberdare in 1887, a year before they first competed in the South Wales Challenge Cup competition. Relationships between Cardiff and the West of England remained very strong. Cardiff always had strong representation in the annual matches between South Wales (or Cardiff and Newport) and Bristol and Clifton. In 1898 the two strongest Cardiff players, G. W. Lennox and L. J. Williams, guested for Gloucestershire in a match against Somerset.
Sir Edward Reed presented a Cup to the club in 1886 for competition. Sir Edward, as president, was a strong supporter and benefactor of the club, probably until his death in 1906. He was Club President throughout, barring a couple of years 1896-7 when Lord Windsor was elected.
In November a telephone match was played against Newport with games lasting from 6.30 p.m. to 3.20 a.m. Twelve minutes was the longest time taken over a move. A similar match against Swansea remained unfinished as, due to the late hour, Swansea refused to continue.
An argument before their match with Newport in 1887 illustrates one of the main differences between play in these early matches and modern-day fixtures. Mechanical clocks were first introduced at the London Tournament in 1883, but were not in general use for at least another ten years. The argument at the 1887 Newport-Cardiff match was over what sort of time control should govern their play. Cardiff wanted 7 or 8 minutes for each move whilst Newport opted for 20 moves in every half hour in which case stop watches would have been required. In the end the matter fell through and there was no set control, play being from 3.30 p.m. to 9.30 p.m.
Nelson Fedden made a welcome return visit to his old club in October 1887, taking on eleven of the club stalwarts.
1888 A Whole New World
The formation of a South Wales Chess Association in November 1888 changed the whole structure of club life. No longer was the focus on internal tournaments and friendly matches, but rather on competition. The Challenge Cup and the need to put out regular teams meant that players had to be rated in order of strength though there would not be a proper grading system for another 70 or more years. Rev. Gibbings and F. P. Down were elected onto the SWCA committee and, in an endeavour to attract a wider club membership, 'and county' was dropped from the club's title.
The Handicap Tournament continued as a major club activity and in 1890 George Lennox is shown as the only Class One player though others who would have gone into that category, i.e., L. J. Williams, J. Bush, and W. Pethybridge, did not play due to time restraints. In Class Two were Rev. Gibbings, Dr. Arthur, E. Possart, F. W. Hybart and T. B. Pearson.
The early club was managed by a committee of ten, which number was reduced to six in 1896, and they met every alternative Monday. These meetings were convened regardless of the needs of the club and on at least one occasion 'No business' was recorded in the minutes. The committee kept a firm control over the club and on several occasions, players were expunged from the register of members for failing to comply with the club rules.
The docks threw up the occasional sea-faring visitor. One such member was Captain Burnside.
Captain Thomas Carson Burnside (1847-1931). In the 1891 match between South Wales and Bristol & Clifton, Fedden lined up on top board for Bristol and was opposed by Captain Burnside of Cardiff. Surprisingly the latter won one game and drew the other.
A captain in the merchant navy, in 1896 his ship, the Moldava, was crossing the Atlantic in a fog when it hit an iceberg and he and his crew spent over two days adrift in lifeboats before they were rescued.
He had been a member of Dublin Chess Club (founded 1867) from 1876 and was still playing there in 1900.
The only other reference to the captain playing chess is that he played for the very strong Hastings club in 1901. In that year he went on tour with the club and they played matches against Cheltenham, Bristol & Clifton, South Wales (at Cardiff) and Dublin.
Meeting Places
The club met in its early years at the Angel Hotel, but protests from the more moderate members led to its removal to the Y.M.C.A. in October 1885. The following year the club moved again, to the Park Hotel.
In 1892 the club moved to No.36 Castle Arcade, which they rented at a cost of £8 per season, this fee including cleaning, gas, rates and papering! The club met on three nights a week, including Saturdays, and for six months of the year.
Their next move was for financial reasons, although as the charge at their new headquarters, the Hotel Metropole, was £10 for the same number of nights and over the same period, it is difficult to see how the club benefited. They were able to sell the equipment used at the Castle Arcade and, as this included chairs, the club probably had a sizeable surge in its income.
That was in October of 1894, but after just one season, the rooms at the Hotel Metropole were no longer available and the club moved again, under the same terms, to Barry's Hotel.
Complaints about accommodation continued to be one of the main talking points at committee meetings and, no doubt, the tea-totallers kept trying to take the club out of licensed premises. In July 1897 they got their wish. The club transferred to the Temperance Club and subscriptions were increased by five shillings per annum to include membership of that club.
This again did not prove satisfactory. In October 1899 the club moved temporarily to Marlow Restaurant in Mary Street, and, two months later, back to licensed premises at the Railway Hotel.
Finally, on the 1st July, 1901, the club settled at the Central Y.M.C.A., having secured the very favourable terms of 7s.6d. per member per annum.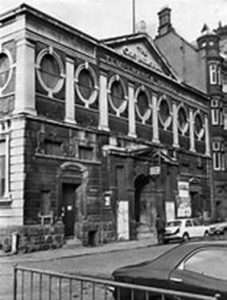 Cardiff Y.M.C.A.
Finance
The club appears to have been perpetually plagued by money problems. As early as 1893 there were loans from the club members totalling nearly £11, the vast majority of which was from the pocket of Mr. G. W. Lennox. The Secretary worked hard to reduce the club debt and secured £5 per annum from both Lord Tredegar and J. M. MacLean M.P., who became Life Members, and there was a useful donation from the Club President. Another of the problems which the Secretary overcame was that of unpaid subscriptions. At one time about a third of the members did not pay the club subscriptions!
1894-5 was the first season for some time that the club was free from debt and the members were so delighted that they presented the Secretary with a set of travelling chess men from the club funds.
Cardiff was fortunate in having some very eminent and influential men as their early Presidents. Sir E. J. Reed K.C.B., Lord Windsor and D. A. Thomas M.P. (later Lord Rhondda), were all club Presidents prior to the First World War.
Another answer to any financial problems was the large membership which the club invariably enjoyed. Numbers rarely fell below 30 and were usually closer to 50.
The subscription rate in I895 was ten guineas per annum. Yet another indication that chess before 1914 was strictly for the upper class.
Challenge Cup
Cardiff attracted members from as far afield as Mountain Ash and Bridgend, as well as being able to number most of the Penarth players among its membership. They dominated the South Wales Challenge Cup competition but the surprise is that they did not win it even more often.
The first recorded Cardiff team playing in the Cup was in a home match against Newport in March 1889. The team was L. J. Williams, G. W. Lennox, W. Pethybridge, J. L. Cooke, Rev. Dr. Gibbings and E. N. Bisgood. The match was tied on 5.5 points apiece but Newport went through to the final where they lost to Swansea.
They fielded an even stronger team the following year with the inclusion of Dr. J. Arthur on Board 5, but lost to Swansea 4-6 in the final.
Lewis Williams was born in 1863, near Llangan, the eldest son of a farmer. He went to Bristol as an apprentice architect but after marriage he moved back to Llandaff where he was listed as a master miller. His wife was from Clifton, hence his links with that club. There he had many tussles with Nelson Fedden and he won the club championship of Bristol ahead of Fedden in 1886.
Moving to Cardiff he was readily accepted as one of that club's strongest players and in 1899 was recommended by the club as a member of the British Isles team to play against the U.S.A.
In 1891 he played on top board for South Wales when Hastings chess club visited and drew with the former Sussex champion, H.F. Cheshire.
In 1908 he and his family emigrated to Canada and he is shown there as 'farmer'. They acquired a property and some acres but he died in June the following year leaving a widow and five children.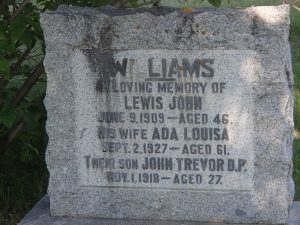 Cardiff's participation in the Challenge Cup was at first spasmodic. On the occasion of their withdrawing from S.W.C.A. in 1897 the club received a set of timer clocks from the Association. The S.W.C.A. went into something of a slump and there was no Challenge Cup competition between 1898 and 1903. This departure from S.W.C.A. did not mean less competition for Cardiff as friendly matches were frequently arranged, a notable visit being that of the Hastings Club in January 1901 (lost 7-11).
In the finals of 1891 and 1892 they were without the services of Williams but, led by Lennox and Pethybridge and they succeeded against Rhondda and Aberdare respectively.
In 1896 the competition changed from knock-out to all-play-all and this suited the Cardiff club who defeated Merthyr, Rhondda, Swansea, Aberdare and Llanelli en-route to the title.
When activities resumed there was no Williams or Lennox to lead them. Their new 'star' player was L. H. Jones. He led them to the final in 1905 where they lost to Blaina and to victory in 1906 and 1907.
Lewis Harding Jones (1881-1935) worked at the time for the Western Mail. His biggest success was at the 1906 British Championships in Shrewsbury. There he finished joint first in the Second-Class Tournament. By 1911 he had moved to Wimbledon.
The club also was fortunate enough to have the occasional 'star' visit them. In 1906 Edmond MacDonald, champion of Scotland in 1902, led the Cardiff club in a Challenge Cup match against Blaina. John D. Chambers, another Anglo-Scot, was first associated with the Cardiff club in their joint match with Newport against Bristol & Clifton in 1905. He played for Barry, Penarth and Bridgend as well as being linked to Cardiff. A third Scottish champion, D. Y. Mills had played for the club against Swansea back in 1884.
The club's final pre-war success came in 1912 though there are no details of Cardiff's team.
Just before the war caused a cessation of play, the very strong Newport player, Alfred Marshall joined the club and was a welcome addition on top board. He was one of the four strongest players in the club before the war, the others being Nelson Fedden, George Lennox and Lewis Williams. Those three had all gone by 1908 and the Cardiff's top hierarchy were represented by the estate agent, Robert H. Seel, who later became SWCA and then WCU president, Albert Reddaway who had already become club secretary and treasurer, and B. Rambam. They were all good players but not 'top drawer'. (The biographies of Reddaway and Seel can be found on the WCU website under 'about us').
Simultaneous Displays
Henry Edward Bird 1829-1908
Between 1888 and the outbreak of war there were visits by Henry Bird, Joseph Blackburne, Emanuel Lasker and Francis Lee. Cardiff was a Mecca for such displays with participants attending from various parts of the county.
Henry Bird was always a popular visitor with his unusual openings. He came to Cardiff in February 1889 as part of a general tour of the South Wales clubs. He took on 21 players (totalling 23 games as a few players played twice), losing to William Pethybridge and George Lennox, drawing with Ernest Bisgood and had three games classed as unfinished. In total he played 170 games in South Wales and lost just ten times.
He returned again in mid-October visiting the club on both the Thursday and Friday evenings. Playing at the Park Hotel in one display he won 15, drew 2 and lost to Lennox; one of the draws was against E. N. Bisgood; whilst in the other he lost to E. Possart and Cecil Bisgood out of 23 games played. The latter must have been only about 16 years of age at the time and was the younger brother of club member, Edward (E. N.) Bisgood.
Bird visited once more in March 1893 when he lost to Irishman Dr. Arthur, D. H. Francis and E. A. Edwards and drew with Lennox.
Joseph Henry Blackburne 1841-1924
Blackburne was the most popular of all the tourists with his strange quirks and his many pleasantries whilst playing. His visit to Cardiff in 1871 has already been mentioned.
It was twenty years before he returned. In December 1891 he lost to Lennox and drew three other games whilst winning 17.
In 1897 he played at Maskell's Hotel in St. Mary Street, the club's own headquarters at Barry's Hotel not being available. Again, he couldn't beat Lennox but succeeded in drawing with him and also drew with the Pontypridd and Cardiff player E. W. Rees and won 16 other games. His charge for this visit was £2.12s 6d.
In January 1898 he returned on the same terms and played at the Temperance Club in St. John's Square. In many of his games he tried the Vienna Opening. This time Rees, now of Penarth, succeeded in winning but was the only local success, Blackburne beating the other 16 players. He returned in the autumn, drawing only with L. J. Williams whilst beating another 14 players.
In March 1900 he took on 24 opponents at the Railway Hotel, drawing with Dr. Arthur and David Morgan of Cathays and losing to H. Turner. Some players had to abandon their games in order to catch the last train home. He offered to play blindfold for a visit in 1901 at four guineas for 6 games or five guineas for 8, but was not taken up.
Finally, in February 1911, in his 70th year, he made a farewell tour of the South Wales clubs and at Cardiff played 20, losing to J. T. Shelton and drawing with S. H. Lewis, W. Evans and Wakeford.
Francis Joseph Lee 1858-1909
The Birmingham player, Francis Lee, was not as well-known as his contemporaries but was a leading British player and contender for the Championship. He visited Cardiff in February 1901 at a fee not exceeding six guineas, the cost being defrayed by including two days of visits to other clubs. No results are known but it was noted that the event broke even. He visited again in November 1906 when he lost three and drew three of 18 games played.
Emanuel Lasker 1868-1941
Lasker visited Cardiff a year after winning the world title from Steinitz. The club paid thirty shillings to the South Wales Chess Association who had organised the November 1895 tour. At Cardiff he played 20 members at Barry's Hotel.
He very generously conceded to a Mr. Binns. His opponent had to leave to catch a train for Birmingham. Herr Lasker generously allowed it to be counted a win against himself. According to the state of the game at the time it was abandoned, it looked extremely probable that Lasker would lose. Many other masters might have marked the game as 'unfinished'. This was a particularly fine display as he disposed of the very best Cardiff had to offer including, George Lennox, Lewis Williams, Dr. Arthur and F. P. Down.
The total cost to South Wales for the tour was £17.10s.0d and each player had to pay 4 shillings which is a huge amount in today's money. Lasker seems to have priced himself out of the market and hence his absence from South Wales between 1896 and 1908. In 1898 he asked 6 guineas for one display and was turned down. His general practice was to give a short talk before each display.
He again toured several clubs in February 1908 and at Cardiff took on 20 opponents, winning 18, drawing with R. H. Seel and losing to L. H. Jones. His victor was, at the time, the Secretary of the Cardiff Club. As Jones also worked for the Western Mail it was no surprise that the event received good publicity
Other Events
The Handicap Tournament continued to be a popular competition. There were invariably several money prizes despite the precarious financial position of the club and it was rare, because of the handicap system, to see any of the club's strongest players walking off with first place. The winners were noted in the minutes as:
1896 S. Filke (Tylke)
1897 A. C. Forrest
1898 G. H. Down
1899 H. Turner
1900 L. J. Williams
1902 L. H. Jones
Edgar Tylke was a manager for coal exporters. He lived in Penarth and was playing for a club there in 1900. (His name is recorded wrongly in the minute book).
The second winner, Arthur C. Forrest, was a Londoner by birth and became the Paris representative of the Powell Duffryn Company until 1893 and in 1908 arranged a match with the Anglo-French club. On settling in Cardiff he eventually opened his own business as a pitwood importer and coal exporter. He played for Cardiff for many years and died in 1935 aged 80.
The winner in 1898, George Down, was the older brother of F. P. Down, the club's Vice-President.
Alfred T. Perry, a former Bristol & Clifton player, moved to Cardiff on retirement and won a 'Silver Rook tournament' in 1912, which may well refer to the above competition. Perry was regarded as a strong Bristol player and played for Gloucester before, late in life, playing for Cardiff and South Wales. He died two years after winning the trophy.
The first Open Tournament to be held in South Wales was held at Cardiff in January 1903. All the arrangements were made by A. C. Forrest, who just a few years earlier had been expelled from the club for contravening the club rules. He sent invitations to all known clubs in South Wales and advertised the event in the South Wales Echo and in the Western Mail. Players were invited at an entry fee of two shillings each and tickets went on sale to spectators at one shilling each. The Club President gave five guineas towards the prize fund, thereby enabling the following list of prizes to be offered:
1st A No.3 set, Staunton Superior, and inlaid board (total value 43/-).
2nd A No.3 set, Staunton Medium, and inlaid board (total value 33/6d.)
3rd and 4th. A 'B' set, Staunton Popular, and folding board (total value l/6d. each).
5th to 8th. Empire Board and men (7/6d. each).
Fifty-nine entries were received, but only 48 made an appearance when proceedings were started by D. A. Thomas M.P.
The knock-out tournament was won by A. W. Daniel who defeated L.W.P. Lewis in the final.
The winner, Arthur William Daniel (1878-1955) was from Fenton near Stoke-on-Trent and had qualified in London as a pharmacist. He began work at the Bridgend Mental Hospital towards the end of 1902 and remained there until World War 1. Between 1898 and 1953 he composed 1750 problems and was an expert at two-movers and three-movers.
His chess problems were published in the Cheltenham Examiner, Reading Observer, Falkirk Herald and Staffs Sentinel as well as the British Chess Magazine. He won the Bronze Medal at the American Chess Congress Tourney 1903-4. A. W. Daniel acted as Hon. Secretary of the British Chess Problem Society and became one of its most distinguished Presidents 1945-7. After World War 1 he moved to Wanstead, London and played for Leyton Chess Club. He died on 13th February 1955.
(See Bridgend chess club history for further details)
The losing finalist in the 1903 tournament, Lionel W. P. Lewis, was playing top board for Newport in 1902, ahead of Mrs. Houlding and A. R. Marshall. He played for Cambridge University against Oxford in 1893 and 1894 and his services were lost to Newport when he moved north to teach classics at Bradford Grammar School.
Further tournaments were held in 1904 and 1905. The result in 1904 is not known but in 1905 the event was won by Lewis H. Jones of Cardiff who beat C. C. Kirby of Newport in the final.
A Club Championship has existed at Cardiff from early times. The first known champion was Nelson Fedden who won a tournament in 1862 that took twelve months to complete.
A Cup was presented to the club in 1886 by their President, Sir Edward Reed, but unfortunately it has never been engraved with the names of tournament winners and therefore many of the Club Champions are unknown. When the Cup was first presented there was a division among the members, many of whom thought that, if the Cup was competed for by members of the Cardiff club then it would resolve into a battle between two or three players, and that it would be better if the Cup was presented for competition between all the clubs of South Wales and Monmouthshire. This division led to a decision about the Cup's future being put off for twelve months, but it was finally resolved that the Cup should be handed to one of the club members and that he should receive challenges, the winner of two out of three games to be the holder. Mr. F. P. Down was thus made the first holder of the Cup in 1887 having been the nominated first holder of the trophy.
By 1893 G. W. Lennox had become the Cup holder. He proposed a match between himself and another strong club member, Dr. J. Arthur, draws counting. It would appear that by that time Mr. Lennox was becoming tired of holding the trophy unchallenged hence the unusual sight of the champion challenging the challenger! The outcome of this match is not known, but either then, or more probably later, Dr. Arthur did win the Cup, as in September 1900 he is recorded in the minutes as offering it up for competition.
Dr. John Arthur (1841-1923) hailed from Londonderry. He was appointed Vice-President of the club in 1892 in succession to Professor Viriamu Jones.
L.H. Jones, the club secretary won the Cup sometime before 1905 as in March that year he lost a three-game match to J. D. Chambers. The latter's victory was short lived as in a return match that November, Jones won the title back.
Friendly matches continued to be played with Newport until 1908, with Bristol & Clifton 1896-1899 and against combined valleys' teams known as The Hills 1891-1895. There were also matches against St. Saviours of Roath – a group which also played against Penarth and Barry 1900-1902, and against the Clarion Club of Cardiff 1902.
Victorian and Edwardian Cardiff was a cosmopolitan town (city from 1905) with people being drawn in for the coal, docks and university (from 1883). The chess club reflected this and its senior members included Irish – Rev. Dr. R. Gibbings, Dr. J. Arthur; Scots – J. J. McEachran, J. D. Chambers; the Swedish family of Werner Cedervall; French – university professor Paul Berbier and ship owner Eugene Bregeon; Russian – Benzion Rambam; with the majority being English born – Feddon, Lennox (his parents were Scots), W. D. Wight, F. W. Hybart, the Down brothers, Pethybridge, R. H. Seel and R. Allen etc.. There were also a few – a very few – Welsh born stars in Lewis Williams, James Bush, Lewis H. Jones and Alfred Marshall. It would be many more decades before Welsh players would come to the fore.
Part Two
BETWEEN THE WARS
A. H. M. Reddaway of Cardiff was instrumental in resurrecting the fortunes of the South Wales Chess Association after the war. He acted as treasurer of the association from 1914 until 1928 and also served as President 1914-1924. Other Cardiff stalwarts in SWCA were W. D. Wight, President 1924-1928 and R. H. Seel, President 1928-1954. (Albert Reddaway's chess biography can be found in the 'about us' section on the WCU website).
Challenge Cup
SWCA activities resumed in 1920 and the Cardiff club was immediately to the fore, winning the final against Tredegar. Their team was led by Raymond Allen, R. H. Seel and the former Pontypridd player, E. W. Rees. Raymond Allen was a barrister linked with Cardiff University. He left Cardiff eventually to go to Bath where he became President of their chess club in 1938.
For the next few years, the club lost heavily to rivals from Monmouthshire. In 1921-2 Newport trounced them 5.5-0.5 and the following year Blaina were victorious 4.5-1.5 in spite of Cardiff now having A. R. Marshall to lead them. They reached the bottom in 1923-4 when they lost to Penarth in an early round, a club which rarely played in the competition.
The team bounced back to win in 1925, narrowly beating Newport in the final. The team was again led by Marshall, Allen and Seel but now had the former Mountain Ash players, A. Harper and A. M. Harper on the lower boards. Strength in depth was everything. The club won again next year and although the individual results are not known, the club beat Penarth, Porth, Porthcawl and Swansea (on tie-break) to reach the final against one of the Monmouthshire clubs.
Cardiff beat Mountain Ash to win the title in 1928 and won again in 1929 and 1930. By 1930 George Moore was playing for the club. He won the South Wales title in 1931, was Cardiff club champion 1949 and 1951, Monmouthshire champion 1954 and 1955, East Glamorgan champion 1955 and Welsh champion in 1963. The team was being led by R. H. Seel. As a result of the general slump following the Wall Street Crash, the S. W. C. A. once again did not function between 1930 and 1935.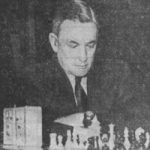 George P. Moore 1903-1973
The club's final pre-war success was in 1938 when they beat Swansea 5-1, the team being C. F. Chapman, R. H. Seel, J. T. Robinson, J. C. Dore, J. Lang and H. Edson. The following year they suffered one of their worst ever defeats when a virtually full side lost to the minnows of Tonyrefail.
The minute book listed a club ranking for its players in 1938: 1. R. H. Seel, 2. A. R. Marshall 3. G. P. Moore, 4. J. Lang, 5. C. F. Chapman, 6. Dr. Neumann, 7. H. Edson, 8. Dr. Jones, 9. J. T. Robinson and 10. J. C. Dore.
James C. Dore (1864-1951) was born in Tynemouth and moved to Cardiff as a child. He started work as a railway clerk and rose to become chief accountant for the Cardiff Railway Company. He joined the chess club about 1915 and was a regular member of the club's first team in the 1920s and 1930s.
Junior chess was beginning to make its mark in these inter-war years. In 1925 Cardiff High School was awarded a Schools Shield by the British Chess Federation. Their club nurtured the rare talent of James Marston Craddock (1913-2001) who won the British Boys Championship – the Ginner Cup – (Under 18) in 1929, 1930 and 1931. The last of these successes was as a pupil of King Edward School, Birmingham.
He was that rarity, a teenager who played for the county team in 1929. He played top board for Cambridge in the 1935 inter-varsity match and in one university match beat Sultan Khan. He took part in the British Championship in 1937. Later in life he represented many counties in the south of England, playing top board for Bedfordshire.
Another sign of things to come was a five-board match played by Cardiff against St. Illtyd's College just before the outbreak of war.
Club Championships
A.R.Marshall won the trophy sometime before 1924, but challengers remained scarce. In 1925 however there were seven challengers. The ensuing struggle was a knock-out with each round being over the best of three games. Marshall beat J. T. Robinson, V. Freed and A. Harper without conceding so much as a draw in retaining the trophy.
Alfred Marshall's father was a metal worker who settled in Newport. Alfred was born there in 1878. He found work with the Post Office. and joined Newport chess club about 1898, quickly rising to become one of the leading players and vying with Mrs. Houlding for a place on top board.
After his marriage in 1909 he moved to Cardiff. Marshall was the leading South Wales player in the period before and after the Great War. He won the South Wales Championships of 1920, 1921 and 1923 and was champion of Cardiff.
He was also a fine postal chess player, leading South Wales teams competing in the Counties & District Correspondence Chess Championships.
He was still listed by Cardiff as one of their top two players in 1939 and was on the committee of the club up until 1940. He died in 1967.
1927-1932 R. H. Seel
1938 J. Lang
1939 Dr. B. H. Neumann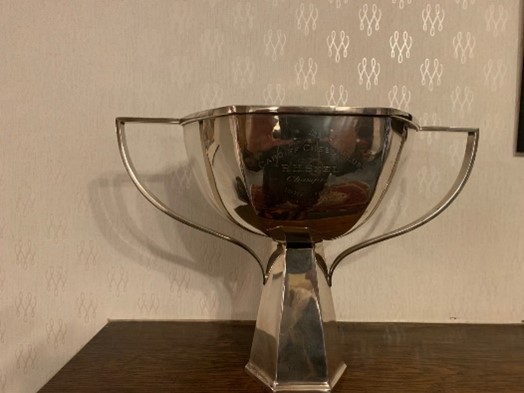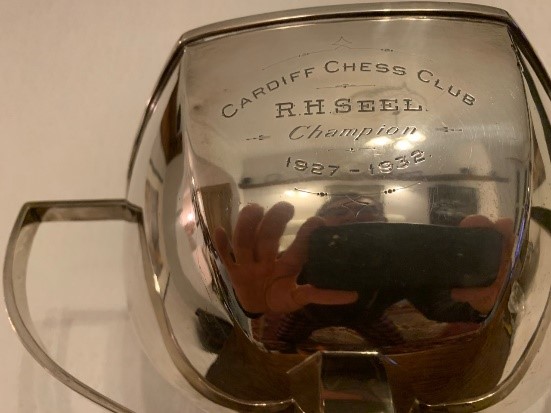 Photos courtesy of Mr. A. Seel
Trophy awarded to R. H. Seel after winning the Cardiff Club Championship 1927-1932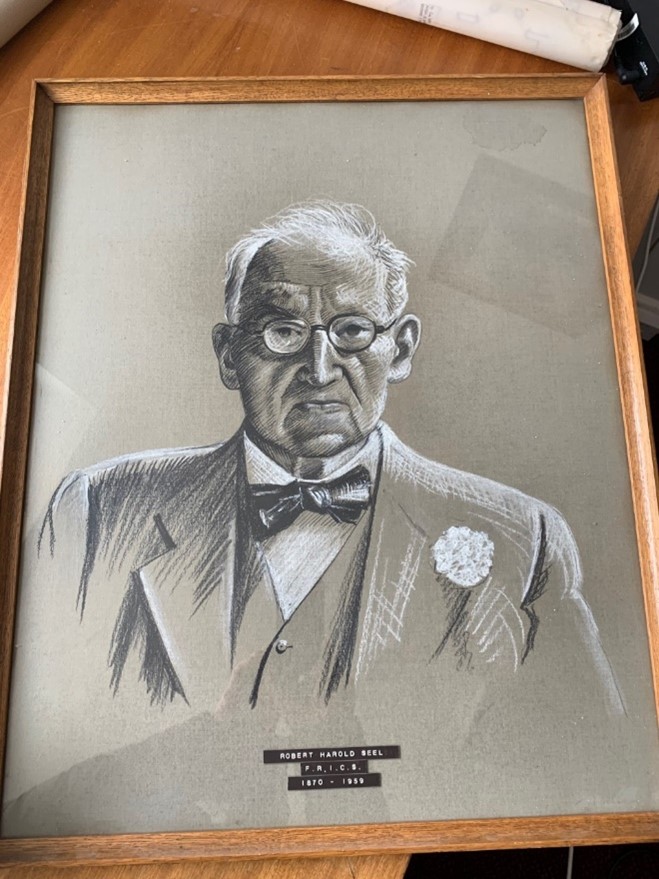 Photo courtesy of Mr. A. Seel
Robert H. Seel 1870—1959
He was an auctioneer and was better known in chess circles as President of the South Wales Chess Association and the first President of the Welsh Chess Union.
He was President of Cardiff Chess Club from before the war until his death.
(A chess biography of R. H. Seel can be found in the 'About Us' section of the WCU website.)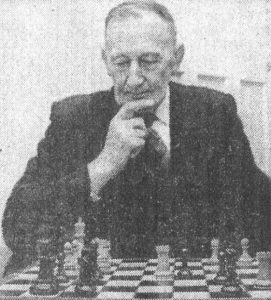 Joe Lang, 1899-1976, also known as Joseph Nicholas G. Primich
Champion of Cardiff 1946 and North Cardiff 1960.
Joe Lang, who joined Cardiff in 1934, was one of the club's most popular members. He was a gritty performer capable of holding his own with the best and, apart from a very brief flirtation with North Cardiff, he was very much a one-club man and won the East Glamorgan title in 1956 and 1958. He served as club secretary 1952-1954 and as club president 1959-1963. His real name incidentally was Joseph Primich and he was known under that name for his shooting skills at Bisley where he represented Wales. No-one really knows why he adopted the name of 'Lang' for his chess career. He had moved to Cardiff from Mozambique in 1932. In his youth he had been a wrestler!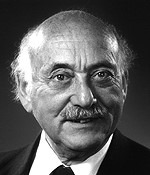 Dr. Bernard Hermann Neumamnn 1909-2002
He moved to the UK in 1933 and held a mathematics post in Cardiff University
After the war he moved to Hull and finally to Australia in 1962.
Dr. Bernhard Neumann was a brilliant mathematician who left Nazi Germany in 1933 and gained a PhD at Cambridge where he also gained his 'blue' playing on Board 3 against Oxford. He started a university career at Cardiff and later emigrated to Australia where he "provided the greatest inspirational influence in mathematics" over a 40 year period. He was joint runner-up in the 1939 South Wales Championship. He should have retained his club championship title in 1940 but, when in a virtually unassailable position, the event was abandoned.
The Players
G. P. Moore, J. Lang and R. H. Seel were the club's leading players leading up to and immediately after the war.
The South Wales Individual Championships were held in Cardiff at Easter so it is no surprise that many Cardiff players took part. A. R. Marshall (1921-2), R. Allen (1924-5-6-7), J. T. Robinson (1925-6-8-9-31), A. Harper (1925-6-7-9), J. C. Dore (1926-8), S. M. Harper (1926), A. M. Harper (1926-7-8-9), R. H. Seel (1927-8-9-30) and G. P. Moore (1931) all took part in the event between the wars.
Simultaneous Displays
In October 1919, the Cuban Grandmaster Jose Raul Capablanca visited Cardiff. Both this and his visit to Wrexham two weeks later were part of his 4th European tour when, between 6th August 1919 and 26th February 1920, he gave 45 such displays, playing a total of 1,645 games! Of these he lost only 41 and drew 89. The Welsh clubs did not contribute much to the tally against him. At Cardiff Y.M.C.A. he met 36 opponents from Cardiff, Newport, Pontypridd, Blaina and Tredegar clubs and one guest from the City of London. The sole representative of Pontypridd, an otherwise unheard-of Irishman Dr. James Shaw Little from Cilfynydd, was the only point scorer (He had played in one of the open tournaments in Cardiff c1904). He is said to have been so excited at being awarded a draw that he overlooked the fact that he could have played on and won.
In February 1922 the Serbian GM, Boris Kostic visited. He played 25 opponents and did not lose any, drawing five games, one of which was against J. D. Chambers of Penarth.
F. D. Yates was the British player also making the grand tour of South Wales clubs in the same month. At Cardiff he played 17, drawing with Raymond Allen and winning all the others. On this tour he won 214 games, drew 12 and lost just 2.
Yates made another tour in February 1925 and at Cardiff his record was won 19, drew 1 to A. M. Harper, and lost to A. Harper, A. R. Marshall and R. Allen.
Eugene Znosko-Borowsky came to Cardiff in November 1937, winning just 11 out of 20 games played. He drew 7 and lost 2 but there are no more details.
The last tour before the war was by Women's World Champion, Vera Menchik. She played 14 and only conceded three draws to Dr. E. M. Jones, J. Lang and A. W. Reynolds.
Dr. Edmund Jones (1899-1960) was medical superintendent at Ely Hospital. He commanded a place on one of the lower boards in the Cardiff team in the Challenge Cup finals 1950 and 1951. He was a Welsh Bowls champion.
AFTER THE WAR
Towards the end of the war chess activities resumed and matches were arranged against Penarth, Barry, Blackwood and The Observer Corps. A new Junior Club Championship was started. The annual subscription at this time was twelve shillings and six pence, being five shillings club membership plus YMCA fees. One club member, H. E. Davies, commented on his successes in several Service Championships, but no record has been found of these achievements.
81-year-old Jacques Mieses gave a display at Cardiff on 8th February 1946 but no report has been uncovered. British Master, Harry Golombek made several visits to the club. On his first appearance in 1947 he won 10 drew 9 and lost 3. A reference to this display in the Cardiff club minute book marked expenses at £7. 11s. 0d with £6.10s.0d being collected from spectators and players. On his next return on 22nd December 1949, he lost only one of his twenty games to George Moore. The fee on this occasion was five shillings per player.
When normal S. W. C. A. services resumed the chess scene carried on much as before. The Challenge Cup continued to be contested by clubs in what was by then 'West Wales' together with clubs from the rest of Glamorgan. They were split into east and west sections where play was in an all-play-all double-round format. The winner of each section played off in a grand final. Cardiff won the trophy in 1949 and three years in succession 1951-2-3. Cardiff have achieved this feat on a number of occasions (1928-30; 1957-9, 1971-3) and the only other club to win three successive titles (as far as records show) was Newport 1909-11.
Cardiff won the East section in 1946-7, narrowly beating off Barry after drawing two matches with them. They drew again in the final to Port Talbot but lost on tie-break.
They lost out to rivals Barry in 1945-6 and 1947-8 but in the latter tournament we get the first glimpse of who was playing for Cardiff at the time. The team was led by Joe Lang, Charles F. Chapman, George Moore and Robert Seel with the lower boards filled by F. S. Wayling, Dr. E. M. Jones and old combatant John T. Robinson (1889-1962). The latter had played in the South Wales Championships as far back as 1924 and was said to be prominent in docks chess. There was also a first appearance for F. W. Dovey.
Frederick S. Wayling was born in England in 1896 and played much of his early chess for Yarmouth. He was employed by Inland Revenue when he moved to Cardiff. He played in the last SWCA Individual Championships in 1954. He quickly rose to prominence and was made Chairman of the new WCU. His claim that the idea of a Welsh Chess Union was his was heavily contested. Mr. Wayling had very set ideas on how things should be organised and, as Chairman, ensured that progress was made on the lines that he wanted. There was none of this democratic nonsense about his Chairmanship! He would tell the meeting what he wanted and would, in a calm and gentlemanly way, talk until everyone was exhausted. He had the knack, when confronted with opposition from the floor of a meeting, of confusing the issue and ending up, as everyone was going home, of announcing the decision he wanted! He had a habit of forming a chess club wherever one is lacking in the town in which he resided. He certainly proposed the change of name that created the East Glamorgan Chess League in October 1954. He retired in 1957 to Cornwall where he married and continued playing chess. Whilst there he started the BCF Inter-Union Championship and presented the event with a trophy. He died in 1972.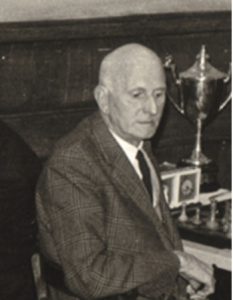 Photo W.H.Price
F.W.Dovey 1897-1968
The strongest Cardiff player of this period was Mr. Frederick W. Dovey who originated from London and joined Cardiff in 1947. Many people rank him among the strongest Welsh players ever and he certainly stood out among his contemporaries. Briefly 1956-8 he served as treasurer for the East Glamorgan League. He retired from active chess at the end of 1965 (though continuing as an adjudicator for the local league), passing away three years later at the age of 71. In 1959 he teamed up with G. F. Barnard and D. A. Curtis to represent Cardiff and play a consultation match against a Glasgow team consisting of W. A. Fairhurst, P. B. Anderson and C. W. Marshall. The match was played on Network Three on the radio.
Chess in schools was taking off in Cardiff. The success of Cardiff High School earlier in the century has already been mentioned. They continued to be a force to be reckoned with but now had to compete with St. Illtyd's College where their energetic teacher was Brother Cyril. Walter Marshall and John Murphy, both of St. Illtyd's, were selected in 1949 for Wales' first Under 18 team to compete in the Glorney Cup. Marshall, who joined Cardiff chess club, played against Jonathon Penrose in the Wales-England match; the team captains juggling board order to enable this clash of titans. The game was drawn. (A short biography of Walter Marshall can be found in the 'About Us' section of the WCU website.)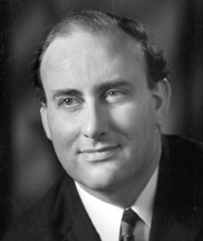 Walter Marshall
By 1950 Cathays High and Canton High (where Peter K. Marshall excelled. He was accepted for Oxford at the age of 15 and became a Latin and Classics Professor at Amherst College in USA) were also taking part in an East Glamorgan Schools League.
The 1949 Challenge Cup winning team was F. W. Dovey, G. P. Moore, F. S. Wayling, R. H. Seel, T. Stubbs and F. L. Walkley. Francis Walkley (1906-2005) was an auditor in the city treasurer's department. He had been club treasurer between 1945 and 1948 and was again treasurer 1950-1952. In 1950 the team that lost in the final included Robert Teene and Bill English – an Estonian and a Pole. These two also played in the Cup winning team of 1951. Robert Teene, tied for the club championship with George Moore that year but was unable to play-off as he emigrated to Canada where he continued to play chess in Montreal. Bill English won the South Wales Championship in 1951 after being runner-up the previous year.
Dovey, Moore and Lang were members of the teams that won the title three times in a row 1951-3. Seel, by now in his eighties, played in the finals of 1952 and 1953 as did J. T. Robinson. The `1952 side had Brian Douthwaite on Board 3.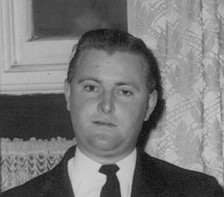 Brian Douthwaite was born in Cardiff in 1931. He joined Cardiff chess club as a teenager.
He won the Welsh title at the first attempt in 1958 despite a loss in round one, winning all his remaining games.
At the time he won the Welsh title he was playing for Blaina and he helped that club win the county championship 1957-1959. He was county champion of Monmouthshire 1958 and of West Wales in 1960. He was also awarded life membership of Aberystwyth Chess Club.
After emigrating to Canada, he won the Canadian Correspondence Chess Championships. He died in Mexico in 2006.
Inland Revenue in Llanishen, started playing in the Challenge Cup in 1949, led by F. S. Wayling. In 1950 Cardiff Technical College and Old Illtydians joined and in 1951 a club recorded as C.C.C.C.C. took part. The formation of new clubs in the city stimulated the start of a new chess league. This may have been the reason that the Cardiff club itself struggled for membership in the early 1950s with numbers falling to below 20 at one point.
The Cardiff Chess Association was promoted by the Press (Western Mail & Echo) Chess Club and the leaders of that club, Messrs. Cyril C. Millward (assistant editor of the Western Mail) and E. P. Hope, were duly elected the Chairman and Secretary of the new organisation. The five founder clubs were Press, Inland Revenue, Old Illtydians, North Cardiff and Cardiff Medical Students. B.E.A. joined the following year when the students dropped out, and in the third and final year Cardiff Transport also fielded a team. The only club with any longevity was North Cardiff which had been formed in 1951,
The visit of New Zealand and British champion, R. G. Wade on 9th February 1954 was restricted to those players in the Cardiff Chess Association. Thus, there were no Cardiff club players taking part.
He won 18 drew 8 lost 4 to C. J. Parker and D. O'Keefe of Old Illtydians, L.Wallbridge of North Cardiff, and W. Exton of Press. Amongst his draws were those against F. S. Wayling, G. P. Moore, Brother Cyril and A. A. Olson.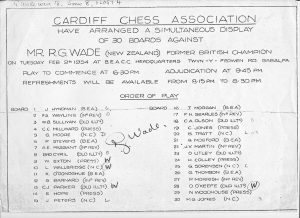 Wade's display did not include Cardiff chess club players.
All the participants played in the Cardiff League.
On Tuesday, 5th October 1954, on a proposal of Mr. F. S. Wayling, the Association changed its name to the 'East Glamorgan Chess Association'. This proposal was put to the meeting at the request of the newly formed Welsh Chess Union in order to provide a more comprehensive cover to the Eastern half of the county. Representatives of C.E.A., Inland Revenue, North Cardiff and Old Illtydians attended the meeting by invitation, and these clubs, together with Press, Cardiff, Barry, Bridgend and Cardiff Transport composed the new league. The original aim of a city league was however preserved as, for the first season, two leagues were run, one for Cardiff (won by Old Illtydians) and the other for 'district' clubs, the two winners playing-off for the Zone Championship.
Club Champions
1946 J. Lang 1947 C. F. Chapman
1948 F. W. Dovey 1949 G. P. Moore
1950 F. W. Dovey 1951 G. P. Moore
1952 F. W. Dovey
A NEW LEAGUE FOR ALL
In January 1956 Harry Golombek returned and this time did not lose a game. Taking on 33 players from 10 clubs in the league, he conceded 11 draws. The entrance fee of five shillings per player included refreshments.
The Cardiff team dominated the new East Glamorgan League, winning the title eight times between 1957 and 1964, twice – in 1959 and 1964 with a 100% record. Between 1969 and 1975 they only lost two league matches.
The 1957 team was led by Dr. M. E. Wise who, as East Glamorgan champion that year, was strong enough to play above Mr. Dovey. The team went on to win the Challenge Cup trophy. The team in the final against Blaina is not known but in the semi-final, after Wise and Dovey, they had 3. J. Lang 4. P. T. Gelstharp 5. F. E. Evans and 6. W. H. Price.
Paul Gelstharp was a native of Cardiff. He was elected Secretary of the new league in 1956 and after two years switched to the role of treasurer. He was also treasurer of the Cardiff club between 1956 and 1959. A couple of years later he moved to Hampshire where he played for the county team.
Frederick Evans was from Pontypridd and played for Cardiff for many years.
Hugh Price rarely played for the first team. He had joined the club in 1938 and was appointed club treasurer in 1957. He also took on the role of secretary from 1960 onwards. If ever there was a man who could be called a pillar of the club it was him. He organised most of the activities in the club including competitions of varying kinds throughout the summer which were open to visitors and members alike and he continued to work for the club in one capacity or another for more than sixty years.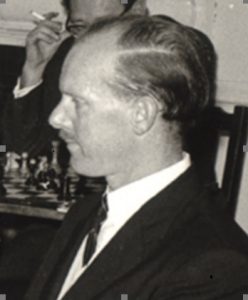 Photo W.H.Price
Hugh Price (1926-2020)
1958 saw Cardiff beat Swansea in the Challenge Cup final. The team on this occasion was F. W. Dovey, J. Lang, P. T, Geltstharp, B. V. Bloch, J. R. Smith and F. E. Evans. Bloch and Smith were from the Bridgend club which was not at that time competing in the competition. (See history of Bridgend chess club).
That final was repeated the following year with F. W. Dovey, J. D. Mills, P. Walker, J. Lang, B. V. Bloch and J. R. Smith making up the team.
John Mills was born in Plymouth in 1935 and played for Taunton chess club before settling in Wales. He went on to win a share of the Welsh Championship in 1961. P. Walker moved to Nairobi in about 1961.
Records for the club championship are few and far between at this time and the only known winner in the late Fifties was F. W. Dovey in 1959.
The Swinging Sixties
The chess world of the 1960s was all about the rise of American Bobby Fischer. His competition with Russian opposition made the headlines and inspired many young chess players to take the game more seriously. Every chess club in Wales benefitted. Cardiff certainly promoted junior chess in a big way. For example, in the 1961-2 season they had friendly matches with Cardiff High School, Penarth Grammar School, Howardian High School and St. Illtyd's College. There was also a Cardiff schools lightning chess tournament.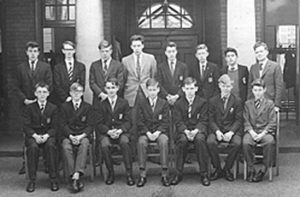 Photo: D. J. Sully
Cardiff High School c1963
Back: Hammond, Tony (A.G.) Hughes, Robert Taylor, ?, ?,David Sully,
S.G.Davies, Ernie Coombes (master).
Front: ?, Coleman, J.S.Evans, Alan (A.J.) Hughes, ?, ?, ?.
In Cardiff the sixties opened with a display by British champion, Leonard Barden. He took on 30 opponents, drawing 7 and losing 3 one of which was to F. V. Waite of North Cardiff.
The club sponsored the first Boys Club of Wales Championship which was won by Malcolm Jones of Brecon (who later played for Llanelli and Morriston clubs). He finished runner-up in the national finals in London.
R. G. Wade returned at Easter 1961 winning 15 drawing 5 and losing 4, one of which was to G. P. Moore.
Cardiff continued to dominate the East Glamorgan League, winning the title repeatedly between 1960 and 1964. As winners they proceeded to the Challenge Cup knock-out. In 1960 they lost in the final to Swansea. The following year they beat Neath, their very experienced team being F. W. Dovey, J. D. Mills, J. Lang, B. V. Bloch, F. E. Evans and J. R. Smith.
In 1962 they lost again in the final to Swansea but the highlight of the year was a visit to Cardiff on 3rd December by the Estonian Grandmaster Paul Keres. He won 22, drew 2 and lost only to Arthur Jones of Swansea. He drew with Gordon Cadden of Newport and Robert G. Taylor of Cardiff.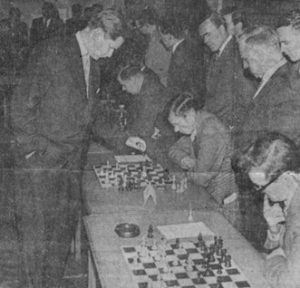 Paul Keres prepares to move against Gerald Jenkins of Neath
In the Challenge Cup final of 1964 (the 1963 event had been declared void due to unacceptable delays in playing matches) Cardiff drew with Newport. Cardiff is shown in one account as the winner but in another the title was shared. The Cardiff team was Dr. K. D. Warren, F. W. Dovey, J. Lang, Dr. P. Wentworth, F. E. Evans and G. A. Jones.
Keith Warren (born Essex 1931) was a very strong player and rated the leading player in Wales. He was attached to the Department of Chemistry at Cardiff University. He had been undefeated for three seasons playing for Leicester University in the early 1950s and ended up as club president. From 1966 until he left the area about fifteen years later, he was president of Cardiff chess club.
Dr Paul Wentworth (born Cardiff 1937), played for the Welsh Glorney Cup team in 1954. He left for Canada during the 1964-5 season and was sponsoring chess tournaments in Toronto, Canada in the late 1990s.
Gareth Jones was a very talented junior from Heath in Cardiff. He played in the Glorney Cup teams 1963 and 1964.
On 18th February 1964 Barry Wood of Sutton Coldfield was the touring British master who gave a display in the city. He took on 19 opponents, drawing 5 and losing 3 to D. A. Gillespy of Cardiff and to E. W. Jenkins and O. Schiffer both of North Cardiff. His draws were against E. Bridge, F. C. Parker, G. E. James, G. P. Moore and R. E. A. Livermore.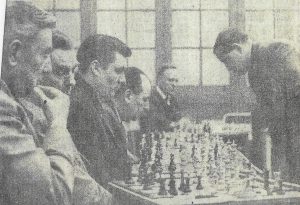 B. H. Wood studies his next move.
G. P. Moore is closest to the camera, third from the left is Otto Schiffer and leaning over is Leonard Burton
The spell of Cardiff A was unexpectedly interrupted by a young team put together by the same club as an experiment in 1964. Welsh born chess talent had at last emerged. In their first season the Cardiff Under 23s, led by D. J. Sully, G. A. Jones, A. J. Hughes, M. J. Lexton and A.H. Williams, won the league and went on to win the Challenge Cup although only the top four played as their opponents, Aberystwyth University could only raise four boards. They successfully defended the league title in 1966, but the reign of Cardiff Y.M.C.A. was halted in 1967 by the victory of the University students.
They really were an exceptionally talented team. David Sully played top board for the Glorney team of 1965, won the Welsh Senior Championship in 1966 and the East Glamorgan titles in 1976 and 1981 (shared); Gareth Jones was Cardiff club champion in 1965, East Glamorgan champion the same year and runner-up in the British U21 Championship 1967; Alan Hughes played in the Glorney 1965 and 1966 after winning a raft of junior titles – U12 (1960), U13 (1961), U14 (1962) and U18 (1965); Michael Lexton was in the Glorney team 1966, Cardiff club champion 1966, and he went on to be runner-up in the British U21 Championship 1968 and to win the West Wales Championship whilst at University there in 1972. He was one of just a few Welsh players with grades of over 200 by the end of the decade. Howard Williams was the youngest member of the team having been born in 1950. He played in the Glorney Cup in 1965, 1966, 1967 and 1968, won several junior championships and went on to win or share in 18 Welsh Championship titles.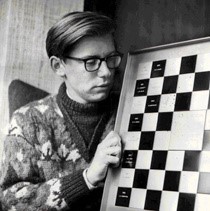 David Sully 1966
After 1966 Cardiff did not win the Challenge Cup again until the 1970s. This was partly due to the emergence of a very strong University team and partly due to the club splitting its talent between three teams – Cardiff 'A', the Under 23s and Cardiff Bishops.
There was another spectacular simultaneous display on 13th January 1965 given by the Yugoslav Grandmaster Svetosar Gligoric. He won 19 drew 7 lost 4 to B. A. Heath of Pontypridd, G. A. Jones of Cardiff, F. V. Waite of North Cardiff and G. Barnard of Inland Revenue. Draws were conceded to J. M. Evans, C. Dawkins, G. Brangham, R. G. Taylor, A. J. Hughes, W. Gough, and V. Davies of Llanelli. The late WCU President, Geoffrey Tyrrell was the organiser of this display.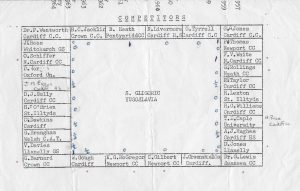 The Gligoric display took place at Whitchurch Grammar School
That same year International Master W.A. Fairhurst, several times champion of Scotland, also gave a display on 17th September, winning 11 drawing 6 with no losses. His draws were against G. P. Moore and O. Schiffer of North Cardiff, J. E. Syner of Cwmbran and A. H. Williams and K. G. McGregor of Cardiff. This exhibition was a part of the Commonwealth Arts Festival and was held at Cardiff Castle. The organising committee, B. C. Jacklin, T. Caple and Mrs. S. Mills, had also planned living chess displays and other attractions, but the weather forced them to cut their programme.
Boris Spassky visited Cardiff on 11th January 1966. Many of these displays formed parts of tours by grandmasters who had competed at the annual Hastings International Tournament. The display by the future World Champion was held during one of the worst winter spells for twenty years. Trains were on stop and buses severely curtailed. Many players from West Wales could not turn up and their places were filled by people who had attended to serve refreshments or just to watch. The display itself was of whirlwind proportions. Spassky agreed an early draw with the young Howard Williams and demolished all other opposition. At the close of play he drew up a chair and sat down opposite Dr. Lewis! Generously he offered a draw before proceeding with a rapid chess demonstration which soon finished off the doctor. His final tally was won 18 drew 2 lost 0.
The final displays of the decade were in 1970. Former World Champion, Vassily Smyslov, arrived on 13th January and lost just one of his 32 games to F. V. Waite of North Cardiff whilst drawing five more to T. M. Lister of Bridgend, G. G. Rollings of Neath, Otto Schiffer of North Cardiff, and to K. G. McGregor and R. Roberts. The event was jointly organised by Bridgend and Cardiff Chess Clubs.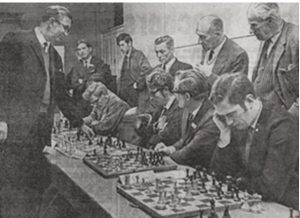 V.Smyslov about to move against T.M.Lister of Bridgend
Seated closer to camera are K.G.McGregor and D.Parsons of Cardiff
Peter H. Clarke was one of the strongest British Masters. Early in 1970 he controlled the annual East Glamorgan Championships and afterwards toured a number of clubs. On 17th February he gave a display in Cardiff and lost four of his 16 games to Cardiff members, V. J. Dubow, G. R.Hook, M. Neary and R. L. Smith.
Club Championship
The title was not awarded in 1960 as many games went unplayed, although Bernard Bloch was well ahead of the competition and virtually unassailable. The trophy had been placed in safe-keeping in 1952 and no one knew where it was! It re-emerged in 1961 and a pool system of competition was then instigated and continued thereafter.
1962 Dr. K. D. Warren
1963 Dr. K. D. Warren, F. W. Dovey and J. D. Mills
1964 Dr. K. D. Warren
1965 G. A. Jones
1966 M. J. Lexton
1967 M. A. Haigh
1968 A. H. Williams
1969 M. A. Haigh
1970 J. D. Mills
Michael A. Haig, born Yorkshire 1938, had played for Leeds chess club. At the age of 17 he beat Paul Keres in a simul. After spending some time in Cardiff, he left the area, but returned in the 90s to play in the West Wales League.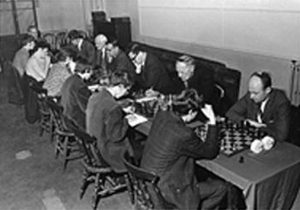 Photo W.H.Price
Cardiff 'A' (facing) v. Cardiff Under 23s October 1969
R.G.Taylor v. S.K.Cronick, S.M.Harper v. P.L.Davies, A.B.Harper v. M.Goodyear, K.D.Warren v. C.E.Franklin, J.Lang v. R.L.Smith, B.Elliott v. M.J.Neary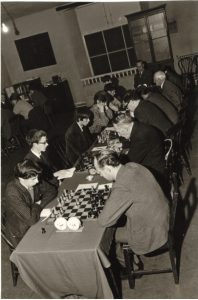 Photo W. H. Price
The same match from a different angle
(Part 3 of this club history will have to wait for a Cardiff club enthusiast to put together the more recent story of the club. I would recommend not waiting too long though as it is the stories and anecdotes recalled by club members which add vibrancy to the statistics which can be gleaned from more official records.)