A TOWN CHESS CLUB
There was interest in chess in the area well before any club was formed. The Liverpool Mail as early as 1856 sported an advertisement for the Reading Room and Library which had recently opened at the western end of Marine Parade. It included "A Piano-forte for the use of subscribers. Billiards and Chess" and other facilities. The rooms being 'handsome and spacious and commands fine views of the sea and mountains.'
In September 1866 a correspondent in The Illustrated London News clarified the definition of 'check'; and three years later another query was received about the whereabouts of any club in the town.
A chess club was eventually formed in Llandudno in connection with the Reading Room and Library in Mostyn Street, early in June 1877.
It wasn't necessarily an immediate roaring success. One correspondent wrote just three years later that "The chess-room, which is very rarely used, could easily be converted into a comfortable smoke-room." A year earlier however the committee had reported that "The Chess Club and Debating Society were stated to be as attractive and instructive as ever." Perhaps this discrepancy had something to do with the fact that the Reverend Mayou was on the Library Committee; he was involved with the chess club and would certainly not have given it a bad press.
The early leaders of the club were Rev. C. F. Jones, president; Rev. B. Mayou (1825-1900), chairman; and Mr. W. Woodward, treasurer with W. Smith as secretary. For the 1880-1 season a chess tournament was planned for the club members with two prizes being offered, and matches by correspondence were to be arranged against Liverpool, Chester and perhaps other clubs.
The President, the Reverend Charles Frederick Jones was a strong player, brought up in Llanidloes, who had played for Oxford in the varsity match at the beginning of the year. He had also written asking to be considered as a member of the first South Wales team to play against Bristol, but although his inclusion was welcomed, he did not take part. He was curate in Ruabon from 1875 and resided in Llandudno from at least 1881. Sometime around 1891 he and his family moved to Cheshunt in Hertfordshire. (He was born in 1849 and should not be confused with Rev. Charles Francis Jones born in Pyle in 1857. The latter was a curate in Swansea for a while before moving to Baildon, Yorkshire where he corresponded with the Cambrian and other chess publications, frequently submitting problems.)
We are treated to mere glimpses of this early club. A chess tournament there was reaching a conclusion in May 1883 with the competitors named as A. Lane (late of St. George's and the Westminster chess clubs), R. W. Hullett of Singapore, F. Deakin, Edwin O. Parry, W. Jones, A. Lane junior and W. Smith.
Albert Lane was a landscape artist and had two sons, Albert K. (15) and Alfred C. (13) so the identities of the two 'A. Lane's' is not known for certain. Hullett was one of the strongest players in Singapore where he was a headmaster.
The following year what was named as the 3rd Annual Chess Tournament ended in March with A. Lane junior ahead with 19.5/24. A year previously he had finished last. He was followed by Deakin 18.5; Parry and Smith 15.5 with the latter taking third prize after a play-off; J. Raymond 13; W. H. Jones 10; F. W. Webb 7.5; A. Evans 6 (he did not play all his games) and A. P. Keage 2. Three games were played against each opponent.
A tournament organised in the town in 1886 was intended to stimulate more interest in the club. This event was a 6 player all-play-all with each of the players playing three games against each other contestant. Rev. Jones won with 12.5/15, ahead D. Edwards and Richard Pilkington both 8.5. Pilkington was a former President of the City of London Chess Club. He played in the Vizayanagaram Tournament, a 26-player event alongside the 1883 London Tournament and scored a lowly 1.5 points. He also had the pleasure of playing at Simpson's Divan in a tournament featuring Blackburne, Gunsberg, MacDonnell and Mason. As a player rated only fourth class he was in exalted company.
| | | | | | | | | |
| --- | --- | --- | --- | --- | --- | --- | --- | --- |
| | | CFJ | DE | RP | WS | JR | EOP | Total |
| 1st | Rev. C. F. Jones | X | 1,1,0 | 1,1,0 | 1,1,½ | 1,1,1 | 1,1,1 | 12½ |
| 2nd‑3rd= | D. Edwards | 0,0,1 | X | 1,1,½ | 1,1,0 | 1,1,0 | 0,0,1 | 8½ |
| 2nd‑3rd= | R. Pilkington | 0,0,1 | 0,0,½ | X | 1,1,0 | 1,1,0 | 1,1,1 | 8½ |
| 4th | W. Smith | 0,0,½ | 1,0,0 | 0,0,1 | X | 0,0,1 | 1,1,1 | 6½ |
| 5th | Rev. J. Raymond | 0,0,0 | 0,0,1 | 0,0,1 | 1,1,0 | X | 1,0,½* | 5½ |
| 6th | E. O. Parry | 0,0,0 | 1,1,0 | 0,0,0 | 0,0,0 | 1,0,½* | X | 3½ |
Far from stimulating the growth of chess in the town, this event is the last mention of a club in the town before a revival in 1905.
CRAIGSIDE HYDRO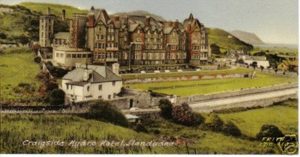 Llandudno was the venue for a series of congresses from 1891 to 1901 played at the Craigside Hydro, mainly as part of the Christmas and New Year celebrations. The congresses drew many distinguished players although there was not the mass of average players one finds at modern day events. The hotel itself was a popular hydrotherapy resort which survived into the 1960s. The secretary for these events was Arthur Firth who lived nearby. The winner held the Craigside Challenge Cup until the following year and there were also a handicap tournament and, initially at least a Ladies' event.
The event spawned the formation of a Craigside Chess Union in 1892-3 with Porterfield Rynd as its first president and Arthur Firth as secretary.
Arthur Firth was born in Sheffield in 1862. He trained as a law student in Bristol and probably set up his own business in his home town in about 1883. His career however took him on a much different path. He became linked with a hydropathic company in Bradford-on-Avon before going into partnership with a John Smith to establish a similar concern in Llandudno. This was in 1886. By 1890 he and his family were living in the area. The Hydro had opened in 1887. Sometime c1900-1901 Firth moved to Surrey.
In 1928 he published a series of beginners' booklets called 'Chess Nuts' and four years later became editor of a quarterly chess magazine which was the organ of the Empire Social Club.
In October 1935 he was involved in the running of a 'residential chess club' at the Queen's Hotel, Llandudno, together with the Llandudno club secretary, Reginald John Hollins. The magazine was absorbed into B. H. Wood's 'CHESS' in 1936. He moved back to Llandudno a short time later.
1892 December
Porterfield Rynd (Dublin) 2. Arthur Firth (Llandudno) 3. Percy Gibbs (Birmingham). There were ten competitors
Mr. James Alexander Porterfield Rynd, the congress winner in 1892, was regarded as champion of Ireland following his success at the Dublin Congress of 1865. He won again in 1892 and was believed to be the strongest player in the island before the advent of J. J. O'Hanlon in 1913. At Craigside, he was the first winner of a silver challenge cup (worth ten guineas). In the afternoons Mr. Rynd gave simultaneous displays and played blindfold chess. Open tournaments, including a handicap were run alongside the main event.
A relative of his, K. A. Rynd, won the competition the following year, but laid no claims to the congress trophy which remained in the possession of Porterfield Rynd.
1893 December
Kenneth Rynd 7.5/8, Bernard Wilmot 7, G. Y. Ashworth 5.5, Arthur Firth 6, Percy Gibbs 4.5, W. Gibbs 3.5, C. A. Moses 2, J. C. White 1, J. Whitlock 0.
The Christmas 1894 tournament was billed as for the Championship of North Wales. The distinguished list of entries included: The Reverend John Owen of Cheshire who, under the nom de guerre of 'Alter' contested ably against the great Morphy in 1858 and afterwards won third prize in the International London Tournament of 1862; Porterfield Rynd of Dublin; Mr. Herbert Jacobs, B.A. of London; Mr. Lee of Cheltenham; Mr. Bellingham of Dudley and Mr. Wilmot of Birmingham. Mr. Jacobs won ahead of W. H. Gunston and the Rev. J. Owen in joint second place. In the Championship section of that year there were three prizes in addition to a Silver Challenge Cup, and in the Handicap section there were four prizes. Jacobs won the City of London Championship and was several times Surrey County champion.
1894 December to January 1895
Herbert Jacobs 6/6, William Gunston 4, John Owen 4, Harry Lee 3, Bernard Wilmot 2, George Bellingham 1, Porterfield Rynd 1.
The following Whitson there was an extra congress at the Craigside Hydro which was won by Mr. Edward O. Jones, a strong City of London player. He also won the Christmas 1895 tournament, sharing first place with Mr. G. E. H. Bellingham.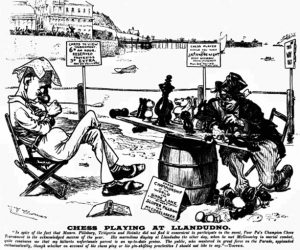 From Ally Sloper's Half Holiday 21st September 1895.
1895 June
Edward O. Jones 4/4, Joseph Blake 2, Herbert Jacobs 2, John Owen 2, Bernard Wilmot 2.
The 1895 Christmas event was advertised as including, "(1) Open Championship on level terms for the Craigside Challenge Cup, value ten guineas; (2) Handicap; (3) Ladies' Handicap; (4) Championship of North Wales – challenge cup value 10 guineas, and two prizes. Several valuable prizes are offered in addition to the challenge cups. A Ladies' Handicap and a challenge cup for the Championship of North Wales, open only to bona fide residents in North Wales have been added." The winner of the main event, George Bellingham, was champion of Worcestershire 1895-6.
1895 December to January 1896
George Bellingham 4/5, Edward O. Jones 4, Bernard Wilmot 3. William Gunston 2, W. H. Supple 1.5, Climenson Dawbarn .5.
The 6th event in the series had a time limit of 20 moves per hour. There was also to be a handicap tournament and a Championship of Wales complete with challenge cup. Held over Whitsun weekend E. O. Jones of London won for the second time. There were only six players in the handicap which included Bellingham, and Firth. Skipworth, former secretary of the virtually defunct Counties' Chess Association stated his intention of trying to resuscitate the meetings of the C. C. A. in conjunction with the Craigside tournament.
1896 May
Edward O. Jones (London) 2.5/3, George Bellingham 2, John Owen 1, Arthur Skipworth .5
The event switched to the first week in January in 1897 and was adopted by the Counties' Chess Association. This body had been in existence since 1870 and was in direct competition with the British Chess Association (established 1857). Both organisations held their own tournaments and neither truly flourished or gained much in precedence over the other. In fact, the animosity between the two led to the disappearance of both in all but name by the turn of the century.
Nine players entered the 1897 event which was again won by G. E. H. Bellingham.
1897 January
George Bellingham 8/9, Amos Burn 7.5, Charles Sherrard 6, William Gunston 5, Edmund MacDonald 5, Ernest Jones-Bateman 4, Edward O. Jones 4.5, John Owen 3, Arthur Skipworth 2, Arthur Rutherford 0. (There are some variations to this result list in other reports)
Handicap tournaments were held alongside the main event and this was repeated in 1898
The runner-up, Amos Burn, was one of the few British players who came near to Grandmaster standard at that time, although of course there was no such title in those days. Thereafter he dominated the congress.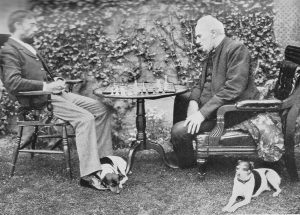 Century of British Chess
Amos Burn (left) and Rev. John Owen
1898 January
Amos Burn 9/10, George Bellingham 7.5, Bernard Wilmot, Edward O. Jones, 6, Anthony Dod 5.5, George Schott 5, John Owen, Charles Sherrard 4.5, William Gunston 4, Edmund MacDonald 2.5, Climenson Dawbarn 0.
In 1899 Burn won with no defeats and just two draws in ten games ahead of a strong field. In the Second-Class section that year, the Caernarvonshire born J. Ellis Parry came second with 6½ points behind N. Clissold and ahead of the two leading English lady players Miss Finn and Miss Fagan.
1899 January
Amos Burn 10/11, Henry Atkins 7.5/10, George Bellingham, George Schott, 6/10, Bernard Wilmot 6/11, William Gunston 5.5/10, Edward O. Jones 4.5/11, Climenson Dawbarn 4/10, Victor Wahltuch 3.5/10, Anthony Dod, William Thrift 2/10, John Owen 1/3
There was no congress in 1900 because of alterations to the building, but activities resumed in 1901 when the event was billed as the 'Counties and Craigside Congress'. This time only previous winners of the Craigside Cup or of some other Open Tournament were allowed to compete. Burn, by his third victory in a row, won the Cup outright. He beat Atkins in both their encounters and drew both games with Bellingham, losing none. The first of the two games between Burn and Bellingham concluded a well strung-out nine-game match between the two players that had started the previous February. The match result was a win for Bellingham.
1900 December to January 1901
Amos Burn 4.5/6, Henry Atkins 3.5, William Gunston 3, George Bellingham 1.
We do not know if a club continued to exist in Llandudno itself but in June 1894 a 'chess club with annual competition' was being advertised in the Westminster Gazette as existing at Craigside Hydro itself.
A NEW TOWN CHESS CLUB
THE LASERSON ERA
In March 1905, it was announced that a chess club had been formed at Llandudno inn connection with the Library and Newsroom. Rev. J. Raymond was appointed President with Robert Gresley-Jones secretary and Frank Edge treasurer. The latter was a fine addition to the club as he was editor of the local newspaper.
Matches were mainly confined to local rivals, Colwyn Bay and were arranged several times each year. In one match Gresley Jones played on so late as to miss the last train and had to walk home to Llandudno. In the 1907-8 season the clubs played each other six times.
There were others though. A match in November 1906 was billed as between Llandudno Recreation and Reading Rooms and Conway Liberal Club, eight players each side, the home side easily winning 10-4. The return match later that month had a similar result, Llandudno winning 10-6.
The first recorded match with Colwyn Bay took place in February 1907. The Llandudno team was 1. R. J. Gresley Jones 2. A. Laserson 3. F. M. Laserson 4. H. Higginbottom 5. R. Davies 6. F. Edge 7. R. Dawson 8. T. Rainsford. The result was a tie 7-7.
Abraham Laserson was the son of Solomon Laserson, a Lithuanian born pawnbroker and manufacturer of ladies' overalls. Abraham was born in Russia in 1888 and the family moved to England by the time he was seven.
By 1908 he was captain of the club side where he was their regular top board until the family moved away. His finest hour was probably his draw with the World Champion, Emanuel Lasker in his simultaneous display at Colwyn Bay in 1908. Laserson lost a piece but from a seemingly lost position he managed to salvage three pawns and gain the draw.
In 1909 his father was declared bankrupt and named as draper of Newcastle, Manchester and Llandudno. Within a year the family had moved to Manchester where Abraham continued to play in the Manchester club. He worked in the business as a commercial traveller. Served in the Royal Fusiliers in WW1. He also ran a regular column in the local newspaper. He died in Manchester in 1941, aged 52.
The Manchester Evening Post last mentions him playing in the Lancashire Championships in 1926.
A series of newspaper articles started in the Llandudno Advertiser on 26th October 1907 but only lasted until May the following year, occasional articles appearing thereafter. Perhaps this was when financial difficulties started to affect the Laserson family. The correspondent was 19-year-old, Abraham Laserson, no doubt being encouraged by Frank Edge. That first article set the style for the next three years. It included national and international news, correspondence, problems, games and details of local activities. One lengthy discourse was on a game played between the old Scottish champion, J. D. Chambers and a Russian at the Manchester Club. The Llandudno club sported a challenge match between two of its members and a proposed living chess game in the town. It stated that it was not unusual to see four tables in use on club night.
Laserson tried to whip up enthusiasm for a simultaneous display but his reports criticized the club membership: "The membership of the Llandudno chess club is not as large as it ought to be, considering that it is the only club in the immediate district. The reason for this, we are certain, is the lack of enthusiasm amongst its members, the majority of whom do not seem to have the slightest ambition of bettering themselves, and play the game in such a half-hearted manner that it gives one the impression that it is not for amusement they play, but for their very existence."
Abraham's older brother, Frederick M. Laserson had presented a 'gold seal' to the club the previous year for competition and it was agreed to play for it in a handicap tournament. In the 1907-8 season it seems to have been the main activity of the club. The first winner was Robert S. Davies but he sadly passed away shortly after winning the event.
The job of secretary was handed to H. Higginbottom who, so the Advertiser narrated, was rumoured to keep a chess set and board under his pillow. (Don't we all? I recall one chess widow complaining that her husband kept a chess set in every room in the house – including the smallest.) Gresley Jones took over the role of treasurer.
The strongest player in North Wales, J. E. Parry visited the club several times although he was by then living in Shrewsbury. He would give a simultaneous display to a handful of players.
January 1908 saw a match between Colwyn Bay YMCA and Llandudno YMCA. The Llandudno team E. V. Jones, J. Swinnerton, Evans and Bland, lost heavily but the match showed that chess was not only played inside the main club. A Married v. Single match also took place that month over seven boards. This was a popular engineered match in clubs at a time when there were few matches to be played with other clubs.
When Lasker visited Colwyn Bay on 23rd March 1908, a landau complete with banner welcoming the good doctor was made available to transport Llandudno aficionados to their neighbour's club at the Café Royal. Laserson was the only successful Llandudno player.
The newspaper listed chess outlets in North Wales in its 14th November issue that year. In Llandudno there featured: The Recreation Room – every day; YMCA ditto and the Craigydon Mutual Improvement Society on Mondays and Wednesdays.
By this time a move was being made towards some sort of association. A match between the North Wales clubs and Manchester was planned for 6th May with Rev. Raymond, Laserson, Gresley Jones and Higginbottom representing Llandudno with other players from Bangor, Colwyn Bay, Wrexham, Rhyl and Abergele and hopes that players from Denbigh, St. Asaph and Llanrwst would also play. There is no record of the event, if it did take place, and the first recorded representative match for the district was against Cheshire in May 1908 – there were no players from Llandudno present.
The first North Wales Chess Association was formed on the 16th December 1908, "following a get-together at a 'county' match earlier in the year". The inaugural meeting was at Kendrick's Hotel, Chester with representatives from Bangor, Colwyn Bay, Llandudno, Wrexham, Ruabon, Abergele, Rhyl, Mold and Denbigh.
The club moved to the Welcome Hotel on Vaughan Street by October 1909 and was billed as the 'Llandudno Chess and Mutual Club". Rev. Raymond was still President with Laserson acting as Secretary and Cllr. Roger Dawson as treasurer. Gresley Jones is noticeable by his absence. The club lost in the first round of the North Wales Cup to Abergele. Their team was weakened by absentees. It was still led by Laserson with W. T. Jones and H. Higginbottom, J. Swinnerton, E. Roberts, J. Thomas and R. W. Thompson making up the team.
In late 1910 the Rev. John Raymond was the leading player; Laserson had gone. He was an English Baptist Minister and had come to Llandudno in about 1880, becoming a member of the earlier club in the town. He was appointed Vice-President of NWCA in 1910. Even in their reduced state Llandudno got to the semi-finals of the North Wales Cup where they lost 1.5-4.5 to visitors, Rhyl.
Laserson had played in the now annual match against Cheshire at Colwyn Bay in June 1910 when he was on Board 4 and drew with J. D. Chambers, then of Sale. Gresley Jones played on Board 15. The latter was the sole town representative the following year.
ANOTHER REVIVAL
The Llandudno Advertiser was pleading for young chess players to come forward in 1909 and 1910 but it would appear that all was in vain as the club is not mentioned in the press again until near the end of the war. Its first AGM was held in October 1917.
The North Wales Chess Association was re-formed in 1921. Llandudno, Colwyn Bay, Wrexham, Rhos, Rydal Mount School, Bangor University and Penmaenmawr were all affiliated whilst efforts were made to induce three other clubs at Rhyl, Bangor and Abergele to join.
The leading player at the club in 1921 was Thomas Henry Billington. He had won a minor section of the old Craigside Hydro tournament whilst still living in Birmingham but by now he had settled in the town.
Born in Welshpool in 1865, he was the son of a baker and confectioner. He had learned the moves at the age of 17 and became secretary of the Wolverhampton chess club. In 1893 he joined the St. George's Chess Club in Birmingham. He ran a monthly chess column in the Art and Literature Journal and was on the executive of the Midlands Chess Union when it was formed in 1897. He made a name for himself as a problemist and continued to compose and solve problems to about 1924. He died in 1928.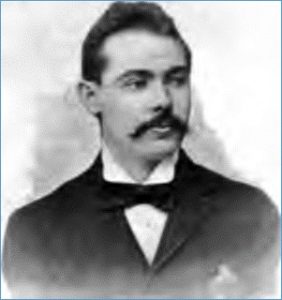 Thomas Henry Billington 1865-1928
Gresley Jones also made a return to the fray and was a welcome board 2. The first published team – as usual against Colwyn Bay – was in March 1921 when the team was led by Billington, Gresley Jones, A. C. Newbitt and Higginbottom senior. Higginbottom junior had been a four year old watching his father play in the simultaneous display at Colwyn against Lasker when the latter commented, "I see where you get your moves from".
An increase in membership saw the club move to Central Café in January 1922.
The winner of the new solid silver trophy in the shape of a castle for the first North Wales club championship was Colwyn Bay and they may well have played Llandudno in the final. In the semi-final the latter were due to play Rydal Mount School but there are no further reports.
At the AGM in October, Hugh Higginbottom was re-elected President, A. C. Newbitt, secretary and treasurer. The club boasted a membership of thirty and had settled at their new venue, meeting on Monday nights. The Serbian Boris Kostic had visited the club and won 20 of his games, conceding just a single draw. Billington had won the Club Championship and also won the Driffield and Roba Cups. A junior tournament was held with Dan Jones finishing ahead of D. Higginbottom.
The period between the wars saw a proliferation of tours by chess masters. One of the leading British players was Victor Wahltuch of Manchester. He played alongside Capablanca at the 1919 Hastings tournament and was later to represent his country at the 4th Chess Olympiad in Prague 1931. He visited Llandudno several times. On his first visit in June 1923 he played six opponents from Colwyn Bay and Llandudno, played 13 and lost only to A. C. Newbitt.
1924 saw R. J. Gresley Jones win all three competitions at the club. A magnificent clean-sweep. In the junior event R. W. Brookes was the winner. Higginbottom and Newbitt were again re-elected president and secretary respectively.
In March 1926 Wahltuch returned and took on 17 players simultaneously, winning 13, drawing 3 and losing 1. One of the players cycled fifty miles in order to take part!
Znosko-Borowsky visited Central Café on 1st December that year, taking on 19 opponents and winning them all.
The first official North Wales Individual Championship was organised as a knock-out competition during the 1926-7 season. The final was played in May and the winner was T. H. Billington of Llandudno, beating T. E. Jones of Rhosllanerchrugog in the final.
Llandudno was being advertised far and wide as ideal for a chess player's holiday. Even Scottish newspapers promoted "Monthly competition for the Social Chess Trophy at Craigside Hydro". The Hydro was once again at the forefront of North Wales chess and a 'Three day chess social' was held there in January of 1928. Sir Leonard B. Rowland of Wrexham tied for first place with Arthur Firth, then of London, but lost the play-off.
Dennis Myatt, a very talented young man was resident in Llandudno in March 1929 when he took on 11 club members simultaneously and won a total of 13 games. He was still in school at the time, being just 16 years of age. A phenomenon for the era. He had excellent results in several simultaneous displays by visiting masters and won the North Wales Championship in 1935 only to then disappear from the chess scene. He also played at the British Championships in Worcester in 1931 when he romped away with the Second-Class competition, scoring 9.5/11.
In the period (1923-1932) Rhosllanerchrugog were inevitably the champions of North Wales. Llandudno reached the final in 1924 and again in 1928 when, according to the Western Mail, they won their semi-final by six frames to two!! Llandudno beat the odds in 1929 to win the title for the first time. Their success must have come as a huge shock, especially so as they had unexpectedly lost their top board, Billington. Rhos had beaten Llandudno in the final of May 1928 to win for the fifth time in six years. There is regrettably no report of the 1929 final but no doubt young Myatt played a part.
The chess column in the Llandudno Advertiser was recommenced in 1930 by R. J. Hollins and he kept it going for the next five years.
The Russian, Eugene Znosko Borowsky returned to Llandudno in 1930, winning 26 drawing 2 and not experiencing any losses in his display. The draws were with young Dennis Myatt and J. Gibson of Deganwy.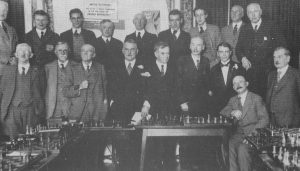 Photo: CHESS, Sutton Coldfield
Dennis Myatt is third from the left at the back, Gibson is standing to the right of him. Gresley-Jones is in the centre of the front row looking to his left and Znosko-Borowsky is the dapper young man with the button-hole. J. F. Moss, the secretary of NWCA stands at the far right in the back row and the club secretary, A. C. Newbitt is seated.
Two years later it was the turn of Womens' World Champion, Vera Menchik. She conceded just one draw. (This photo is dated 1936 in 'North Wales Chess' but she visited the town twice and this is definitely not from her 1936 exhibition.)
Photo: P. Cimatti
Womens' World Champion Vera Menchik at Llandudno 1932
The man on the right is Tom Cimatti
THE RETURN OF ARTHUR FIRTH
Early in 1901 Arthur Firth, the promoter of the Craigside Hydro tournaments, left the area for Surrey. There he was listed as retired solicitor and appeared to be the owner of a club where he resided. He started publishing a series of beginners' opening booklets called 'Chess Nuts' in 1928 and was shown in the Falkirk Herald as secretary of 'Craigside Hydro Social Meetings' although he was not then resident in the town. From 1932 to 1935 his address, as editor, appeared on the front of Social Chess Quarterly which was the journal of the Empire Social Club.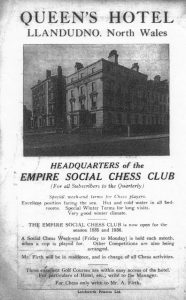 The formation of a 'residential social chess club' at the Queen's Hotel, Llandudno, was announced in the October 1935 issue of the Social Chess Quarterly. This was being organized by Arthur Firth together with Reginald John Hollins, the then secretary of the town club. Week-end tournaments were planned running from Friday to Monday.
The first Social Chess Week-end started on Friday 1st November 1935, and was reported in full in the SCQ (Vol 6, No 22, January 1936). There was a civic welcome for the players from a dignitary representing the local District Council. Players hailed from various corners of Wales and even further afield: Manchester, Birmingham, and London. Numbers were bolstered by "about forty members and friends from the Llandudno Chess Club." The Club's President, Sir Ernest Graham-Little MP was elsewhere on 'Election work' but had sent a telegram of best wishes.
The opening of the event saw the World Womens' Chess Champion, Vera Menchik, giving a simultaneous display in which she won 15, drew 3 and lost 2 games. The losses were to Miss Marjorie Strachey of Godalming and D. Myatt of Llandudno, the current North Wales champion. Draws were achieved by E. D. Rowland of Colwyn Bay, Mr. Cimatti and L. B. Hall both of Llandudno. In the photograph Miss Strachey is on the right.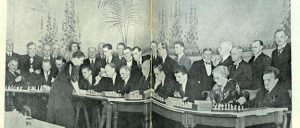 "Miss Menchik, World Lady Champion, gave another interesting Simultaneous display
at Queen's Hotel, Llandudno in the course of the Social Chess Club's January week-end."
From Round the Chess World, by G. Koltanowski pp180-1 Chess 14th January 1936
Firth was in permanent residence at the Queen's in order to encourage chess and his stated aim was "to make Llandudno a centre for chess for the North of England, as Hastings is for the South."
The Queen's started a monthly competition for the Social Chess Cup. The November tournament was won by B. H. Wood of Birmingham, but no details of other tournaments survive. It is rather ironic that the last issue of Social Chess Quarterly was in April 1936 before being absorbed into B. H. Wood's 'CHESS' magazine.
In March 1937 the world's best blindfold chess player, George Koltanowski, champion of Belgium, played at the Swiss Café in St. George's Place, Llandudno. This was part of a grand tour started in January and climaxed by an astounding feat in Edinburgh where he played 34 opponents, winning 24 and drawing the rest. At Llandudno, three opponents travelled from Rhosllanerchrugog in order to take part and his result was 9 wins and just one loss to Llew Green of Rhos. Comments on his Scottish excursion may easily be transported to North Wales: "Koltanowski sat at a small table with his back to the players, armed with a supply of milk, cigarettes, Eau de Cologne, and smelling salts. All through the display he kept the company in good humour with asides and stage whispers, sometimes at our expense, but mostly at the expense of his opponents."
Llandudno was well-served by North Wales champions. Billington had won in 1927, Myatt in 1935, C. H. Hinchliff in 1936 and in 1938 it was the turn of Leslie B. Hall to win the title. Hall was a baker and confectioner in the town. In the final he beat E. Vaughan Roberts of Bala, two games to one.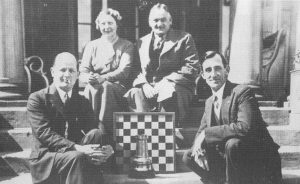 Photo: P. Cimatti
Lord Mostyn awards his trophy to C. H. Hinchcliff (left) in 1936
Charles Henry Hinchcliff was born in Hepworth, Yorkshire in 1895. He joined his father's newsagent and printing business. During the war he joined the navy and fought in the Battle of Jutland. Returning home, he honed his chess playing for Huddersfield. In 1932 he bought a newsagent business in Llanfairfechan and joined the Llandudno chess club. He died in 1987. J. E. Hinchliff won the Yorkshire County championship in 1920-1 and this would appear to be his older brother, John Elliot Hinchcliff.
The club appears to have continued to meet during the war. In 1940 Robert Gresley-Jones who had joined the club 35 years earlier, was elected President having served the club in most other capacities and been one of the leading players. It was just reward. Gresley Jones was an alderman and had a business in the town as tobacconist and newsagent. Leslie Hall was the club secretary and it was noted that the Driffield Cup was won by F. N. Thomas and the Billington Memorial Cup by R. W. Brookes. The Brookes family had been drapers in the town for many years and Robert's father had been playing for the chess club in the 1920s.
In February 1941 the biggest match ever played in North Wales was reported to have been played at Swiss Café in the town between Llandudno together with staff of Inland Revenue, against Colwyn Bay.
There was no North Wales Association when the war ended and friendly matches resumed as before. From the 1945 match with neighbours Colwyn Bay the Llandudno team can be seen to be led by D. Miller, R. Gresley-Jones, L. B. Hall, C. Bradbury, Murray and G. Jones. New clubs were formed at neighbouring Penmaenmawr, Llandudno Junction and Penrhyn Bay. This sounds excellent but it may have contributed to the failure of the Llandudno club by drawing players away from the town.
There was a brief revival of NWCA, starting in 1949 when the association re-emerged with Gresley Jones as its President. A handful of teams again competed for the Club Championship of North Wales and Llandudno were successful in 1950-51 season. There were difficulties raising teams the following year and once again the NWCA went into slumber mode.
The catalyst for the new Association was probably a match arranged in April 1948 against old rivals Cheshire and played at the YMCA in Chester. Llandudno was well represented with five players led by J. A. Johnstone on Board 5, B. Lyons Board 11 and D. Lamb Board 16. S. Moses of Llandudno played in the return match the following year and again in 1950.
Another long-serving club member passed away in November 1949. Ugo Cimatti had been a signaller with the Italian Navy before coming to England. He arrived in Llandudno in about 1904 and worked in the Imperial Hotel as Head Waiter. Later he became a grocer. His son Tom took over the family business and was a stalwart of the chess club, playing against Vera Menchik on her visit in 1936. A grandson, Paul Cimatti, became secretary of the last chess club in the town. Tom Cimatti was on Board 7 when North Wales visited Chester in April 1950.
An obituary in September 1955 noted the death of a founding member of Llandudno chess club – Arthur Clark Newbitt. That would have been the club formed in 1917 as he had arrived in North Wales from Bury three years earlier, He served on the panel of adjudicators for The Chess Amateur and for a while was secretary of the Llandudno and Penrhyn chess clubs. He had played for North Wales on Board 21 in the 1950 match with Cheshire and was listed as a Vice-President of the North Wales Chess Association in 1951.
In January 1951 Llandudno were presented with the North Wales Trophy, but this was virtually their swan-song as the club closed about a year later. The following season there was a much publicised dispute between Llandudno and Colwyn Bay over a postponed match and that may have triggered the club dis-affiliating.
In 1961 NWCA re-formed by Mrs. Elsie Senior of Mold. She found the association's former trophies in a Llandudno vault and fought hard to recover them.
HERE WE ARE AGAIN
Llandudno Players had to go elsewhere for over 30 years whilst there was no club in the town. Many left for old rivals, Colwyn Bay. In 1987 there was a movement in that club for a change of venue and membership was split between a place at Rhos-on-sea and another at Llandudno. A decision was made to move to Rhos-on-sea but that spurred the Llandudno contingent to once again set up their own club.
They joined the Cheshire and North Wales League and Paul Cimatti was elected club secretary, he being the third generation of his family to play for the club. A short while later they switched to the Gwynedd League which had been created in 1973. The club shared the Gwynedd League title with Bangor in 1992.
The club continued to meet into the 21st century and presented the Duncan Addison Shield for competition at the annual North Wales Junior Championships. The trophy was awarded for the best performance by a local player.
They were obviously struggling by 2006 when they merged with Colwyn Bay to enter joint teams for competition in Divisions 1 and 2 of the Chester League. They had some success, being runners-up for the Division One title in 2011 and winning Division Two the same year.
More recently Llandudno has been best known for hosting the 2017 North Wales Congress and the 2017 BCF Championships which was won by Gawain Jones after a tie-break. In August 2018 the town hosted the ICCF Congress.
SOURCES:
Streatham & Brixton Chess Blog
Colwyn Bay Chess Club History (on-line)
Yorkshire Chess History (on-line)
The Chess Bouquet by F. R. Gittins 1897
The Cheshire Hundred by Richard Furness 1988
Chess in Wales by Martyn Griffiths 1988
North Wales Chess by David Castledine 1988