Chess in Merthyr
by Martyn Griffiths
Merthyr Tydfil was the largest town in Wales by the middle of the 19th century with a population approaching 50,000. It is surprising therefore that there is no mention of chess in the town until near the end of the century. Chess was probably being played in the homes of the ironmasters but the first mention of the game came from a correspondent in the Merthyr Telegraph in November 1867 making a plea for anyone interested in starting a chess and draughts club in the area. The same person, signing himself 'W. S.' might be the Merthyr problem solver who wrote to the Illustrated London News 1866. It may well be that his plea was successful as five years later at the 1872 Cardiff soiree Evan Williams, M. A., the President of the Merthyr chess club and Mr. Frost, the secretary, were in attendance.
G. F. Boyle of Merthyr was a subscriber to a book of chess problems that was published in 1873. He was a travelling draper and his business went into liquidation a couple of years later.
Nothing more emerges until December 1887 when a club of 20 members was formed after a visit by Aberdare chess club. The club met on Monday evenings in the Castle Hotel.
The difficulties that Merthyr has in participating in competitions today applied just the same 140 years ago. The transport situation was even worse then and travelling to play league or cup matches would have posed a severe problem.
When an association of the clubs in South Wales was first proposed in December 1887 Merthyr was one of the areas where it was said clubs were "getting encouragement from the men of light". The Cup competition started the following year and saw Merthyr enter as one of the first six clubs in the tournament. Unluckily they were drawn against Cardiff, probably the strongest team in Wales. At this time the club's president was J. O. White and there were two secretaries in Messrs F. X. Siedle and B. R. S. Frost. Rev. Father. Kershaw and Cecil Jones completed the club committee
The following year the club reconvened and changed its name to Merthyr & Dowlais Chess Club. The only change in personnel saw Mr. A. Houlson, the headmaster of Dowlais Infants School, replace Cecil Jones who had left the town to go abroad. Professor Cecil Jones had been Head of the Merthyr Proprietary School.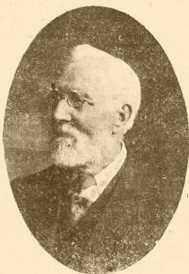 Abraham Houlson
Matches were frequently played between Merthyr and Aberdare. One of the earliest of these recorded matches was at the Castle Hotel, Merthyr in January 1889 when the home team won 10-5. The Merthyr team was D. C. Carr, F. Kershaw, Siedle, Frost, J. O. White, Bowen, Merwil and R. Simons.
Francis Xavier Siedle (1855-1916) was a Jewish pawnbroker. Joseph Oakey White (1848-1908) was the town clerk. Benjamin Richard Souchey Frost (1848-1920), born in Somerset, settled in Merthyr as a bookseller in High Street and remained in the town until his death.
February saw the club travel to Pentre Hotel, Pentre, where a Merthyr & Dowlais team lost 4 ½-9 ½ to the powerful United Rhondda side. D.C. Carr won one of his two games on top board and the veteran, Rev. Kershaw, picked up a point on Board 4 whilst White drew on Board 5. Elsewhere it was one-way traffic except on bottom board where Bowen won his two games.
In March the club combined with Aberdare, travelling to Swansea where they lost 7-12. The Rev. Kershaw, B. R. S. Frost were noted Merthyr representatives. Also playing was Daniel Carmichael, a bookkeeper for the ironworks at Dowlais for more than thirty years. He turned out more often for the Aberdare club but he was living in Merthyr until he retired to Bath in 1903.
Sadly, after just one season in the competition, Merthyr left the Association and if any local players wanted to participate, they had to travel to join the Aberdare club. D. C. Carr was one of that club's prominent members.
British Master, Henry Bird, made a visit to South Wales in October 1889, when he gave several simultaneous displays. Frustratingly, after giving a display on the 16th at the United Rhondda Club, Bird's Chess Review comments that, "the master also thanked people from Merthyr and Dowlais." The suggestion is that he visited Merthyr but it might also mean that some players from those towns took part in his display in the Rhondda.
A club may have continued to exist in the town without competing in the South Wales competition. They once more entered the fray in the 1896-7 season. They lost in November 1896 at the New Inn, Pontypridd, where they were well beaten, 1½ – 9½ by Rhondda. The Merthyr team was R. Rice, B. R. Frost, F. X. Siedle, A. J. Murton, H. J. Charles and Val. Watson. Siedle won one of his two games and Frost managed a draw.
A few weeks later they managed only a solitary win by Siedle whilst losing 1-9 to Cardiff, this match also being played in Pontypridd. On this occasion Dr. Simons was on top board followed by Boyce, Price, Siedle, Frost and Murton.
Once again, the club withdrew from competition but Carr, Siedle and Dr. Charles E. G. Simons, played for Aberdare. The latter was born in the town and served as medical officer for the Merthyr council. He died at the age of 34 in 1902 from the then fatal complaint, diabetes.
In March 1898 the doyen of Scottish chess, J. D. Chambers, visited Bentley's in Merthyr where he gave a simultaneous display against 14 opponents, losing only to P. R. Willoughby, a surveyor with the council.
In October the same year they entertained Joseph Blackburne at Bentley's. He took on 17 opponents and won all his games except one against the Cardiff expert L. J. Williams which was recorded as unfinished. The display was organised by the secretary A. J. Murton. The secretary worked for Frost as a book-keeper.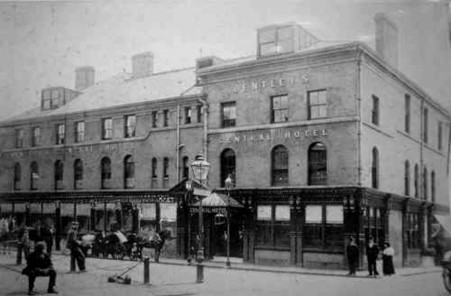 Alan George
Bentley's Hotel, Merthyr
Where the club entertained J. H. Blackburne in 1898
BORDERS LEAGUE
A meeting was held at the Y. M. C. A. on Tuesday 27th September 1921 to form a club in Merthyr. This was as a result of the formation of a league the previous year for northern based clubs. The Rev. J. T. Whitehead presided at the meeting when H. J. Woodcock was elected president, A. E. McMaster secretary and W. R. Southey treasurer. Subscriptions were fixed at five shillings a year and the club was scheduled to meet twice weekly on Tuesdays and Thursdays. William Robert Southey was the owner of Merthyr Express newspaper and was chess club president 1924-7. He died in 1942.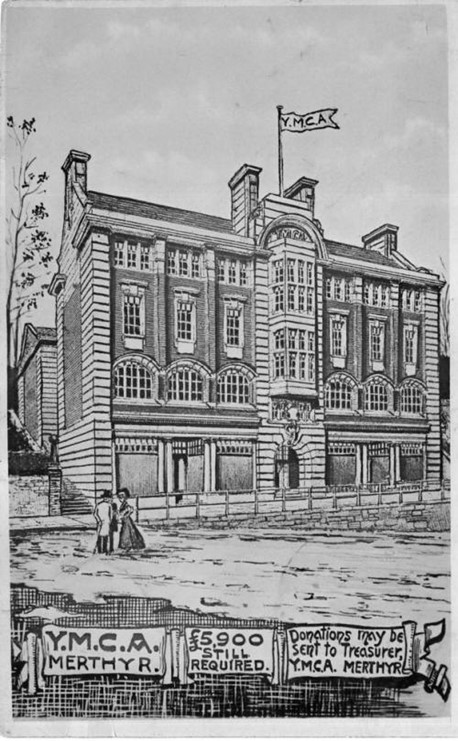 Old Merthyr Tydfil.com Alan George
YMCA, Pontmorlais, opened 1911
The home of Merthyr Chess Club in the 1920s
The Borders League was tailor made for clubs like Merthyr. Formed originally as a North Monmouthshire association, its title changed after a year to allow the entry of North Glamorgan teams. Dowlais and Merthyr both entered teams for the 1921-2 season, each having teams in Division One and in Division Two. The Dowlais side did not compete from 1923 onwards.
The Merthyr club was unfortunate in that it lost two of its leading players within a few years. Rev. John T. Whitehead. who, in the absence of McMaster led the Merthyr side, left in 1923 for Stainland in Yorkshire. Alan McMaster worked for Customs & Excise and it was a big loss to the club when he moved to Glasgow in 1924. One of his wins was against the redoubtable J. Lewis of Blaina.
The club was left with Edward Roberts, a Dowlais solicitor, to lead them. He played for the Borders League in several representative matches and was usually Board 1 or 2 in the club matches. He played on top board for the Dowlais team and moved to the Merthyr club. Probably the two clubs merged.
A much weaker but nevertheless influential figure at the club was Horace Orlando Freeman (1896-1962). He was a jeweller in the town and he presented a trophy for competition by the league; it was known as the Freeman Silver Cup. He held the post of president of the league between 1923 and 1925.
The club took part in the grand tours of South Wales by British Champion, F. D. Yates in 1923 and again in 1925 hosting simultaneous chess displays. In November 1923 Yates won 16 and drew one game. There were no losses. On 13th February 1925 he was again unbeaten in 20 games, conceding just a solitary draw to Stan Harper.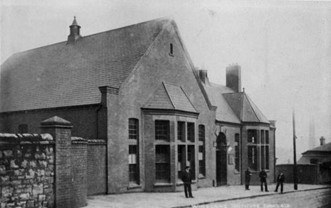 Old Merthyr Tydfil.com Alan George
The Wimborne Club and Institute, Garden Street.
Home of Dowlais Chess Club
The Harper family, based in Mountain Ash, played for the Merthyr club 1924-5. More details of them can be found in the articles on Aberdare and Barry clubs. Arthur Harper led the team on top board with Roberts dropping to Board 2. By the following year all three Harpers were on the top boards.
There is no evidence of a Merthyr team taking part 1926-7 but the following year a Cefn Coed club entered the fray, meeting in Cefn Library. They certainly seem to have been a more sociable club than most. In November 1927 they held a 'coffee supper and musical evening' and in March 1929 a dance was held at the New Hall to raise money for the club.
The Merthyr club was once more re-born in October 1928 when John Williams, W. J. Hawkins, J. H. Gray, F. F. Freeman and R. H. Willis were representatives of 'the old club'. Once more the club was to meet in the Y. M. C. A. twice weekly and Williams was elected Chairman whilst Messrs. H. H. Williams and W. J. Hawkins acted as joint secretaries. The new club does not appear to have entered any inter-club competition but one wonders if it survived to form part of the Aberdare and Merthyr League. One match was reported in the press. In February 1929 Cefn Coed hosted Merthyr YMCA. The home team proved much stronger on the top boards with H. Evans, Joe Jones and A. J. Smetham all winning against W. J. Hawkins, Freeman and W. Pettifer. The friendly match was won 4-3 by Cefn Coed.
The failure of the league during the 1929-30 season was due to The Depression which affected industry throughout South Wales. Clubs struggled to survive. There is mention of the club at Cefn Coed library being resuscitated early in 1932 when it was said there was a lot of interest amongst young players. A committee was formed with E. J. Powell president, Cled Griffiths treasurer and John Jones secretary, but there is no further mention of club activities.
A meeting at the Aberaman Institute in September 1935 saw representatives of Aberdare, Mountain Ash and Aberaman agree to carry on with the Aberdare and Merthyr Valleys Chess League. There is no mention however of what Merthyr clubs, if any, were taking part and no reports have survived of any matches, but fledgling clubs at Pentrebach and Treharris may have participated.
A Treharris chess and draughts team played Pontypridd Central Unemployed Draughts & Chess Club in April 1935. In May 1939 the "newly formed" Treharris chess club entertained Lower Pentrebach chess club. J. Maddocks captained the Treharris team on this occasion. The club met at the Treharris Social Centre Hall. A newspaper report a month later commented that the chess team had won 15 of 18 games played. The war probably put paid to these social activities. Pentrebach lies just a couple of miles south of Merthyr whilst Treharris is about ten miles away.
1960s
After the war chess leagues struggled and it was not until the 1960s that player numbers began to substantially increase – the Bobby Fischer effect.
Merthyr ran a club briefly in the 1950s, organised by French born Andre Lennard. They met at a café in the town but it did not last for more than a few years. The club was revived in the late 50s by John Orr, who was originally from Belfast. This was the club that the burgeoning junior chess community supported.
There were just eight teams in the East Glamorgan League in 1960 and seven of those were from Cardiff. Amazingly the eighth team was from Merthyr, playing out of the local YMCA. One can only imagine the logistics of organising team and transport for such matches. John Orr was the team organiser and he was strong enough to play for the East Glamorgan County team in the quarter-final of the 1959-60 competition when he was on Board 11 against Lancashire. He returned to Ireland shortly after the club's league participation and the club he had created did not last.
Sadly, the details of those league matches have not survived though we do know that Merthyr Won 5 Drew 1 and Lost 8 matches, scoring 41½ game points. The team players included a number of talented junior players in Herbert Mueller, Derry Prothero, John Spencer Davies, Norman J. Davies and Ian R. Hopkins. Also, amongst those who played were Vincent Lee, Gilbert Bevan, Michael Webley and John Orr.
JUNIOR REVOLUTION
Merthyr's league entry of 1959-60 was fuelled by the talent coming through at Cyfarthfa Castle Grammar School, though other schools also provided new players. Ian Hopkins for example attended Merthyr County Grammar School.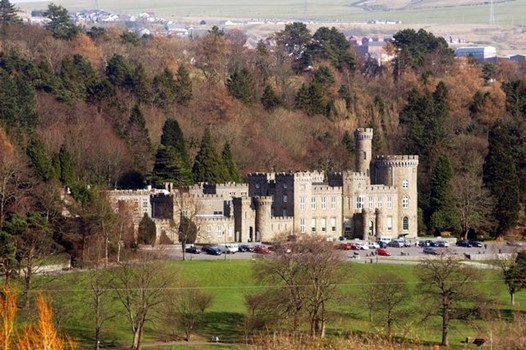 Cyfarthfa Castle, the spectacular home for the Grammar School.
The school finally closed in 2014.
The explosion of talent at Cyfarthfa was due largely to the efforts of Graham Roblin (1914-2012). He was a native of Cwmavon near Port Talbot and after serving as a policeman and in the R. A. F., he qualified as a teacher of mathematics, spending time at Cyfarthfa Grammar, Brecon Grammar and King Henry V111, Abergavenny. The chess club at Cyfarthfa at times had in excess of a hundred members! In 1960 Roblin had taken over from Brother Cyril in charge of the Welsh Secondary Schools Chess Association. He supervised the running of annual age-group championships and inter-schools' competitions at various age-levels and was also in charge of the Welsh Glorney Cup teams until the late sixties. He left Cyfarthfa for Brecon in 1962 when the club was taken over by his successor, Ian Hopkins.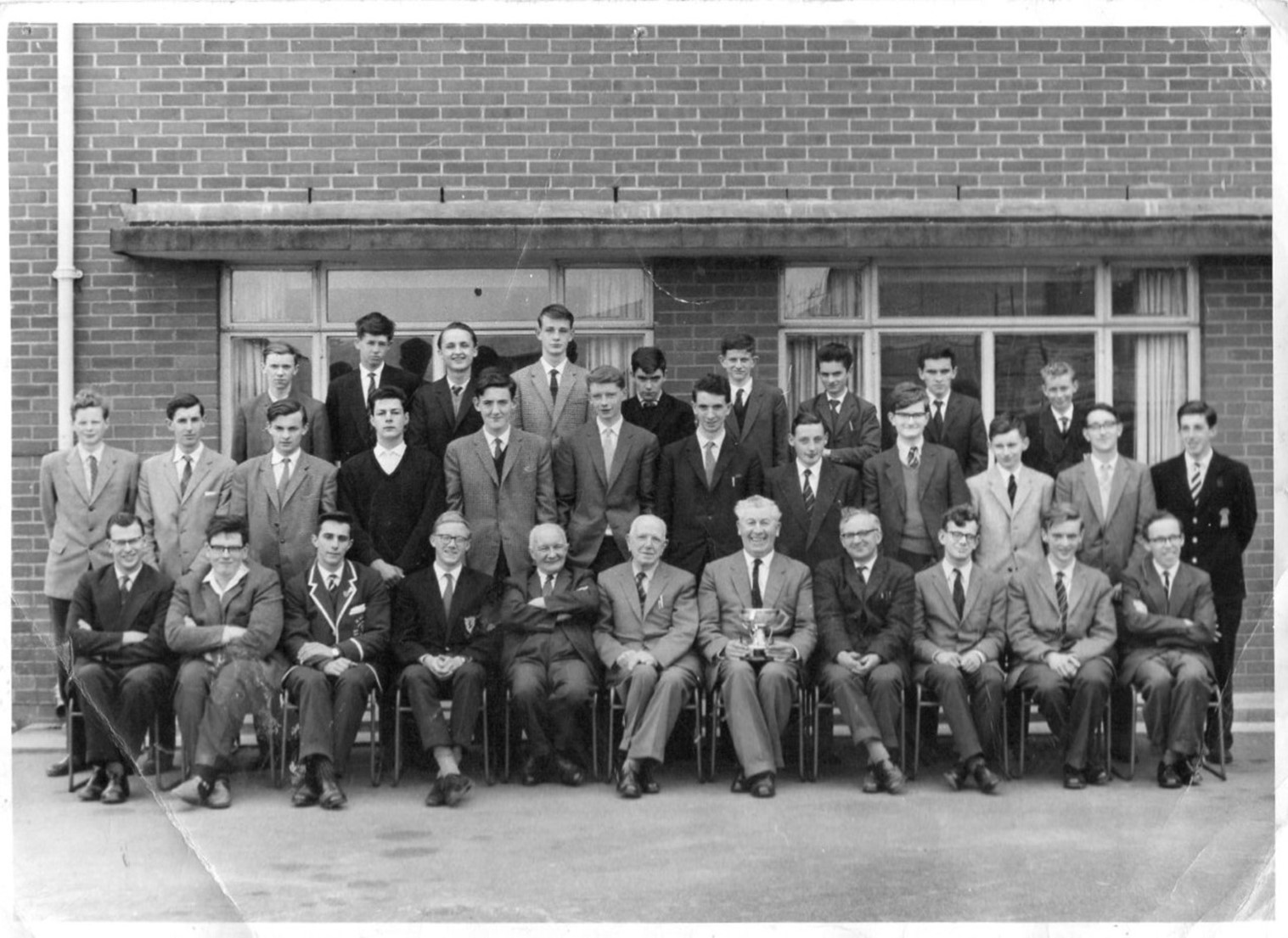 Photo: Gareth Roblin
The 1962 Glorney Cup tournament held at Brecon. Graham Roblin is holding the trophy.
His successor, in both the mathematics department and the chess club at Cyfarthfa, was Ian Hopkins. He had played on Board 5 for the Welsh Under 18 Glorney Cup team in 1960 whilst a student at Merthyr County Grammar School and, after furthering his education in Cardiff, returned to his home town where he spent 38 years teaching in Cyfarthfa. Apart from encouraging new talent he continued to play at least until 1970, for the Pontypridd and BOAC clubs – those being the nearest clubs to his home at that time – and for East Glamorgan as high as Board 6. He joined forces with Graham Roblin (Brecon) and G. Meek (Cowbridge) in the mid-60s to help run the Welsh Secondary Schools Chess Association. The only time he played in the Welsh Championships was in 1969 at Pontypool.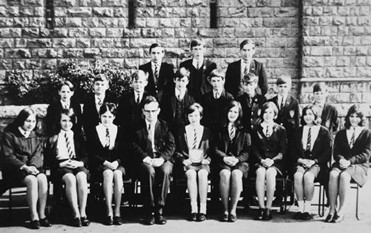 Cyfarthfa Castle School Chess Team 1968
Back Row (L-R):- Ronald Dyer, Ewan Park, Howard Dyer [twin to Ronald]
Middle Row (L-R):- ?, Stephen Jenkins, John Evans, Gary Morgan, Nigel Turner, Clive Harman, Paul Williams, Paul Ronan
Front Row (L-R):- Pam Morgan, Mair Phillips, Janet Jenkins, Ian Hopkins,
Francesca Brooks, Elizabeth Barbara, Lynne Horrigan, Brenda Blake, Meryl Booth
Brenda Blake played in the 1968 Welsh Faber Cup team.
The school had many successes at the annual Welsh Junior Individual Championships:
1956 U13 (Joint) Derry Prothero
1958 U15 (Joint) Derry Prothero
1959 U13 Herbert Mueller
U14 Harold Davies
1960 U12 (Joint) Alan K. Beynon
U14 (Joint) John Spencer Davies and David Gareth Powell
1961 U15 (Joint) John Spencer Davies
1962 U18 (Joint) Herbert Mueller
1965 U12 David O. Jones
1970 U12 Emmanuel M. Rayner
The school attachments of a few other Merthyr title holders are not known –
1969 U15 Girls Elizabeth Tudor
1970 U15 (Joint) S. Jenkins
The school also won the Welsh schools' knockout tournament, known as the Victor Freed competition, in 1962 and they were awarded the British Chess Federation shield in 1966 in recognition of the school's chess achievements over a number of years.
Only a handful of players were selected from Merthyr for the elite Welsh Under 18 team to compete in the Glorney Cup competition:
1960 Ian Hopkins Board 5/6
1963 Herbert Mueller Board 3
1964 Herbert Mueller Board 1/2 and J. S. Davies Board 5
Jeffrey Webb (D. J. Webb) was the leading Cyfarthfa school chess player 1955-1958. He played in the 1964 Welsh Easter Congress in North Wales and won the Reserves tournament.
Another prominent Merthyr player was Norman J. Davies. He played regularly in the Welsh Championships from 1963, finishing as high as 9th place. He also played for East Glamorgan and Lincolnshire. He was at Aberystwyth University by the time he played on Board 3 for Wales in the correspondence chess match with the Kazakh Republic
With thanks to Mr. Ian Hopkins, Mr. Gareth Roblin and Old Merthyr Tydfil.com . The story of Merthyr's brief excursion into the East Glamorgan League in the 1980s, the rise of chess in Bishop Hedley School and the proliferation of chess in schools in the area, is still to be written.
Merthyr Tydfil Chess Club 1980s A New Era
By the 1980s there was no more chess club in Merthyr Tydfil although neighbouring towns Aberdare and Pontypridd were still active.
Nevertheless, school chess persisted with Bishop Hedley teachers Mary Scrivens and Kevin Staveley (now of WCU Home Director fame) leading the way with the later support of Richard Miles (Abergavenny Club).
Without a local chess club though Merthyr players had to travel and with transport links as they were Pontypridd Chess Club by train was a logical choice.
But that was about to change!
With an organisational nucleus, school and local adult players, a new Merthyr Tydfil Chess Club was born with Rhydycar Leisure Centre becoming its lifetime venue.
Certainly, Merthyr Club made its mark but was a star that dimmed way too early yet I hope in time to tell some of its story.
David Llewellyn Former Member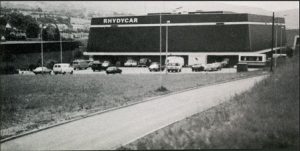 Club Venue, Rhydycar Leisure Centre in the 1980s B&W
Merthyr Tydfil Chess Club home venue = Rhydycar Leisure Centre 1980s B&W picture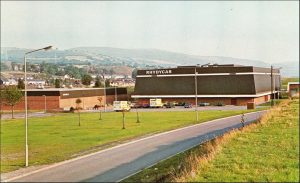 Club Venue, Rhydycar Leisure Centre colour assumed 1980s
Merthyr Tydfil Chess Club home venue = Rhydycar Leisure Centre colour picture assumed 1980s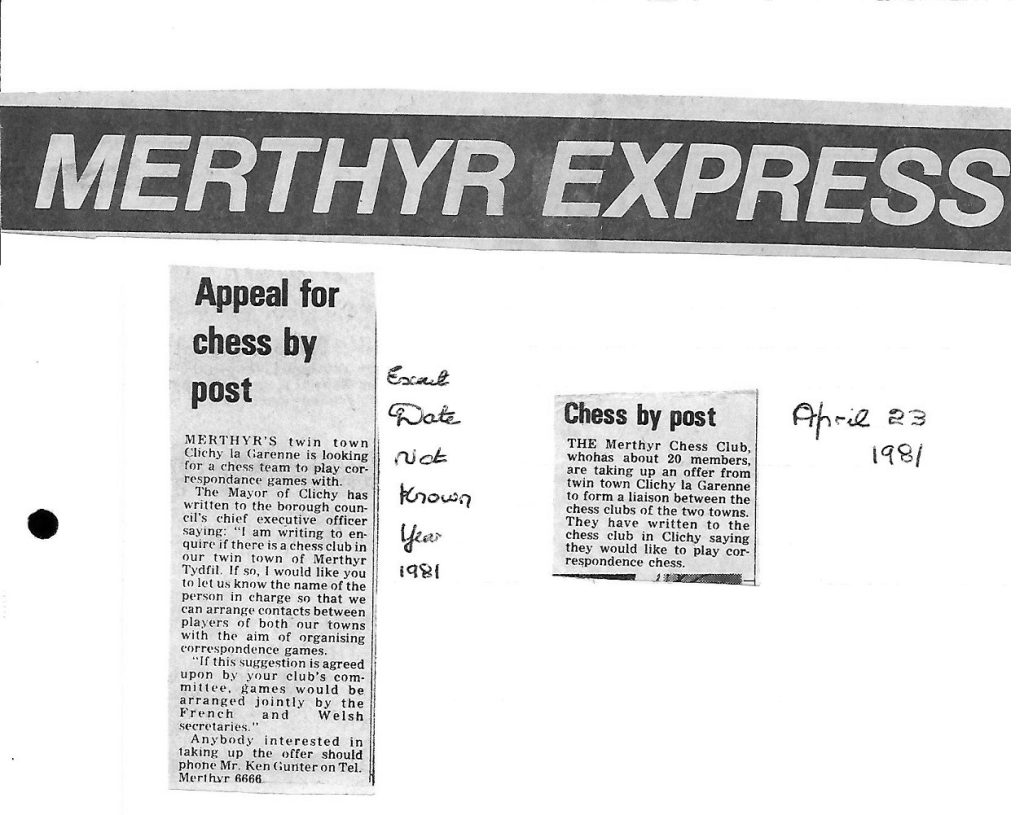 Merthyr Express April 1981
Merthyr Tydfil Chess Club take up the challenge of a correspondence game versus its twin town Clichy la Garenne (Paris) France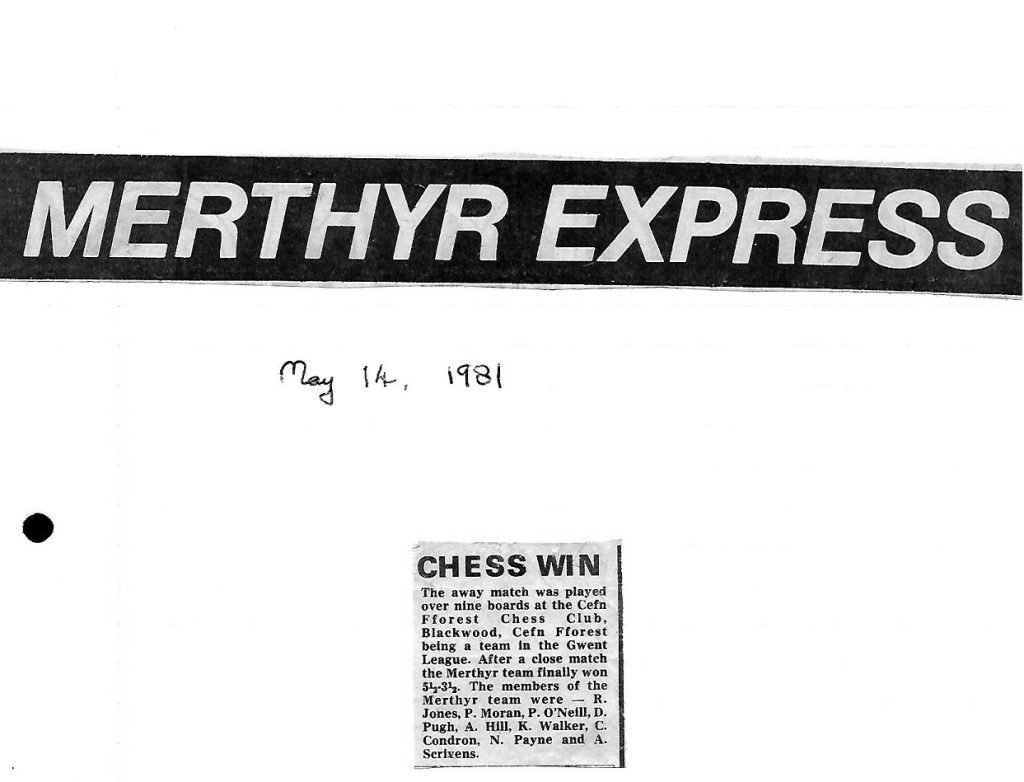 Merthyr Express 14 May 1981
Merthyr Chess Club early away match to Cefn Fforest (near Blackwood)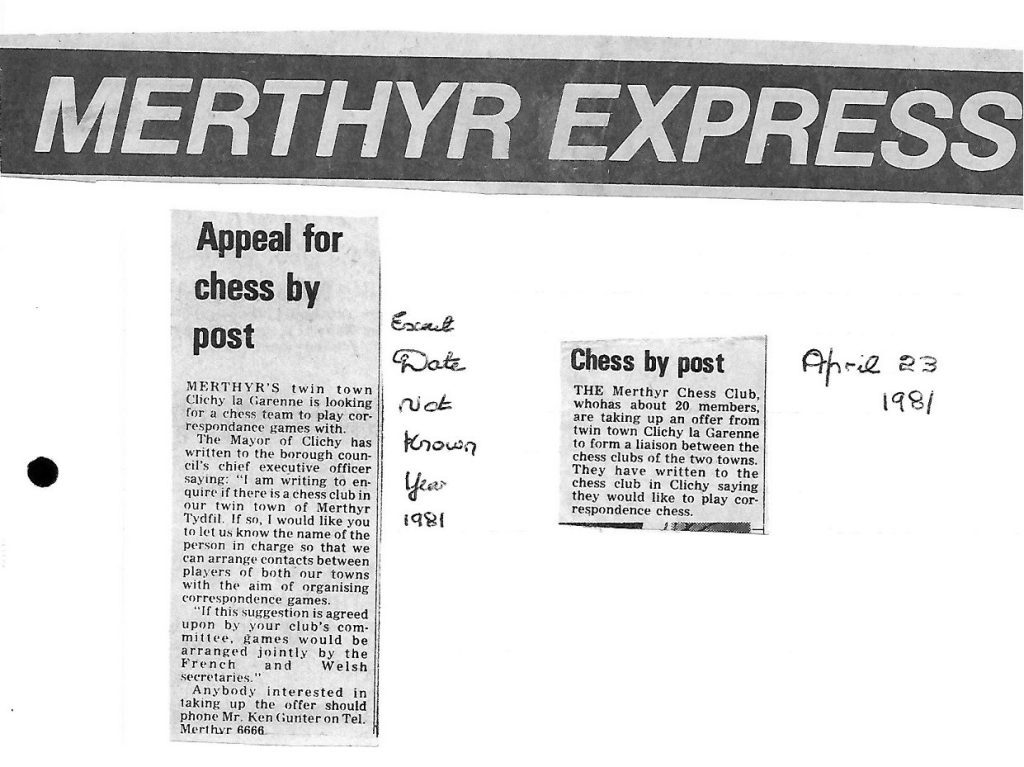 Merthyr Express 02 July 1981
Merthyr Chess players at Bristol Congress with Paul O'Neil showing the early signs of his later chess talent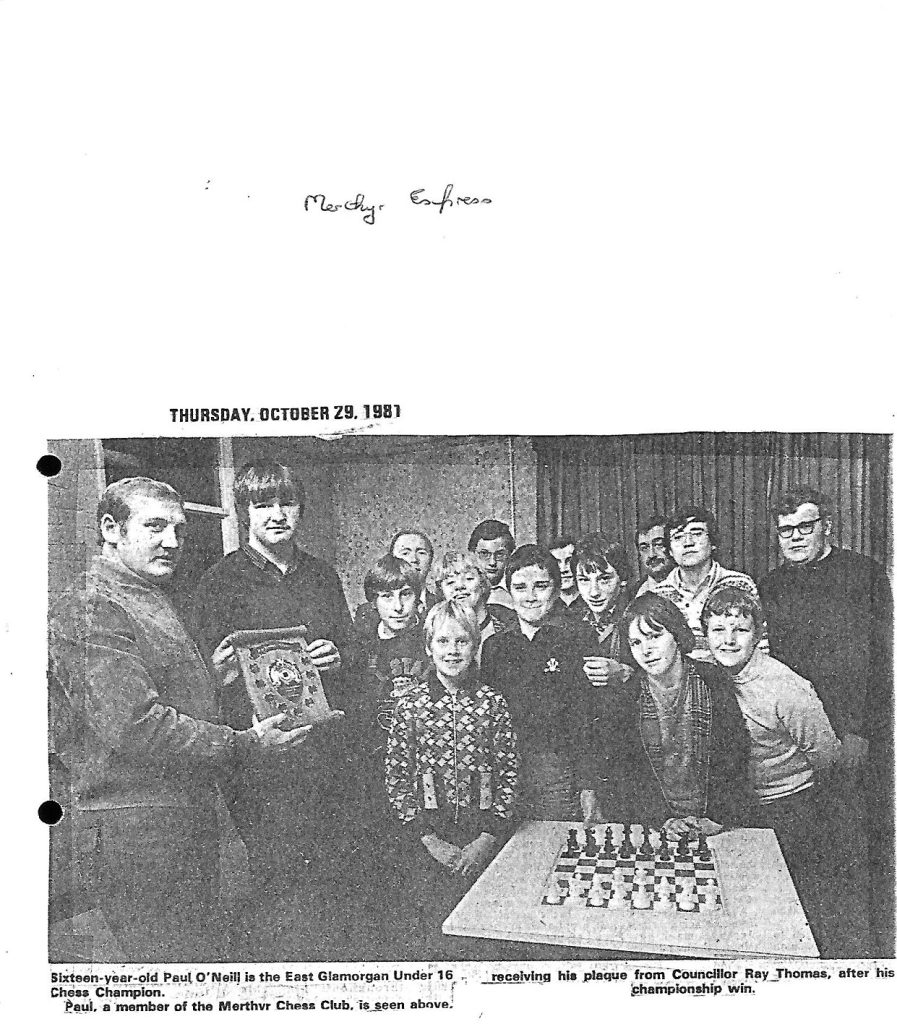 Merthyr Express 29 October 1981
Under 16 East Glamorgan Champion Paul O'Neil's presentation at Merthyr Tydfil Chess Club
Back Row = Kevin Staveley, Patrick Moran, Robert Jones. Gary Morgan
Middle Row = Ray Thomas, Paul O'Neil, Richard O'Neil, Andrew Scrivens, Jason Sullivan, Nigel Payne, David Llewellyn,
Kevin Walker
Front Row = Names unknown = Can anyone help please?