A club at Neath Mechanics' Institute was founded in 1862. This was not a 'club' in the modern sense but a meeting place for various activities which included chess. A local dignitary commented that he was, "pleased to see that so many young men attended the Institution, which had the effect of keeping them from frequenting public-houses and giving them healthy and recreative amusement." The Chess Club at the Neath Institute was run alongside an Elocution Class and Penny Readings. There is no evidence of links with other clubs and the 1862 club appears to have been short-lived.
For the remainder of the 19th century there is very little mention of the game in Neath, although it was probably played in the houses of the gentry at least. In the 1890s several newspapers made the odd comment about chess, or the lack of it in the town. In October 1891 an A. Jones called for a club in Neath; in June 1892 F.Stroud wrote a letter re chess and for a couple of years he was a regular submitter of solutions to weekly chess problems in the papers; in August 1893 G. W. Evans of Neath tried to get support for a chess outing; and in March 1895 E. Jenkins of Neath lamented that he couldn't get a room cheap enough in Neath in which to run a chess club. This individual interest was no doubt spurred by the fact that teams participating in the South Wales Chess Association League met at the Castle Hotel between 1892 and 1897 in order to play their matches. This was regarded as a central venue for teams from as far away as Llanelli and the Rhondda.
The fact that there was no club does not mean that no chess was being played in the town. The Cambrian in 1902 commented that there were three clubs in Neath – the Working Men's, Conservative and Liberal clubs – the latter 'cultivating the intellectual side', though chess was played at all three. In December 1905 a W. Gardner of Leeds held a 'séance' in Skewen, playing blindfold draughts against 14 locals. The newspaper was happy to compare this to simultaneous chess displays.
The records of South Wales Chess Association are incomplete but from match reports that are available, it would appear that the earliest date for the affiliation of a Neath club was 1906.
In that year the first simultaneous chess display was given in the town. The British Master, F. J. Lee, took on 13 players in the Constitutional Club. It is interesting that Grandmaster Julian Hodgson gave a display in the town about 2002 when he too played in the Constitutional Club.
Also in 1906, F.J.Lee drew with William Jones, Hugh James and W.H.Massey and he beat T.C.Dowman, A.J.Pike, I.Rees, T.Brown, F.Cook, H.Keen, T.D.Cullis, Parry Evans, H. Cooper and Percy Martin. The order of strength of the Neath players was as above. Unfortunately, spelling errors in print mean that a number of these individuals can not be tracked down (yet).
The display was no doubt instigated by William Jones who corresponded with players and officials in Cardiff. A large number of the players were employed or linked to the railway.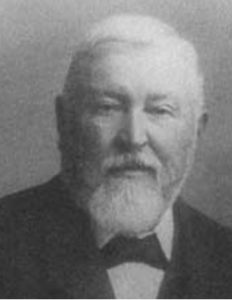 William Jones of Tynyrheol
Francis Joseph Lee, born 1857, played in a number of British and international tournaments. He lost matches to Blackburne, Lasker and Teichmann and won two matches against Bird. He won the South African Chess Championship in 1902.
William Jones, 52, was a landowner and magistrate who lived at Tynyrheol House in Tonna; Hugh James, 38, hailed from Essex and was Chief Clerk of Great Western Railways.: he was a member of the new Neath chess club in 1952 when, at the age of 85, he was regarded as the 'father of Neath chess' and claimed to have drawn with both Lasker and Blackburne in simultaneous displays; William Henry Massey, 45, was a Londoner and was the manager of W.H.Smith's bookshop; Thomas Charles Dowman was a 22 year old railway clerk from Swansea; Alfred Pike, 26, was born in Neath and was a railway porter and later a signalman: Thomas Brown, 27, was a postman on GWR; Frederick Cook was a local man, 32, a china salesman and auctioneer; Harry Keen was a 32 year old railway guard from Stow-on-the-wold; Thomas D. Cullis, 46, was a Cornishmen who was a clerk with H. M. Customs and later moved to Swansea where he won the Swansea Club Championships in 1913; David Matthew Parry Evans was a 31 year old dentist from Mold who had married locally and Percy Martin was 21 and son of the Railway Station Master.
In 1908, World Champion, Emanuel Lasker, gave a display at Neath, winning 16 games, drawing 3 and losing to H.Samuel of Llanelli. The full details of this display are not known, but perhaps one of these draws was with Hugh James as claimed above.
The Neath club petered out with the First World War and was not revived until 1952. The leader of the new club was 40 year old Frank N. Cann, an architect and a former member of the Ilfracombe Chess Club. Cann became a Vice-President of the West Wales League and died in 1964.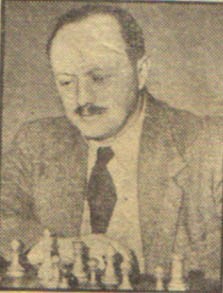 F.N.Cann
The team in 1952-3 played in the Western Division of the South Wales Chess League, finishing last behind Port Talbot, Swansea and Swansea University. They also played in the West Wales League. The Neath team probably rotated all the club members and these are recorded as Tom Scaplehorn, Hugh James, J. Lake Jnr., F.N.Cann, R.Francis, J.Lake Senr, R.B.L.Alford, I.Jones, T.W.Ayres, L. Snow and E.Morgan. Gerald Jenkins, a later member of the club and of (the still existing) Castell Nedd Chess Club, was at this time playing for Port Talbot.
Neath won the league in 1957, playing only 6 matches and winning 4 of them. Although the opposition was somewhat limited, Neath had a fine team that year. Apart from G. G. Rollings they had W. D. Minty who was a regular competitor at the South Wales Championships, Briant P.Bourne who won the second Welsh Chess Championships in 1956 and Gerald Jenkins, but a total of 14 players played for the club that year. The Individual Championship of West Wales (the E.J.Clarke Trophy) was won by James Lake junior of Neath.
The club won again in 1961, with 7 wins, 2 draws and one loss. The team this year was led by Rollings, Jenkins, Fred David, Jim Lake, and also included for a couple of matches, a young Peter George, who is still playing the games at Briton Ferry. Geoffrey Rollings was an accountant in the town and son of 'the man who won the war', Acting Chief Constable, E. J. Rollings.
In 1954, in the last of the South Wales Championships, Cann scored 2/6 in Section A and P. R. Wainwright of Neath withdrew after winning in the first round. This section was won by Dr. Michael Benger of Neath 5.5/6. In the final Benger defeated Graham Barnard of Cardiff who later became Welsh Champion. Benger had played for Battersea Chess Club before the war and on a high board for Surrey county team. He won the London League New Year tournament in 1938.
After Dr. Benger left Geoffrey Rollings became their leading player. Rollings was made President of the League having served as Match Captain and Chairman over the years. Gerald Jenkins was also Match Captain for one year and ran the postal chess team for several years.
There have been a number of Neath players who have taken part in the Welsh Championships but the finest performance was that of Geoffrey Rollings who came third in 1961 and 1962. He stated that his system was to have adjournments in as many games as possible and then come through the lists with a rush at the end when all his games finally ended!
The club had several winners of the West Wales Individual Championships : 1956 Geoff Rollings; 1957 James Lake and 1963 Peter George.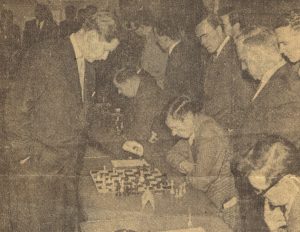 Paul Keres about to play against Gerald Jenkins with Geoff Rollings seated on Jenkins' right.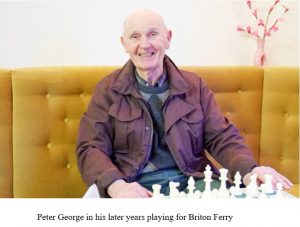 By 1965 the club was meeting at the Railwaymen's Club – literally a shed at that time – off Station Approach, to the right of the railway station. A few years later they moved to the Brynhyfryd Social Club (Busmens) where they remained until the club's demise in 2008.
The club won the West Wales Knock-out Cup in 1973 and in 1987. In the later years the club was led by Phillip Vasil and Alan Bennett. Vasil was a real character. When he returned to the club from university he had a little job behind the bar at the Busmens' Club. He would start his game, rush downstairs, serve a few pints and dash back to the match. It didn't seem to affect the result! Another time he would travel home after work in Swindon in order top play in matches.
CASTELL NEDD CHESS CLUB
In April 1978 Castell Nedd Chess Club was established in the town, meeting initially at Alderman Davies' School. The reason for the establishment of a new club was the Neath club's lack of interest in nurturing chess amongst school children. A schools' individual tournament was held in the school in March that year and 79 children took part. This was the impetus for the new club as young players were frowned upon elsewhere. The club was popular right from the start with 35 at the first meeting.
The club held a series of friendly matches to test its strength, the first resulting in a loss to Killay 4.5-8.5.
For their first foray into the league, two teams were entered into Division 5 of the West Wales League. The 'A' team, consisting of Lloyd Watkins, Tony Roberts, Andrew Jones, Andrew Thomas, Michael Thomas and Karl Griffiths, won promotion by finishing third in the Division. This was remarkable as none had previous competitive experience and only the first two named were adults.
The following season, 1979-80 saw FIVE teams entered from the club. The 'A' team, now strengthened by the inclusion of club founder, Martyn Griffiths, remained unbeaten throughout and again won promotion. The team was Griffiths, Michael Thomas, Karl Griffiths, Paul Greig, Andrew Thomas and Lloyd Watkins.
The club continued to grow quickly and numbers were restricted at 50 with a waiting list for membership. The arrival of Glynn Sinnett further boosted the strength of the club.
Promotions through the league continued. In 1982 the club moved to Cadoxton and settled at Catwg Junior School where the occupation of two rooms meant playing conditions were ideal. Promotion to Division One was beyond the club's dreams and the Secretary said that he "did not believe that as a club we were strong enough to maintain a team in Division One, Two and Three yet." How wrong could he be.
At their first attempts Castell Nedd Emperors won Division One, an achievement all the more remarkable because they lost their first league match to Cardigan 0-6. Representatives of the winning team – Martyn Griffiths (36), Mike Williams (c30), Glyn Sinnett (22), Robert Saunders (16), Andrew Thomas (16), Michael Thomas (18), and Mark Saunders (15) were presented at the Mayor's Parlour. Ages have been bracketed against names to show how much times change. The average rating of top boards faced during the season was 1955 which compares well with today.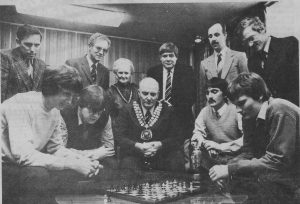 L-R Front: Rob Saunders, Andrew Thomas, mayor, Glyn Sinnett, Mark Saunders
Rear: John Williams, Dennis Thomas, mayor's wife, Courtney John, Martyn Griffiths, Tony Coats
By now players travelling from Port Talbot has created their own club and many talented young players were lost, including a very young Christopher Walsh.
1985 saw the club win the West Wales Knock-Out Cup.
February 1986 saw a visit by Grandmaster Murray Chandler. The Old Town Hall was hired for the occasion and club member, Peter George, took on the younger players in another room. This was the first of many such displays. Guests were invited and Peter Bevan of Swansea succeeded in lowering the GMs colours. Draws went to Martyn Griffiths, Glyn Sinnett and Siencyn Phillips of Castell Nedd and to Chris Walsh of Port Talbot and Ian Eustis of Bishop Vaughan.
Welsh champions Moss McCarthy, Paul Lamford, Iolo Jones and John Trevelyan all came to the club as well as many other local league players in order to test the young talent. To mark the 25th anniversary of the club G.M. Keith Arkell was the visitor.
The club continued to grow and at one time had eight teams playing in the West Wales League. By 1991 space was at a premium and the more experienced club players set up a separate night at Neath Liberal Club. That year the club again won the league, the regular members of the winning team being Robert Saunders, Glyn Sinnett, Adam Musson and Terry Hammond.
1992 saw an inevitable split with the Liberal group forming Nidum chess club and Castell Nedd continuing to cater for young and less experienced players. The club moved for financial reasons after a long stay at Catwg and travelled to Cillfriw Primary School and Tonna Rugby Club before arriving at their present home, Brynoch Social Club.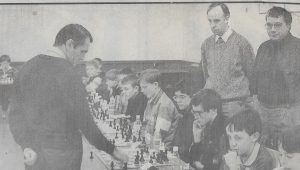 Iolo Jones takes on club youngsters 1994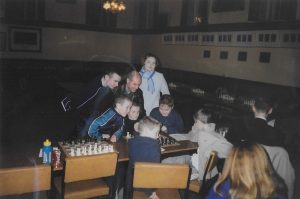 Keith Arkell prior to giving a simultaneous display 2003
Many of the children that passed though the club played for the county or represented South Wales in one of the age-groups. Many became Welsh Junior Champions (17 by 1987)
The days of dozens of children attending are sadly long gone. The end of chess clubs in local schools plus competition from the internet has seen to that and today Castell Nedd is a small club that still tries to cater for any new or aspiring chess talent in the area.
CLUB CHAMPIONS
1985 Robert Saunders and Glyn Sinnett
1993 Martyn Griffiths
1994 Martyn Griffiths
1996 Martyn Griffiths and John Griffiths
2003 Martyn Griffiths
2004 Matthew Davies
2005 Matthew Davies
2006 Matthew Davies
2007 Matthew Davies
2015 Hywel Griffiths
2016 Martyn Griffiths
2017 Steve Smith
2018 Hywel Griffiths
GLORNEY AND FABER CUP PLAYERS
1980 Yvonne Coats (Faber)
1981 Yvonne Coats and Elizabeth Rees (Faber)
1982 Yvonne Coats (Faver)
1983 Robert Saunders and Yvonne Coats (Faber)
1984 Robert Saunders
1985 Robert Saunders, Chris Sims and Yvonne Coats (Faber)
1986 Chris Sims and Mark Saunders
1987 Christopher Walsh
1988 Christopher Walsh
1989 Christopher Walsh, Mark Evans and Adam Musson
1998 Rhiannon Hammond
1999 Rhiannon Hammond
2000 Rhiannon Hammond (she became the first girl to play for Wales in the Glorney Cup in 2000)
2005 Carl Davies
2006 Carl Davies
2007 Carl Davies and James Silk
2008 Carl Davies
2009 Carl Davies
Robert Saunders (1985 and 1986), Mark Saunders (1988), Christopher Walsh (1989) and Rhiannon Hammond (2001) all played for Wales in the World Junior Championships.
NIDUM CHESS CLUB
Nidum won the West Wales league 1993-2009. 2011-2013 and 2017, a record total of twenty-one titles, three of them with 100% record. They also won two Welsh Challenge Cups (1993 and 2003) , seven Welsh KO Cups (1996, 1997, 2000, 2001, 2005, 2009 and 2010), four Welsh Premier titles (2007, 2009, 2014 and 2019) and many West Wales K. O. Cup wins.
They formed the main part of their club from the adults in the Castell Nedd club and had many venues over the coming seasons due to the closure of the pubs and clubs they played in. For many years they played in the Liberal Club and were known as Nidum Liberals.
The most senior players that have played for the club include IM Leighton Williams, IM Richard S Jones, FM Roy Phillips, Chris Walsh, Gareth Morris, Andrew Gandy, Alan Bennett, Rob Saunders, Andrew Fish, Adam Musson, Anthony Sheehan, Craig Evans, Ian Jones, Andrew Gibbons , Matthew Davies, Bob Moore, Mark Evans, Chris Sims, Glyn Sinnett, Terry Hammond and Mark Saunders,. Even GM Julian Hodgson made a guest appearance for the club !! Hodgson gave a simultaneous display at the Constitutional Club, Neath in about 2002 – the first grandmaster to play there since Lasker.
Over the years, the club also played in twelve European Club Cups in Hungary, Germany, Italy, Turkey, Greece, Slovenia, Austria and the Netherlands being paired against numerous Grandmasters and International Masters.
In addition the club participated in three twin-town events held in Italy, Germany and France, winning the event in Esslingen in the final round against the home side much to their annoyance.
In their very first year Nidum won the Welsh Challenge Cup, beating Pontypool 3 ½ – 2 ½ in the final. The Nidum team was Chris Walsh, Alan Bennett, Rob Saunders, Chris Sims, Adam Musson and Glyn Sinnett. This success led to their first foray into Europe.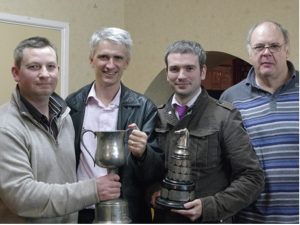 More trophies for Nidum. L-R Andrew Gibbons, Robert Saunders, Gareth Yeo and Bob Moore
Leighton Williams (born 1977) of Mountain Ash who led the Nidum team for many seasons. He won the Welsh Championships in 2000, 2005 and 2008, played in six Chess Olympiads and won a gold medal, and was awarded the International Master title in 2002.
He is not currently playing.
Richard Jones, (born 1983), Welsh champion 2002, 2003. 2009, 2010, 2012 and 2013; played in three Chess Olympiads and was awarded the International Master title in 2018.
He now lives in Australia.
Glyn Sinnett won the Welsh Correspondence Chess Championships in 1994
BRITON FERRY CLUB
Briton Ferry lies just a few miles south of Neath. For about four years there were four chess clubs in the Neath area – Neath, Castell Nedd, Nidum and Briton Ferry! The club was founded in 2004 by David Merryweather, secretary of the Castell Nedd club. He had tried unsuccessfully to re-start a club in Port Talbot and Briton Ferry was something of a compromise. Never the strongest of clubs, they attracted players from Bridgend and elsewhere but they eventually merged with the Nidum club.