Origins
The story of the Newport and County Chess Club is, in many ways, synonymous with the story of chess in the county of Monmouth itself. For more than a century Newport has held its place at the head of the county clubs, bouncing back to the fore even after brief spells of supremacy by clubs such as Blaina, Tredegar, Blackwood and Cwmbran. The club title itself is indicative of this superiority; the 'and County' implying that it is the controlling body for all chess in Monmouthshire. (Cardiff and Swansea at one time had the same nomenclature). It also implies a wide membership spread over the entire county and this in fact was so until more recent times. The full title was not used until the 1920s, but it has been retained since then in recognition of the club's seniority despite the formation of a separate County Association.
Chess continued to be played casually, until early 1855, when it was decided to constitute rules for a Newport and County Chess Club. Charles Lyne was a solicitor with an office at Bank Chambers in the town, and he is most likely to have been the person who drafted the Constitution. They may have had plans to play the Bristol and Clifton Club, which was founded around 1839. No records survived from the Old Town Hall, but there is a report in the Monmouthshire Merlin, for 2nd March 1855:
"A Chess Club has been formed at the Commercial Reading Rooms, which from the large number of gentlemen who are partial to the noble game, bids fair to prove a source of gratification and amusement during the Winter hours".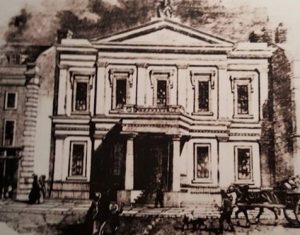 Newport's original meeting place was in the first Town Hall
The club Rules were officially Constituted, and that Constitution is still in being to this day, but with some necessary amendments for the 21st century.
Colonel Charles Lyne, J.P. was duly elected President, and he became Mayor of the town the following year, 1856. Two Vice-Presidents were elected, Mr Salter and Mr May. Mr Salter had offices in Clarence Place, and was a Land Assessor for the Inland Revenue. Mr Will was elected honorary secretary and treasurer, and this dual office continued until the death of J.W.F. Greenleaf in 1954. The club met at the Town Hall from 6pm, three nights each week, usually Tuesdays, Thursdays, and Saturdays. This custom continued until the late 1960's, when the club moved from the Y.M.C.A. to the Dolman Theatre. Today, the old Y.M.C.A. building is in use as the Wetherspoons' "Tom Toya Lewis" public house.
The Monmouthshire Merlin report continued:
"A committee of six gentlemen was appointed to manage the affairs of the society. 25 gentlemen enrolled their names."
The emphasis was on 'gentlemen'. It was a gentlemen's club, and the names of any new prospective members had to be seconded by an existing member. Any member of the six-man committee could 'blackball' a prospective member.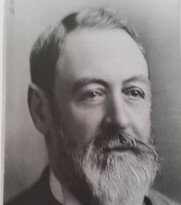 Charles Lyne
There is strong support among Newport chess historians for the year 1872/3 being the start of the present chess club in the town and the original Financial Register, now in Newport Museum, supports this claim. However, T. & F. Rowland's Directory names 1878 as the first year of the club and the Annual General Meetings listed in the club's minute books also relate to that year as being the start of chess activities. On 22nd October that year the South Wales Daily News reported, "A chess club has been established in this town in connection with the Commercial Reading Rooms, Town Hall. A large number of gentlemen have already become members."
The club soon had 35 members and met three nights a week, Mondays, Wednesdays and Saturdays.
By the mid-1890's, the chess club was the most exclusive society in Newport. You only have to look at the list of Vice-Presidents for that period, which looked like they were taken from Debrett's "Who's Who", in Monmouthshire. Another early member was William Conway of Ponthir, whose obituary appeared in the British Chess Magazine for 1891. William Conway was born in 1820, and was a druggist based in Pontypool during his early years. He later purchased a Tin-Plate Works in Ponthir, with his brother.
The obituary was almost certainly written by John Moses, Mayor of Newport in 1877, and the only Mayor to play on top board for Newport. John Moses was born in 1829, ten years before the Chartist Riots. He was one of the early members, and eventually became the Club President. John Moses was probably the most illustrious club member, only the second citizen to be honoured with the Freedom of the Town. He was a ships' broker, owned steamships, was an iron-ore merchant, and a senior Alderman, and prominent member of the Baptist Church in Commercial Street. He died on 29th December 1915, aged eighty-seven years. His funeral service took place on January 8th 1916. The Newport club boasts an amazing 23 former mayors amongst its past and present members.
Amongst the mourners was Ivor Llewellyn Phillips, who became a life member of the club. His father, Edward Phillips, J.P. was a member of the gentry, who lived at Friars Cottage, Waterloo Road.
Another early member was John Gall, Club Secretary in the 1870's, and 1880's.
The Newport Solicitor George Frances Colborne was a member from at least 1884, until his last appearance at the club in 1945. Born in Wiltshire in 1859 and brought up in London, he was playing for Newport and the South Wales team before the formation of the S.W.C.A. in 1888. He served as Club President for 13 years and later was made Life Vice-President.
The Newport Problemist Alonzo Townsend published in the Huddersfield College Magazine in the 1870's, and the early editions of the British Chess Magazine during the 1880's. His problems were also published in the Illustrated London News. The 1881 BCM mentions the Isca Chess Club, which met at the "Ship and Pilot" public house in Pillgwenlly. This public house was popular with Ships Officers. Alonzo Townsend is shown as President, with Joseph Williams as honorary secretary. Blands Chess Club directory also mentions the Isca club in 1882. They claimed to have twenty-five members. Townsend was a member of the gentry, living at Caerau, but Joseph Williams lived in Railway Street, and would not have belonged to the gentry, which indicates a possible split from the Newport Club.
Meeting Places
The club remained at the Reading Room until 1921 when accommodation was found at the Y.M.C.A. There they remained until 1934 and returned there again in 1950. In the intervening years the club found a home at Cambrian Road Chambers and for a brief spell in 1945 at the King's Head Hotel in High Street. The final move of the club came in 1969 when they moved to the Dolman Little Theatre.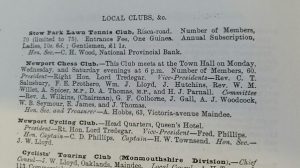 Entry from John's Directory 1894. The Rev. Wilkins was chaplain to the Workhouse.
He died in the chess room at the Town Hall.
Members
The early clubs at Cardiff and Newport sought patronage and cash from local gentry and outstanding citizens, but none matched that enjoyed by Newport. In 1897 Viscount Tredegar and Sir A. Garrod-Thomas, M.P., headed an illustrious list. In 1945 among the Vice-Presidents, were Mr. P.Freeman, M.P., and Mr. P. Thorneycroft M.P. (later Lord Thorneycroft). At other times Countess Rhondda, Senor A. Pasker the Argentine Consul, Sir R. G. Clarry M.P. and Mr. W. J. Boare, J.P., the Editor of The Argus, have been among the members.
In the early years of the club's history their leading player and board one was invariably the Reverend Charles T. Salisbury. The Rector of Tredunnoc reigned more or less supreme at Newport but in matches against the leading lights of Cardiff, Bristol etc. he did not impress.
Mrs. Mary Mills Houlding was born in England but spent most of her early life in Australia. In 1899 she returned, at the age of 49, to live in Newport. She and her husband were playing on boards one and two for Newport by 1901 ahead of A. R. Marshall who was another rising player. She won the British Ladies' Championship several times and beat the World Champion, Emanuel Lasker in his simultaneous display at Newport in 1908.
In 1902 Mr. L. W. P. Lewis played on top board. A year later he was runner-up in the first big congress to be played in South Wales, at Cardiff in January 1903. He had represented Cambridge University in 1893 and 1894 in their annual match against Oxford. His services were lost to the club when he moved to Bradford to teach classics at Bradford Grammar School.
Alfred Robert K. Marshall was born in Newport in 1878. He worked for the Post Office and after his marriage in 1909 moved to Cardiff. He started playing at Newport in about 1898 and quickly rose to fill one of the top boards. Later he won several South Wales Championships. He died in 1967.
Sergeant Victor Rush, who won several Club Championships, was stationed at Chepstow. He played in a number of B.C.F. Congresses and represented the British Forces in 1941 in a match at Nottingham against the Allies. He played on bottom board in a twelve-board match and the team was led by Brigadier Golombek. He was gassed and wounded during the First World War so probably did not see active service in WW2. After the war he retired to Hastings where he played for the famous club. His obituary in 1951 (aged 76) described him as a problemist of international repute.
Among the many short-term members of the Newport club was Major J. Akenhead, who seems to have played whilst home on leave. His family had a solicitor's practice in Newport from 1923. The Major was a well-known composer of Fairy Chess Problems.
Joseph Fine was born in London 1900 to Russian immigrant parents. They were a Jewish family. He seems to have moved to Glasgow at some time and went to school there, ending up in medical college at Glasgow University and graduating as a doctor. He intended to become a pathologist but his plans were interrupted by the Second World War and he was posted to Palestine, to serve as a doctor with the Middle East Force. Whilst in Scotland he played for the Glasgow Jewish Institute which won the Spens Cup in 1927.
Following the war he finally became a pathologist and in 1948 he was made Chief Pathologist at the Royal Gwent Hospital in Newport. This was the time when he was introduced to chess in Newport and won the county Championship 1948, 50, 51, 56 (joint) and 57; and the Newport Club Championship 1949 and 1955. He played on top board for the county for most of this time. In 1963 he disappeared from the South Wales record books and this was because of a move to Zimbabwe where he ran a pathology unit. Joseph Fine died about 1988.
Development
Details of the many simultaneous displays by masters held at the club are given elsewhere, but the strong Bristol player (formerly from Cardiff), Nelson Fedden, also gave a display at the club in November 1891 when he won 5, drew 4 and lost to Rev. C.T.Salisbury and Mr. A.T.Woodcock.
Newport took an active part in the competitions of the South Wales Chess Association from the moment that body was founded in 1888. On occasions they were paired with clubs over 50 miles away but nevertheless they remained affiliated, with the inevitable occasional break, until the formation of the Monmouthshire County Chess Association in 1935. Sometimes matches were played at agreed venues such as Bridgend against West Wales teams.
By 1950 the Newport members had become keenly aware of their neighbours within S.W.C.A. who were divorced from them because of their affiliation. Competition was near at hand and yet they could not compete. They sent representatives to several of the S.W.C.A. meetings in order to sound out the possibility of re-joining the S.W.C.A. whilst remaining members of the M.C.C.A., but after 1951 they abandoned this idea.
Newport Chess Club played host to many visiting masters. Displays and talks were common features and matches with clubs on the other side of the Bristol Channel indicate how active their committee was and how keen the members were. Even after the formation of the County Association membership continued to grow and at one time, just after the 1939-45 war, the club could boast of over 60 members.
The club had met throughout the First World War, but was obliged to close between 1939 and 1945, although a group of players continued to meet at their homes.
When activities resumed a special meeting was held at the King's Head Hotel. Many of the senior members had by then left the area or died. One notable absentee was Mrs. Houlding. A survivor at the re-opening was Lt. Col. J. G. Bryson, a former secretary of Liverpool Chess Club, who had been a member of Newport in 1897.
As before, the club was open on three nights of the week and a room was leased at Cambrian Road. Initially the revived club faced many hardships. Apart from finding their own equipment (J.W.F.Greenleaf made many of the boards for the club), they also had to acquire tables and chairs and pay for the heating and rent; not to mention travel problems created by petrol rationing.
After the war the club continued as before, at the head of county affairs. It also dominated the new Newport & District League and many of the club members were engaged in the organization of both bodies.
Annual Dinners were held which were well supported. The 1953 Dinner was at the Westgate Hotel and there were Toasts to the Queen, Chess, Our Guests and The Ladies. Entertainment was provided and several speeches were made. Peculiar to this event were several adjournments to a television set where a simultaneous display by C.H.O'D. Alexander was being broadcast live from London to mark National Chess Week. The Club Secretary invariably received a cheque at the end of the evening to mark his services.
Dr. Fine resurrected his talks of the 1950s and helped the development of many fine junior players through what was known as the "Gwent Chess Circle". Not restricted to the Newport Club, meetings were held at the Newport Civic Centre where talks and demonstrations were given by the leading players. For example in 1962-3 D.Caines, B.Eliot, N.W.C.Lee, Dr. J.Fine, N.E.Wade and G.V.Cadden were all listed as guest speakers. The programme included openings, defences, pawn structures and aspects of the endgame.
Matches
Friendly matches were the norm before the formation of the South Wales Chess Association in 1888. Matches were arranged against Bristol & Clifton but the West Country outfit were too strong for any team from Wales. Even combining with Cardiff, the Newport-Cardiff side were well beaten. After the formation of SWCA a combined South Wales team was put together against them for an annual encounter but again Bristol & Clifton were too strong.
Between 1885 and 1892 several telephone matches were played. Teams would gather at a central venue and consult over their moves. The first of these was held on 20th September 1885 when Newport lost to Cardiff. Cardiff was playing another match at the same time with Swansea. A year later the game between Newport and Cardiff was declared a draw after nearly nine hours play although there was a short break during the match. There were 12 players gathered to represent the Newport club and the longest consultation for a move during the match was timed at 12 minutes.
The first recorded match of Newport Chess Club was against their neighbours, Cardiff, on 1st November, 1884, when, at Cardiff, they lost 9-11. Matches between the two clubs became and have remained an annual fixture which is keenly fought. These were the two largest clubs in South Wales and rivalry was fierce. Between 1884 and 1908 records survive of 31 multi-board matches between the clubs, sometimes playing two or three times in one year. Cardiff invariably came out on top and of the known results Newport won just seven times with two matches being drawn. Some of these occasions might have been part of the Challenge Cup competition with the top six boards counting.
Newport won twice in 1886 with J. Moses leading the side ahead of Rev. C. T. Salisbury. In their two victories 1897-8 it was J. Hutchins who led from Rev. Salisbury and A. Hobbs. Their last golden period was around 1902-5 when A. R. Marshall, Mr & Mrs Houlding and L.W.P.Lewis graced the top boards.
Newport competed occasionally in the South Wales Challenge Cup up until the formation of a separate Monmouthsire Association in 1935. They won the event in 1909, 1910, 1911 and 1915. The details of these matches are elusive but in 1909 the team was led by A. R. Marshall, Mrs. Houlding and H. Ivor Smith. In the final that year they beat Llanelli 5-1. The following year was a repeat Newport again beating Llanelli. In 1915 they beat Cardiff in the final, the latter being led by former Newport stalwart, A. R. Marshall.
Regular friendly matches continued to be played against their rivals at Cardiff after the formation of the South Wales Chess Association. Newport's win 8½ – 3½ in 1949 was referred to as their second win in 33 years!
Telephone matches were a particular favourite at one time. The club played its first (modern) telephone match in November 1952 against Birmingham. Lines were especially installed by the Post Office at the Y.M.C.A. to accommodate the match. The Newport team, Dr. Fine, G.B.Eliot, H.Golding, R.B.Herbert, B.Foster, J.T.Evans, L.Wotherspoon and E.Budzinski lost 3-5 to a strong Midlands side where W.Ritson-Morry played on Board 4.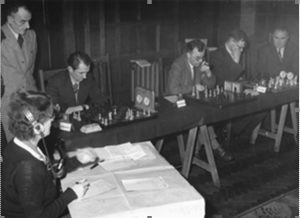 Photo : H.Golding
Telephone Match 1952 E.Budzinski, L.Wotherspoon and J.T.Evans in play
A notable moment of glory was achieved in 1965 when the club reached the last eight in the B.C.F. National Club Championships. This was further than any other Welsh club had ever progressed. They lost eventually to Battersea, 2-4, but were awarded a special prize for the best performance by a losing team.
Club Championships
A Club Championship is known to have been held since 1913. A list of the champions that are known includes many names of players who were active not only within the club itself but also in county and district activities:
1916 H.Ivor Smith 1949 Dr.J.Fine
1917 H.Ivor Smith 1951 Dr.H.V.M.Jones
1920 P.Thomas 1952 G.B.Eliot
1921 P.Thomas 1954 K.P.Hughes
1922 Mrs.H.M.Houlding 1955 Dr.J.Fine
1925 P.Thomas 1956 N.W.C.Lee and K.P.Hughes
1927 P.Thomas 1957 P.Greenleaf
1928 Mrs. H.M.Houlding 1958 P.J.Wynn
1929 Sgt. V.Rush 1959 K.Gottschalk
1930 Sgt. V.Rush 1964 D.A.Caines
1931 Sgt. V.Rush 1965 D.A.Caines
1932 P.Thomas 1969 R.G.Taylor
1933 P.Thomas 1970 M.Bowers
1935 P.Thomas 1971 J. A. McDonnell
Simultaneous Displays
There have been many displays in Newport but the results of many are unknown. Research in local newspapers may produce a more complete record but for the moment this is all the information that is available:
1891 J.H.Blackburne won all games
1898 J. H.Blackburne
1908 E. Lasker W18 D2 L1 lost to Mrs. Houlding, drew with Woodcock and Corbett
1911 J.H.Blackburne
1912 F.Marshall W18 D1 L1 lost to B. Gill
1922 B.Kostic W22 D3 L0
1923 F.D.Yates
1924 F.D.Yates L1
1925 F.D.Yates W10 D0 L2 Lost to T. J. Williams and Dr. C. S. Vines
1935/6 Sir George Thomas
1936 E. Znosko-Borowsky
1938 G. Koltanowski
1946 J. Mieses W18 D7 L0
1946 J. Mieses W18 D1 L1 Lost to I. Richards
1950 H. Golombek W21 D6 L1 Lost to R. B. Herbert. Draws: J. T. Evans, L. Wetherspoon, Charles (Lysaght), M. J. Williams, J. V. Morgan.
1952 D. Yanofsky (at Noral) W24 D5 L1 Lost to H. Golding. Draws: N.C.W.Lee, Mrs
Smith, P.J.Wynn, E. McHugh, J. Morgan.
1953 C.H.O'D. Alexander W23 D5 L1 Lost to K. Hughes. Draws: H. Pugh, J. Fine,
David Price, G.B.Eliot, W. Dyment.
1955 H. Golombek W24 D4 L1 Lost to Dr. H.V.M.Jones
1956 H. Golombek
1957 E. Znosko-Borowsky
1958 C.H.O'D. Alexander W12 D11 L0 Draws: C. Gilbert, B. Douthwaite, G. Hazelwood, R. Dubrowski, E. Evans, B. Everson, D.I.Phillips, N.W.C.Lee, B. Griffiths, D. Stephens.
1959 H. Golombek
1961 H. Golombek
1962 H. Golombek
1969 S. Gligoric W17 D2 L1 Lost to P.D.Alder. Draws: M. Gavrilovic, D. James.
1970 L.Portisch W12 D1 L0 N.E.Wade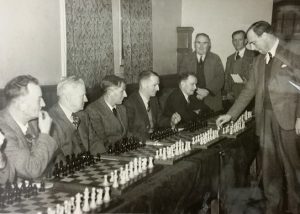 C. H. O'D Alexander at one of his Newport displays.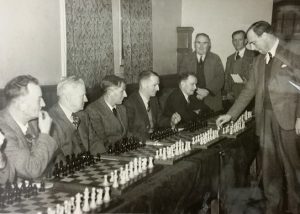 Canadian grandmaster D. Yanofsky prepares to play against Henry Golding at Noral.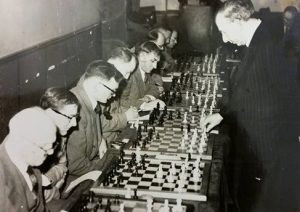 British champion Harry Golombek on one of his many visits to Newport.
Glorney Cup players from Newport
This list of Glorney (Welsh Under 18 team) players from Newport runs up until 1986.
1952 M. J. Williams
1952 Brian Foster
1952-3 Michael G. Parsons
1958 A. R. J. Arthur
1961 H. Whitcutt
1962 David A. Caines
1962-3-4 John K. Whitcutt
1962 M. Price
1962-3 D. Ellis
1962 R. H. Jones
1964-5 P.A. Thomas
1966-7-8 Richard J. Miles
1967-8-9 Phillip D. Alder
1967 G. Brace
1975 Peter Varley
1976 Philip Cunningham
1976 John Waters
1977 R. Jones
1978-9 A. Brown
1978-9-80-1 A. Anderson
1979-80-1 S. James
1984-5 F. Brown
GWENT TITLE WINNERS FROM NEWPORT
As recorded up to 1983.
1950 Dr. J. Fine
1951 Dr. J. Fine
1952 G. B. Eliot (share)
1953 Dr. J. Fine (share)
1954 Dr. J. Fine and G. P. Moore (shares)
1955 G. P. Moore
1956 Dr. J. Fine (share)
1959 P. J. Bennett
1964 Dr. H. V. M. Jones and J. Williams
1965 G. V. Cadden (share)
1966 B. A. Heath and J. E. Syner
1967 R. J. Miles
1971 J. Williams
1973 R. G. Taylor (share)
1975 J. A. McDonnell
1976 J. A. McDonnell
1977 R. G. Taylor
1978 G. H. Motamedi (share)
1979 J. A. McDonnell and P. Cunningham
1981 P. Cunningham (share)
George Moore moved to Cardiff and won the Welsh Championship a few years later. Pat Bennett won the same title in 1960 and shared it the following year.
(The challenge for Newport club members is to bring this record up to date. Much of the early history of the club has been researched by Gordon Cadden and his account can be found on the Newport club website.).