Known in Victorian times as 'The Garden by the Sea', Penarth was a popular holiday destination. Its popularity led to it becoming a retirement home for many of South Wales' industrialists, and this is reflected in the early chess players in the town. The population of the town greatly increased towards the end of the 19th century with the arrival of the railway in 1878.
The first chess club in Penarth was formed following a meeting in September 1886 at the Penarth Hotel. Frederick Phillip. Down (1848-1913), a coal proprietor and exporter who had recently moved to Penarth, was elected the club's first captain. A few years earlier he had been made a vice-president of a newly re-formed Cardiff chess club and was one of their strongest players. He became Vice-President of the South Wales Chess Association in 1888 and was the Cardiff club's first champion in 1897. Like most of the strong players in Wales at this time, Frederick Down was an Englishman, having been born in Devon. Albert H. Mules, a clerk in a colliery, was the club's first secretary.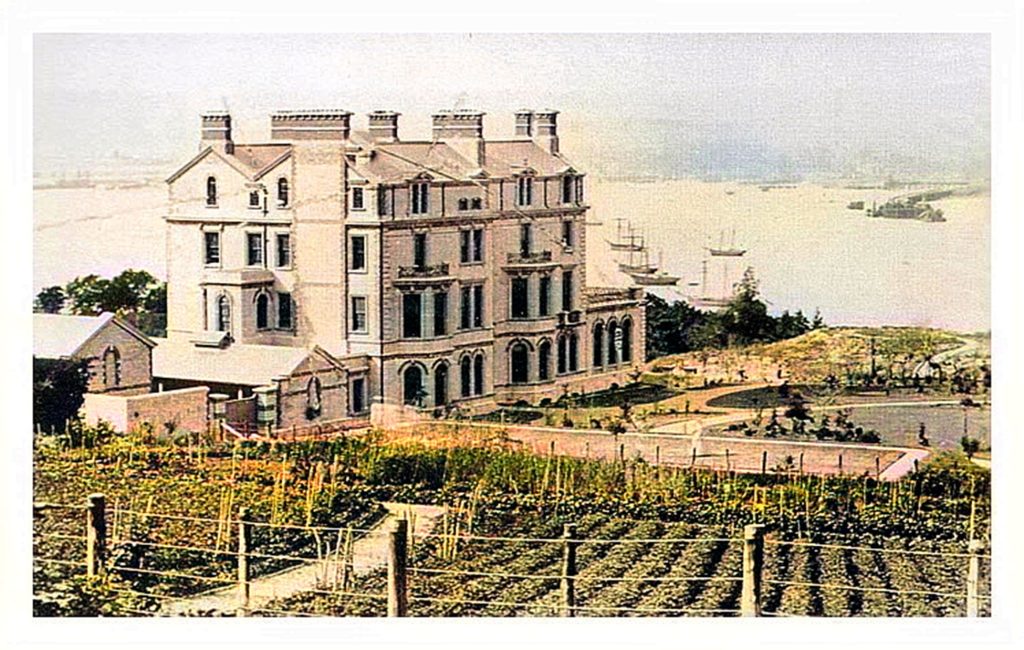 The Penarth Hotel later became Headlands School for boys in 1918,
The new club in Penarth set about gaining experience through matches with other South Wales clubs. The first, late in 1886, was against United Rhondda at the Penarth Hotel. Play was over 2½ hours and the visitors won 6-4. The Penarth team was: Werner Cederval, George Lennox, Joseph Rose, H. Reed, C. Amies and Ralph Crossling. Cederval and Lennox who were both experienced Cardiff players, won their games (and probably just filled in for missing players) and Amies also won one and drew his other game. This first match was something of a disaster for Penarth as several of the selected home team did not turn up! It was commented that, with certain exceptions, the home players were regarded as beginners. The Rhondda club had also only just been formed so were not really expecting to win. By way of compensation for the poor turn out of the home side, the visitors were entertained to dinner after the match.
Werner Cederval (1864-1950) was from Sweden and employed as a ship-broker's clerk. He played for Cardiff between 1885 and 1891. Ralph Crossling, a native of Northumberland, played for the club for 14 years, he was a nurseryman and florist and supplied many of the trees in the woodland at St. Fagan's where he had been head gardener.
The return match was held the following February in the Porth Hotel. This time the Penarth team were victorious, 7-4, dinner being taken half-way through the match. Once again Penarth let themselves down as two of their eight players failed to materialise. All of the Penarth players managed to get on the score board, there being two games at each board bar one. The Penarth team on this occasion was more representative of the club and was led by F. P. Down with G. Nox, Harry Snell, B. Reid, C. Amies and R. Crossling making up the team.
By 1888 the details of the club are much clearer. The President was Joseph Rose. One of their members, Frederic Kilby (1858- ), had formerly been a member of Rugby Chess club and he gave some insight into how a club should be run. He was the manager of a local cement works. The club seemed to be well off financially with sponsors named as of Lord Windsor, A. J. Williams MP, J.T.D. Llewellyn JP, Major Gaskell, Captain Pengelly R.I.N. and Ivor Vachell. R. Crossling was the treasurer and Mules still secretary though he resigned the following year and Kilby was elected. There was chess interest too in the Penarth Liberal Club and a match between them was played which was won easily by the town chess club.
The club continued to expand and met twice a week on Tuesdays and Fridays, from 7 p.m. to 11 p.m..
The club entered the South Wales Chess Association knock-out tournament for the 1889-1890 season and came up against United Rhonddas. There were nine players in each team and two games played on several boards. Penarth lost 5-7 though the result published still showed one game to be adjudicated. The Penarth team was led by S. N. Bidgood, Werner Cederval, F. Kelly and Mr. Ronnfeldt. Cederval registered the only win for Penarth on the top six boards. There is no other record of the club taken part in the tournament before 1923.
Mr Ronnfeldt is probably William Ronnfeldt,(1837-1919) the Austro-Hungarian Consul for Cardiff and Newport, appointed 1894, although he had lived in Cardiff long before that. He was of Swedish origin although he was born in Lubeck. He moved to Cardiff in 1859 and became naturalized in 1877.
All Saints Church was being built in Penarth between 1889 and 1891 and as part of the efforts to raise funds, a game of living chess was played out at a bazaar held in December 1892. "The pieces are very appropriately costumed in dresses of the most lavish description, and certainly look very attractive." Six months later the spectacle was repeated, again in aid of church funds but with part of the proceeds going to the Pontypridd Disaster Fund. (This was at the Great Western Colliery where 63 lives were lost).
It was not until nearly the end of the century that more chess matches were reported. 1898 saw matches against Cardiff YMCA, Barry home and away and Newport. These were all friendly matches rather than SWCA Cup games. The club was still being led by F. P, Down with the other high boards being E. W. Rees (1852-1934), Alfred J. Frazer (b. 1873, an accountant) and Alfred Holman. (There were three Alfred Holmans in the same family – b. 1837 ship owner, son Alfred b. 1870, and brother Arthur b. 1881 an architect's pupil). Holman became secretary of the Penarth club; he played for Cardiff in 1915. There were a number of Cardiff players who either moved to Penarth or played for both clubs e.g.. father and son named Eugene Bregeon played for Cardiff and Penarth around this time, the senior of the two being a ship owner.
Edward W. Rees (1852-1934) played for Cardiff right up to 1915; he was a colliery manager and as such got around quite a bit, turning out for Pontypridd, Rhondda, Aberdare, Cardiff and Penarth over the years. In January 1898 he beat Blackburne in Cardiff and it was noted that he had played against Lasker when he had visited Pontypridd two years earlier. He had also drawn with Blackburne in 1897 and was described as 'almost a life-long player'.
Matches remained a central part of club life in 1899 with games against Barry, Newport, Loveridge Ltd., and Penarth Liberal Club. Regular matches were played against neighbours and rivals Barry. Recorded results of these early matches are shown below:
Matches v. Barry (Penarth first)
1898 April 8-8
1898 Nov. 5-8
1899 March 9-3
1900 Feb 12-5
1900 April 5.5-5.5
THE NINETEEN TWENTIES
The chess club re-appeared in the 1920s amidst a general revival of chess interest in South Wales. During this period the club had a number of well-known chess celebrities, the chief of whom was John Dibbin Chambers (c1845-1930). 1921 saw him beat off the challenge of W. D. Wight to take on A. R. Marshall in the South Wales Championship final which he lost. Chambers had claimed ownership of the title much earlier when giving a display in Mid Wales but there is no record of him competing prior to 1921. He was runner-up again in 1922. He finally claimed first place in a tournament played between six leading contenders in 1924.
Chambers was known as "The Apostle of Chess"
(Alan McGowan has deeply researched Chambers and his findings can be seen on chessgames.com under John Dibbin Chambers)
He was not the only representative of Penarth in this and subsequent contests. Chambers was runner-up again in 1925, dropped down the list in 1926 but astoundingly regained the title in 1927 at the grand age of about 82! The press account stated that he was, "Fortified by a bottle of smelling salts and a flask of tea, from which he incessantly sought refreshment".
Penarth was Chambers final club but when he died his address was given as Cardiff so he may never have resided in the seaside town.
The club itself had revived by 1921. Chambers gave a simultaneous display there in October over 10 boards, losing just one game to H. S. Wakeford. This was probably the stimulation to re-form the club. Chambers had been doing this sort of thing all over England, Wales and Scotland for about forty years.
The club re-joined the South Wales Chess Association and in the Cup competition 1923-4 lost to Swansea 2.5-3.5. The Penarth team at this time was W. D. Wight, J. D. Chambers, A. Holman, N. Neath, H. Hallett and W. B. Williams. Alfred Holman worked as a clerk in the docks and Henry Hallett as a railway clerk.
The team continued to play in the competition until it was dissolved in 1929. Wight and Chambers continued to lead the club, Holman was a regular and another leading player was Herbert Marks. The South Wales tournament had changed from knockout to all-play-all sections and opposition varied greatly. For example, in 1925-6 they were in the same section as Cardiff, Porth, Porthcawl and Swansea. The next year Newport and Bridgend were amongst their rivals and in 1928-9 Port Talbot, Llanelli and Tonyrefail provided some of the opposition. Results unfortunately are few and far between and those that survive all show losses for Penarth albeit mostly by narrow margins. There is no mention of the club after this for nearly forty years.
Caerphilly and Penarth were to play a series of annual matches as well as league matches in the 1970s when both clubs had re-formed, but their first (apparent) encounter was on 16th January 1926 when Caerphilly won 5-2, J. C. Corbett (Caerphilly) and W. D. Wight being the respective top boards. Caerphilly's existence as a club coincided with the availability of Corbett who regularly played in the South Wales Championships.
In 1926 the club's top board was Micky White, the Miners' Champion, who was formerly from Blaina. J.D. Chambers wrote to the Falkirk Herald in August 1916, on behalf of Mr. Micky White, the collier chess champion of South Wales. He offered to play a match with any Fifeshire or other Scottish collier who cares to accept, and Blaina, where Micky works, put up a stake of £1000 a-side. Linlithgow Gazette quoted £10,000 'or less if convenient'. Chambers described White as "very enthusiastic and often brilliant".
White was the shock winner of the South Wales Championships in 1926. The event was played in two sections and he easily won Section A with 5.5/7. In the final he met A. Harper of Mountain Ash, the strong favourite for the title. The two game final was played at Cardiff YMCA and Michael White was the worthy winner.
A newspaper headline in April 1926, was not related to the club in Penarth but nevertheless bears repetition. The British Boys' Championships took place at Hastings and in one section 17 year old Amos Brace (1909-1973) from Penarth took part. At the age of twelve Amos had gone to a fair in Penarth along with his brothers. He was standing by a shooting range and watching when a lady shot and the bullet ricocheted and struck him in the eyes. Amos thereafter attended the Worcester School for the Blind where he took up chess and was clever enough to finish third in his section at the Hastings tournament.
Both John Chambers (Board 1) and Michael White (Board 15) played for Wales in their first ever international correspondence chess match against Ireland, 1927-8, which was won by Wales 26-24.
The only mention of a chess player from Penarth in the wilderness years is of P. R. Morrish who, between 1952 and 1956, ran the South Wales team in the British Counties & District Correspondence Chess Championships.
A NEW CLUB DAWNS
A new club at Penarth was a long-time forming. The instigator was undoubtedly Bertram Jacklin who ran chess classes in the town from 1956 onwards, but it was only after his departure, ten years later, that a proper club was created and the members waited a few more years before venturing into the dangerous waters of league competition. Perhaps it was this slow creation which has ensured that the club formed about 1965 has lasted for more than half a century and is still with us.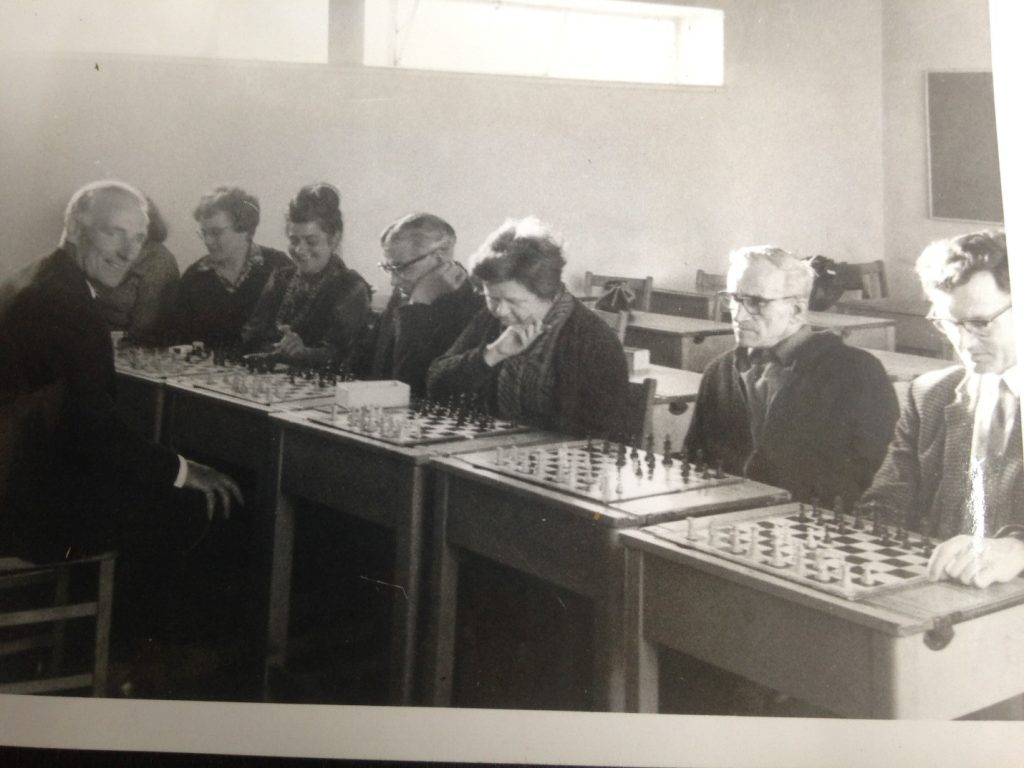 Bertram Jacklin takes on all-comers in his chess classes.
Mrs. Southall's distinctive hair-style stands out second from left.
Mrs. Brunker is far left and the other lady is Mrs. Mary Davies
Bertram C. Jacklin (born Aldershot 1911) was an officer in the navy until after the war. He then settled in Bradford-on-Avon and joined their newly formed chess club. In 1951 he was elected secretary of the Wiltshire Chess Association. That year he played against Canadian GM David Yanofsky in a simul at Swindon. He also helped organize displays by Barden and Keres.
By 1955 he had joined North Cardiff chess club. The following year he moved to Penarth where he took chess classes at Penarth CSS and at the adult education centre. The latter started in 1958 with seven members. The classes continued for a number of years but it was not until 1962 that they ventured to a match held against a team from the university. By 1963 he had extended his classes to neighbouring Barry and by 1965 to Tiger Bay. That year he passed his chess classes on to John Bowden.
He served as Secretary of the East Glamorgan League 1958-1965 and as Chairman 1965-6 and was actively involved in the establishment of the Welsh Championships at the Park Hotel in Cardiff from 1961 and in bringing players like Leonard Barden, Paul Keres and Svetozar Gligoric to South Wales. He was made a Life Member of the League when he retired in 1966. He was also Secretary of the Welsh Chess Union 1964-6.
His final years were spent near Brawdy in Pembrokeshire where he formed a chess club in 1968.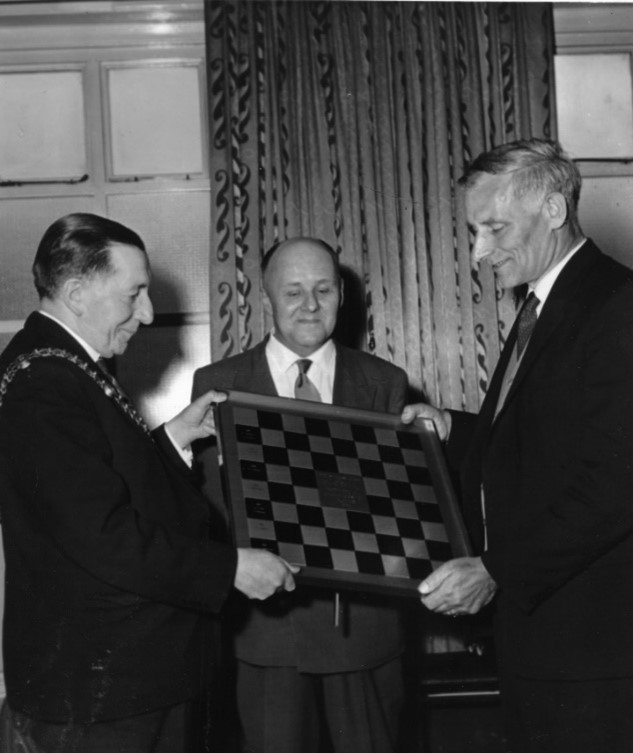 B. C. Jacklin (right) as congress secretary, receives the Henry Golding trophy from the Lord Mayor of Cardiff. 21st April 1962. Henry Golding looks on.
The new club, formed in 1966, met in the Church in Wales School in Penarth with Terence Southall Chairman, Trevor Brunker acting as secretary and Mrs Southall as treasurer. Trevor worked for a newspaper and, no doubt, his contacts were important in advertising the new club.
Terence Southall who is seen above (right) receiving the Philip Brown Trophy from Mrs. Brown with club secretary, Trevor Brunker, looking on, 1967.
The club ran three internal competitions. The Club Championship for the Philip Brown trophy, a knock-out tournament and a Ladies' Championship. The early winners were:
YEAR
CHAMPIONSHIP
KNOCK-OUT
LADIES
1967
Terence Southall
Hazel Brunker
1968
Trevor Brunker
Charles Davies
Hazel Brunker
1969
P. T. Durnell
Hazel Brunker
Zbyzska Southall
1970
B. J. Ellis
Hazel Brunker &
Zbyzka Southall
1973
B. J. Ellis
Hazel Brunker
An early star of the new Penarth club was Mrs. Zbyzska Southall, (1923-1979) a player of Polish origins; she first won the Welsh Ladies' title in 1964. At the time of this first success there was no trophy but shortly afterwards one was purchased for £15. She also won the title 1966-7-8-9 (shared), and 1971. She was one of several strong lady chess players. She was born Zbignieva Barbara Gawron but was known as Zbyzska, and was married in Bombay in 1946. Her husband, Terence, also played chess and became the first chairman of Penarth club. Mrs Southall played for North Cardiff in the league before switching to Penarth when they joined the league.
Each year Penarth council held a Festival Week and the chess club took part in this with a Chess Challenge Match played on the pier or at Woodland Hall. In the first Festival members took on the general public and over a hundred games were played. In 1971 Caerphilly lost 5-6 but had turned up two players short. The Caerphilly captain, Rod Gough, then agreed with Penarth that he play three opponents simultaneously! Despite his handicap he defeated Keith Williams and drew his two other games.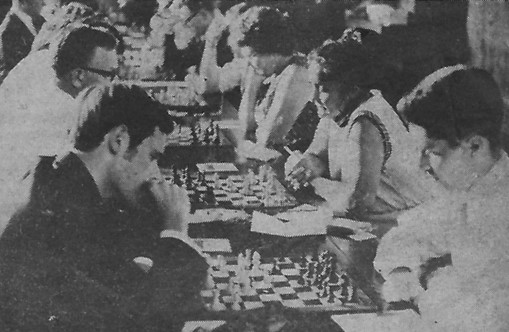 Pictured above is the challenge for 1969 when the club took on Porthcawl and they avenged a defeat by the same team the previous year.
On top board, Dr. Keith Williams (right) had a tough encounter with David Hambrook, who later graced the North Cardiff club. Mrs. Southall and Mrs. Brunker can also be seen.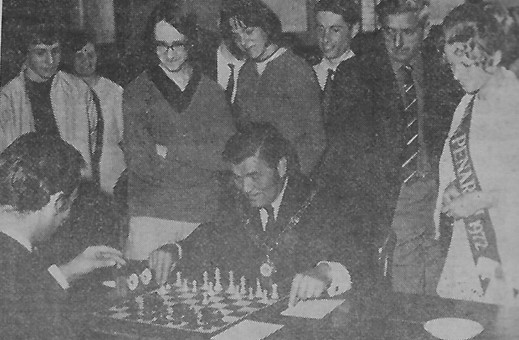 The mayor of Penarth makes the first move in the annual
Challenge Match against Barry in about 1970, won by the home team 5.5-0.5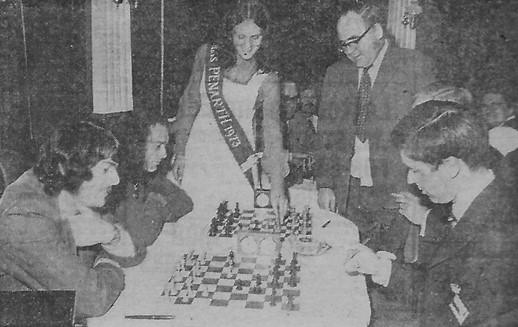 The photograph is most likely about 1971 when the Penarth team took on Caerphilly in the annual Challenge Match. Miss Penarth stands besides Trevor Brunker and (bravely) suggests a move. Dr. Keith Williams is on the right nearest the camera.
Playing in the league the club quickly acquired some strong club players. B. J. Ellis established himself as top board. His grade at times was above 2100. He was probably the Luton club and Bedfordshire county player of the 50s and 60s. He had a more than able deputy in Dr. Keith L. Williams, a lecturer at Cardiff University. Keith was well-respected and frequently played top board from the 70's till his sudden death aged 60 in 2002. An annual Lightning Tournament which Penarth hosted each Christmas for many years was, since his death, played for the Keith Williams Memorial Shield.
The strong university player T. D. Crawford, spent a season with the club and the advent of local schoolboy, David C. Osborne, was a real bonus. A pupil at Penarth Grammar School, David won the Welsh Under 15 Championships in 1971. Later he moved to Bristol where he became one of the strongest players in that league. He played for Wales Under 18s on Board 2 in the 1972 Glorney Cup competition.
The club was never quite strong enough to challenge for the league title though, on their day, they were well capable of upsetting any team they met. They won promotion to the top Division in their first season (1967-8), finishing runners-up in Division Two. Their best performance was in 1974 when they finished 5th of the twelve teams in Division One.
Trevor and Hazel Brunker were the bedrock of the club. Whilst Trevor served as Secretary and Treasurer, his wife quickly surpassed him in playing ability and was for many years one of the leading Welsh ladies playing the game. Hazel was born Hazel Patricia Bousie in Bedlinog in 1932 and was not introduced to competitive chess until well into her thirties. She won the Welsh Ladies' Championship in 1969 (joint), 1970, 1972-3,1982 (joint), 1985, 1989 and 1990, repeatedly beating off generations of younger players. She also won the Welsh Ladies' Correspondence Chess Championships in 1969, tied for first place in 1972; and tied for first place in the 1981 British Ladies Correspondence Chess Championships. Hazel was not just a player. She assisted for a number of years in running part of the East Glamorgan League and took over as League Secretary in 1977. Between 1974 and 1976 she was publicity officer for the League and for many years ran the summer knock-out competition. Her other roles included FIDE delegate, Club Secretary and Secretary of the Welsh Ladies' Chess Association 1980-1987. She represented Wales at the Olympiads in Haifa 1976, Buenos Aires 1978, Valletta 1980 and Lucerne in 1982, and managed the team that played in Thessalonika, Greece in 1986. In 1988 she was awarded the Welsh Chess Union Certificate of Merit.
Trevor was also very active both in the club and league. He served as Publicity Officer for the league 1971-4 and for the Welsh Chess Union 1970-1; was chairman of the league 1973-1977, acted as adjudications secretary.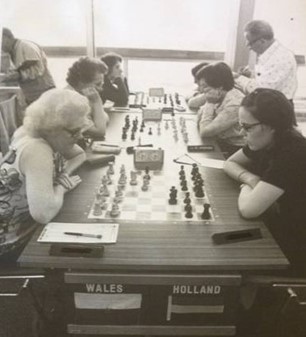 Mary Davies (left) (1925-2015) and Hazel Brunker on her left in play against Holland at Haifa 1976.
Mary Elizabeth Davies was the third of the lady chess titans of Penarth. Before playing for Penarth in the league she had turned out for the North Cardiff club. She was not quite of the same standard as her two colleagues but nevertheless won the Welsh Ladies' Championships in 1974, and represented Wales at the Olympiad. Mary excelled at postal chess, sharing the Welsh Ladies' title with Hazel Brunker in 1972 and winning it outright for three consecutive years, 1973-4-5. She was the first Secretary of the Welsh Ladies Chess Association, 1977-8. Mary spent her last days living with family in New South Wales.
WITH THANKS to Liz Reading (daughter of B. C. Jacklin), Andrew & Janet Brunker and Sam Warburton.