In October 1866 the town was heralding a coming grand lecture hall with reading, billiard and chess rooms connected. Nothing developed from that and even twenty years later when the first meeting of the South Wales Chess Association (SWCA) was held, the nearest clubs to the town were in Aberdare and in Ferndale and Pentre where the Rhondda United chess club met. There was however a chess correspondent in the town. F. G. Tucker of Newton Villa, Pontypridd, wrote a column for the Mumbles Observer from 1889 to 1893. If it is the same person, he was a Bristolian and sent in chess problems to various publications for several decades. What he was doing in Pontypridd and why a column in a Swansea newspaper is anyone's guess.
A meeting to form a chess club in the town took place at Coombes Restaurant on Friday 5th September 1890. Montague Glover was appointed club President, W. D. Wight captain, R. A. Lewis treasurer and E. W. Rees secretary. The club straight away joined the S.W.C.A. and drew the formidable Cardiff club in the first round of the Challenge Cup.
In order to get some experience of competitive play, George W. Lennox, then the strongest player in Cardiff, was invited to Coombe's Restaurant, Pontypridd, where, on 20th October he took on 12 opponents simultaneously. He was billed as "the owner of the Championship Cup of the SWCA". The first newspaper reports (and The Chess Players' Chronicle) state that he drew one game but the following week four draws were mentioned but only three people named – D. Carmichael, W. Hogg and E. W. Rees. The one certain draw was that of Captain D. Carmichael. He was from Dowlais and played for the Merthyr and Aberdare clubs.
The new club's first match was against Aberdare a week later. The Pontypridd team was D. Morgan, W. Hertzman, W. Hogg, W. D. Wight, E. W. Rees, C. Henison, A. O. Evans, R. W. Hunter, F. King, C. W. Morgan and P. W. Hogg. The team lost 9-12. By this time they were meeting in the County Hotel,
Hertzman was a German immigrant and ran a business as a jeweller and silver-smith. He was a real enthusiast, submitting many chess problems to the newspapers and himself becoming a chess columnist in the Weekly Mail (1884), Evening Express (1890-1899) and Examiner News (1892).
William Dundas Wight was a colliery manager. He had played for Aberdare before joining Pontypridd. In December 1887 he played for a South Wales team against visiting Clifton and, after the match, it was he who proposed the formation of a chess association. Between 1924 and 1928 he was Association President. By that time he had retired to Penarth and was getting on in years but he still played in the South Wales Individual Championship between 1924 and 1926, a press reporter likening him to G. B. Shaw in appearance. He died in 1934 aged 82.
Edward Winter in his column wrote that in 1890, "the earliest proposal of N that we recall, by William D. Wight of Pontypridd, Wales on page 418 of the October 1890 BCM. At that time the magazine's notation was (to quote an opening on the same page) 1 P to K4 P to K4 2 B to B4 Kt to KB3 3 Kt to KB3 Kt tks P, and Wight wrote:
'… as you are open to suggestions, will you permit me to make the following: firstly, that you abandon the use of to and takes for – and x, which are in use in most books; and secondly, that N be used instead of the clumsy Kt for knight."
The club venue varied a lot in the early years. By November 1890 a return match against Aberdare was played at the Black Lion Hotel. A year later they were meeting in the Pontypridd Restaurant in Market Street every Tuesday and Thursday. By December they were back in the County Hotel and meetings had changed to Tuesdays and Fridays.
On 2nd December 1891 the British Master Joseph Blackburne visited the club taking on 40 players and only failing to win against Walter Hogg. Whether the latter won or drew is not noted. Walter Hogg was the Principal of the newly opened Pontypridd High School and formerly of Aberdare British School. He and Heitzman played in a correspondence chess match 1892-3, representing the West of England against Ireland.
The World Champion Emanuel Lasker visited Pontypridd on 14th (Tues) November 1895, but his opposition was provided by Rhondda Chess Club and there is no mention of a club in Pontypridd although a club was still listed as a member of SWCA.. He played 20 opponents at the New Inn, winning them all.
The New Inn was the venue for several Challenge Cup matches and also a match between 'The Hills' which combined players from the Rhondda and from Aberdare, and Cardiff which was played on 23rd November 1894.
Not long after that the club fell apart and it was not until 3rd October 1902 that the Evening Express announced that efforts were being made to start a new club at the Gelliwastad Institute.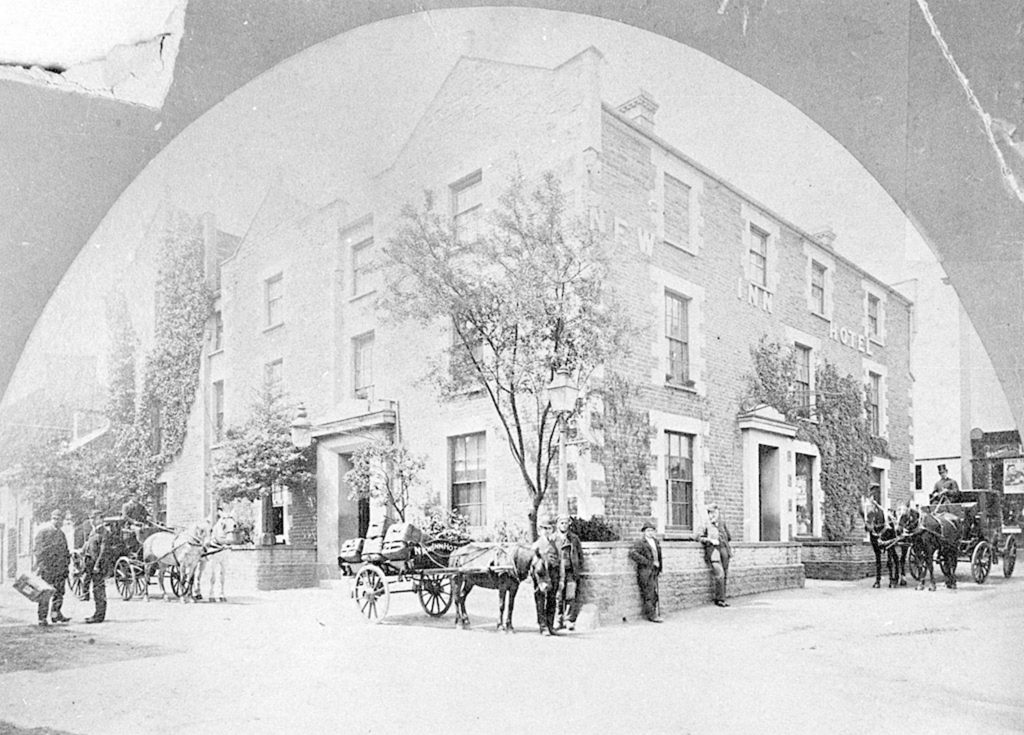 Rhondda Cynon Taff Library Service
The New Inn in Taff Street was a popular venue for half-way matches between clubs in the south of Glamorgan and those in the valleys.
A match was played against the Rhondda at Gelliwastad Institute in December 1903. The Pontypridd team was led by Dr. B. M. Lewis and A. G. Newman and won 3 ½ – 2 ½ . Benjamin Morgan Lewis (1860-1940) was a native of Nantyglo.
In January 1914 Pontypridd hosted Newport chess club at the YMCA and lost 2-8. This was a friendly match as there was no S.W.C.A. Challenge Cup that season.
By January 1915 the Challenge Cup had resumed and Pontypridd faced the long journey to Swansea. The home team won 3.5-2.5. They were both in the same Challenge Cup section as Cardiff and Llanelli (combined with Neath!). The event was all-play-all with the winner playing the winner of Section B. Cardiff proved to be the group winners. This was the last entry by Pontypridd to any league for 46 years.
CHESS WITHOUT A CHESS CLUB
The club may have gone but there were still unheralded chess stars from the area. The Irishman Dr. James Shaw Lyttle (1854-1922) was living in Dundela House, Cilfynydd. He was the only person to lower the colours of Capablanca on his 1919 visit to Cardiff. Lyttle was unknown as a chess player, both before and after the match. He is said to have been so excited at being awarded a draw that he overlooked the fact that he could win. He had been medical officer to the Albion Collieries at Cilfynuydd and was honorary surgeon to the Pontypridd Cottage Hospital.
During the Depression the valleys were particularly hard hit and amongst the various means of dealing with the problem, several towns and villages established 'Unemployed Draughts and Chess Clubs'. There is record of such a club at Pontypridd Central when a match was played against Treharris and won 9-3 with 6 draws. This match could well have been purely draughts as the correspondent does not specify what was played.
The chess master Jacques Mieses visited Pontypridd during his tour of South Wales clubs in February 1946. He played twenty opponents in a private house and lost just one game. The big question is 'whose house did he play in?' It must have been a very large house to accommodate 20 boards. Regrettably, the names of participants are not known and, as there was no club in the town at the time, players probably travelled from other clubs in order to take part.
The nearest club at this time was in Tonyrefail and they probably provided most of the opponents for Lasker. The Porth & Cymmer club (see Rhondda chess) closed at the end of the 1925-6 season and a year later a new club had started at nearby Tonyrefail. They joined the South Wales Chess Association and played until 1949. Their three leading players were Dr. Frederick L. Brewer (1886-1958) who had a surgery in Mill Street; he retired in January 1949 and then played for a few years for Weston-super-mare in the Somerset League; I. Davies and Rev. John Upright (1885-1960) who was a Methodist minister. These three could hold their own with the best the league had to offer. Briefly between 1946 and 1948 there was another very strong doctor at the club. Dr. J. Bernhart played above the three mentioned and played on top board for South Wales in the 1948 match against Monmouthshire.
The Cornishman newspaper dated 29th September 1949 noted, "Welsh champion chess and draughts player, David Sykes, from Pontypridd, engaged several leading players of Redruth Adult School last week and beat them all." He is otherwise unheralded and this may be a case of newspaper exaggeration to describe him as a chess champion.
The fact that there was no chess club in the town did not mean that there were no chess players. In March 1953 R. E. Downing, from Pontypridd, played on Board 3 for South Wales in their match against Monmouthshire. Before the war he had played top board for the London team, Old Latymerians, a club linked to Latymer School in Hammersmith. Downing also played in the 1953 South Wales Championship, tying for first place with C. Carpenter, a student at Swansea University, and Bill Chamberlain of Neyland, but he was unable to take part in the play-off.
Better known will be the name F. E. Evans who from the early 1950s played his chess in Cardiff. He also tried his luck in several South Wales Championships, finishing fifth in 1953 and runner-up to Graham Barnard in a section of the 1954 event.
THE GRAMMAR SCHOOL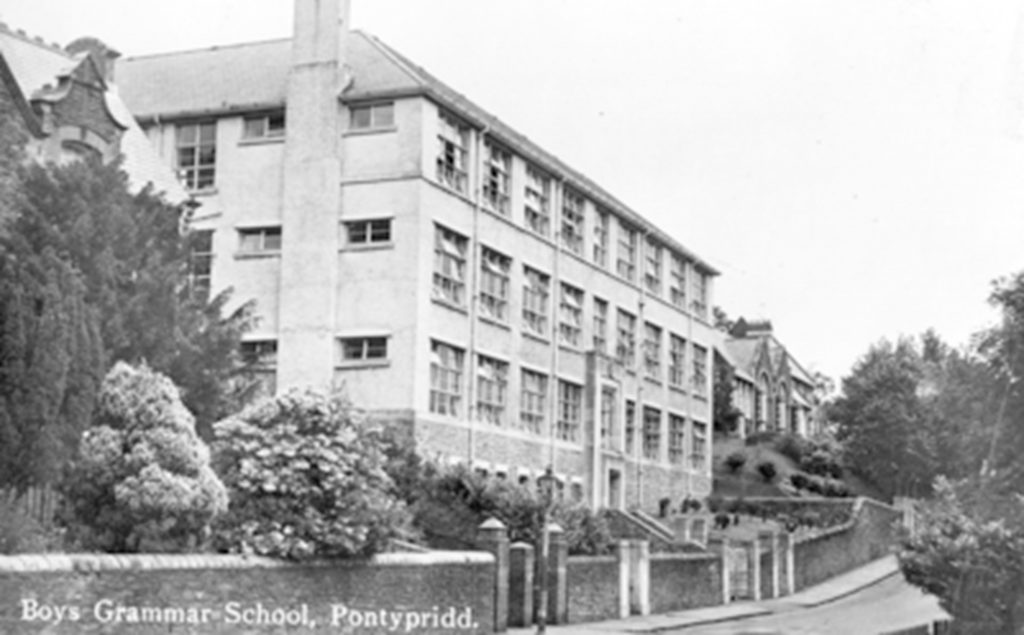 The Boys' Grammar School, Pontypridd
It was Pontypridd Grammar School that provided a steady production line for chess players in the 1950s: One of the teachers responsible for their development was French teacher, Morien Morgan, and he, like teachers of chess everywhere, deserve much thanks for the efforts they put in. He was the husband of renown Welsh author, Elaine Morgan. The school produced a succession of quality chess players:
Colin Bloodworth was Welsh Under 13 champion in 1954 and shared the Under 14 title a year later. He played for the Welsh Glorney Cup team in 1957, 1958 and 1959 and finished fourth in the 1961 Welsh Championships. At University he played top board for Birmingham and later he played for a short while at Haverfordwest chess club before moving abroad.
Tudor Rickards played in the Glorney Cup teams of 1958, 1959 and 1960 before studying at and playing for Cardiff University. He led the Welsh Universities at the British University Team Championships in 1962. Today he plays chess for the club at East Cheshire.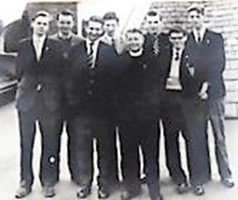 Photo: Tudor Rickards
The 1958 or 1959 Glorney Cup team, managed by Brother Cyril
Tudor Rickards is front right and Colin Bloodworth second from left at the back.
Other starlets from the school were: Keith V, Williams, Welsh Under 14 champion in 1954; P. Davies, joint Under 18 champion in 1961; and Ken Mason, Under 13 champion in 1962. The latter returned to chess, playing for South Wales Police in the 1970s and later for the revived Pontypridd club.
It came as no surprise that Pontyridd Grammar School won the Welsh Secondary Schools title, the Victor Freed Trophy, in 1956-7-8-9 and 1961. They were the Zonal winners of the Sunday Times National Schools Championships in 1958 and 1959 and were awarded a B. C. F. Shield in 1958.
Another member of the school team, Geoffrey H. Lane, won the Welsh Championship Reserves tournament in 1958.
Wesley D. Newcombe from Pontypridd, was born in 1935. After University he moved to Newcastle but returned to win the 1982 Welsh Championships.
A CLUB RE-BORN – A DIFFICULT BIRTH!
A team from Pontypridd was entered for the inaugural East Glamorgan League 1954-5, home matches being played in the Y. M. C. A. and one would assume that the bulk of the team was drawn from the Grammar School. They did not repeat the experience. A letter was read out at the league AGM in October 1957 stating that Pontypridd hoped to re-enter the league, but nothing came of it. Certainly some form of club continued in the area as John Orr with M. Webley and V. Lee attended the league AGM two years later.
A club was re-entered in the East Glamorgan League for the 1961-2 season and immediately won Division Two. Details of the league placings in these years have not survived but by 1966 the club were placed second in Division One behind Cardiff Under 23s and tying with mighty Cardiff A, scoring seven wins, two draws and just one loss.
The following season they were able to enter two teams but struggled to make an impact. Their last season in the league was 1967-8 when they came 8th out of 12 teams.
The constitution of the Pontypridd teams during those years is lost but John Mills would have played on top board and, at least in the early 60s, junior talent would have 'beefed up' the team;. players like Tudor Rickards from Pontypridd and Ian Hopkins who travelled from Merthyr. Later, in 1967, the Hampshire player George E. Feltham played for the club. He shared three-ways in the East Glamorgan championship of 1966. Another club stalwart was B. S. Millward, playing as well for East Glamorgan. (Millward later moved to Wrexham. He served as East Glamorgan League Secretary 1962-1965) For a couple of years Brian Heath played for the club. He was an industrial chemist. He had joined Newport Chess Club in 1961/2 and quite likely travelled to play more games in a different league. Later he graced the Cwmbran club. Heath beat Gligoric in a display in Cardiff in 1965.
In 1962 the first representative match for a united Welsh team was played in the BCF Union Championships. Both John Mills and Tudor Rickards played for the Welsh Chess Union against Northern Counties in Birmingham.
Mills (1935-2017) was born in Taunton. He married, moved to Wales, won the Welsh Championships in 1961 and was runner-up in 1964. He was also East Glamorgan champion in 1963. In 1962 he was the first senior Welsh chess player to be invited to play in an international tournament. That was held in Dublin but travel problems meant him landing just hours before the first of two gruelling rounds. He managed the Welsh Chess Union team in the early 1960s and later sat on the first WCU Junior Committee. He acted as Match Captain for East Glamorgan 1961-3 and 1969-70. He was twice winner of Cardiff Club Championship in 1963 (shared) and 1970. After the demise of the BOAC club he played for Cardiff and in 1972 he acted as team manager to the Welsh team playing in the Skopje Chess Olympiad. Mills worked as an inspector with Inland Revenue and in 1972 he transferred to Newport.
John Mills' wife, Shirley, herself Welsh Ladies champion (as Shirley Mann) in 1963, ran a chess column for a short while in 1967 in the Pontypridd Observer. She was East Glamorgan League Secretary 1965-6. She again shared the Welsh title under her married name in the congress held in Swansea University in 1965.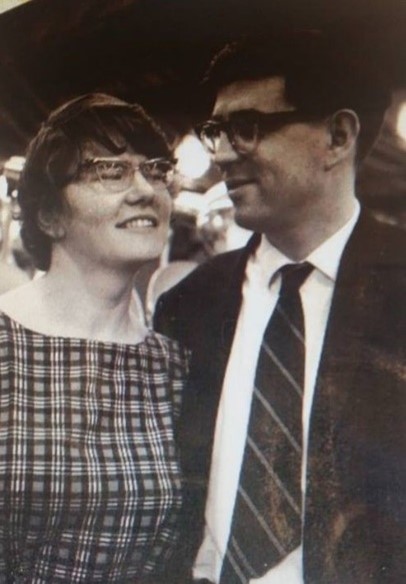 John and Shirley Mills
The club morphed into a new club based at the Speedbird Club of B.O.A.C. in Treforest for the 1968-9 season, but the team strength was seriously depleted. They were led for a season by John Mills but were woefully weakened and were relegated from Division One of the league.
The best years for Pontypridd were still to come. A club was re-formed in the town 1971 and for a few years ran alongside the BOAC club. Pontypridd won the East Glamorgan League several times and ran an Open Congress in the town for a few years. This later club history is still to be written
With thanks to Colin Bloodworth and Tudor Rickards.