The town of Port Talbot is one of the largest in Wales and yet it has always proved difficult to create and maintain a chess club. That is even more surprising as one of the earliest organisers of the game, Christopher Rice Mansell Talbot, lived in the mansion at Margam. He was a Member of Parliament for sixty years, created the docks near to Aberavon and gave his name to the new town.
Talbot was on the organising committee of the first ever international chess tournament in London, 1851, 'representing the chess players of Wales', and donated £25 towards its finances. He was one of the founder members of the St. George's Club (1843) in London and for fifteen years remained one of its strongest players.
Played at St. George's Club 1850
White : C.R.M. Talbot Black Mr. Catiley
1. e4 e5 2. Nf3 Nf6 3. Nc3 Bc5 4. Bc4 d6 5. d3 h6? 6. Be3 Bb6 7. Qd2 Bg4 8. h3 Bxf6 9. gxf6 Nbd7 10. 0-0-0 a6? 11. d4 exd4 12. Bxd4 Bxd4 13. Qxd4 Ne5 14. f4 Nxc4 15. Qxc4 b5? 16. Qc6+ Nd7 17. Nd5 0-0 18. Rhg1! Nf6 19. Qc3 Kh7 20. Rxg7+ Kxg7 21. Rg1+ Kh8 22. Nxf6 c5 23. Rg7! Kxg7 and White mates in three moves.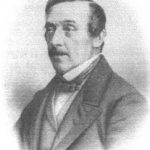 C.R.M.Talbot M.P.
1803-1890
He had inherited the 44,000 acre estates of Margam and Penrice on the death of his father in 1824. As a young man he spent much of his time travelling in the Mediterranean and the following game was played on a visit to Constantinople against a member of the Turkish royal family. As such it is one of the earliest recorded games by a Welsh player. The game (undated) was published in the Chess Players' Chronicle of 1851:
White: C.R.M.Talbot Black: Yousouf Pasha
1.e4 e5 2. Nf3 d6 3. Bc4 b5 4. Bxb5+ c6 5. Ba4 Be7 6. d3 Qa5+ 7. c3 Nf6 8. 0-0 0-0 9. b4 Qa6 10. c4 Qb6 11. a3 Bg4 12. h3 Bh5 13. Be3 c5 14. Nbd2 Nbd7 15. Qe1 Qc7 16. Bb3 Rab8 17. Nh2 cxb4 18. axb4 Rxb4 19. Rxa7 Qc8 20. f4 Qb8 21. Ra3 d5 22. exd5 exf4 23. Bxf4 Qb6+ 24. Kh1 Bc5 25. Bd1 Re8 26. Qg3 Bxd1 27. Rxd1 Nh5 28. Qf3 Nxf4 29. Qxf4 Bd6 30. Qf5 Ne5 31. Ndf3 Qf2 32. Rf1 Qg3 33. Nxe4 Qxe4 34. Qxf7+ Kh8 35. Ng4 Qe2 36. Ra7 Rg8 37. Nh6 R4b8 38. Qxg8+ Rxg8 39. Nf7++
However, there is no evidence of him supporting efforts to nurture the game nearer to home and the first club in the town did not appear until over thirty years after his death.
PORT TALBOT YMCA CHESS CLUB 1923-1956
The club was formed in 1923 but did not join the South Wales Chess Association for a few years. There is no record of any matches being played for the first four years of their existence. The earliest recorded matches were against Great Western Railways in 1927 and they were led by Christian Hertz, an assistant engineer at Margam, and a young Arthur Kent (1908-1993). Hertz had a Danish father and followed him as an engineer on the railways. He moved to London.
On Board 7 of the ten board match was E. R. (Ebenezer) Thomas (1906-1965), who was to become and remain one of the clubs strongest players. The match was lost 2.5-7.5 but the opposition team was led by C. Hybart and A. E. Williams (who lost to Kent) who both soon joined the Port Talbot club. Further down J. Clyde Davies also joined and was club secretary from about 1933 to 1937. Claude Hybart continued to lead the club until its demise in 1956. He was runner up in the South Wales Championships of 1930.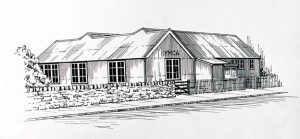 Old Port Talbot YMCA where the chess club met
They finally took the plunge in 1927 and were paired with Bridgend, Mountain Ash, Swansea and Tonyrefail in one of the two preliminary all-play-all section of the SWCA Club Championships. The Port Talbot team was led by Claude Hybart, the former Bridgend and Barry player. He was strong enough to beat A. Harper of Mountain Ash in their encounter though it was the opposition who went on to qualify for the final. On Board 2 was a teenager, Arthur Kent, who played for a few years before going off to university and qualifying as a barrister. His older brother George (1907-1980) also played for the club and he too had an interesting career, ending up as Chairman of Lewes District Council in Sussex.
One of the stalwarts of the club from its earliest days was Noel Tomlinson (1893-1978), a chemist and metallurgist in the steel works. His father was a well-known professional artist, Walter Tomlinson. Between 1930 and 1952 Noel Tomlinson was the controller of the South Wales postal chess teams competing in the BCF Counties & District Correspondence Chess Competitions. Unsurprisingly many of the Port Talbot club members were represented in the teams that he put together. It may be that this background of postal chess gave the club an edge over opponents. They never had 'star' players and South Wales champions who featured at other clubs but they punched far above their weight, achieving unexpected success, particularly in the decade after the war when chess in Wales was perhaps at its lowest ebb. Tomlinson also served for many years as club secretary. He was a Vice-President of the West Wales League from 1936 to 1958, served briefly as league chairman 1936-7 and one of his later roles was as a South Wales delegate to the British Chess Federation (around 1950).
In the Wales v. Ireland postal match 1927-8 the club was well represented: Board 4 C. Hybart, Bd. 35 A. V. Kent, Bd. 43 G. Kent, Bd. 44 N. Tomlinson, Bd. 45 A. G. Llewellyn, Bd. 47 A. Richards, Bd. 48 E. R. Thomas and Bd. 49 J. C. Davies.
A. G. Llewellyn was another who was a long-time servant of the club. He was chairman of the West Wales League 1950-2.
Frank Jarvis of Porthcawl visited the club in February 1928 and gave a simultaneous display against 12 of the club members. He had played in several South Wales Championships and was regarded as a strong opponent. There is no record of any other simultaneous display ever being given at the club.
To prepare for the new season matches were arranged against St. David's Church Institute, Llanelli, and against Llanelli YMCA. Again they failed to get through the preliminaries, losing to Cardiff after drawing the match 3-3, because Cardiff had the black pieces! A strange tie-break indeed.
They continued to compete in the South Wales competitions and gained extra experience by joining the fledgling West Wales League – then known as the Swansea and District League – in 1933.
The South Wales Chess Association collapsed in 1930 as a result of the Depression and when it was re-formed in 1935 the Annual General Meetings were held at Port Talbot. Noel Tomlinson was one of the leading promoters of the renewed association. With the formation of leagues in West Wales and Monmouthshire, the South Wales competition preliminaries started to be held locally.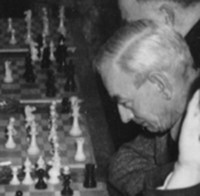 Photo G.Jenkins
N.L.Tomlinson of Port Talbot (centre) who was responsible for the revival of the S.W.C.A. in 1935.
In the 1935-6 season Port Talbot YMCA beat the Rooks (Swansea), Gorseinon and Swansea YMCA to qualify for the final where they met Barry. The club's leading player, C. Hybart, was not available and the team lost 2-4. This was to be the club's only visit to the final before war intervened. The team was Ebenezer Thomas, Llewellyn George, the former Bridgend player R. G. Kyte, Noel Tomlinson, B. T. Traube and J. C. Davies. Llewellyn George (1887-1967) was a clerk in the quarries. He was a founder member of the Port Talbot Operatic Society with whom he toured the USA in 1913.
Eb. Thomas qualified for the final of the West Wales Championship in 1936 in a knock-out competition and there he lost to R. A. Johnston of Swansea.
The club won the West Wales League for the first time in 1938.
POST-WAR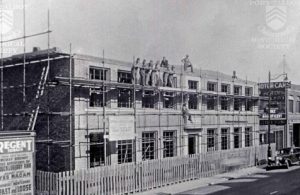 The new Port Talbot YMCA in Talbot Road, under construction 1939.
When activities resumed in 1945 the club met in the spacious new Y.M.C.A. which still exists on the main road through Port Talbot.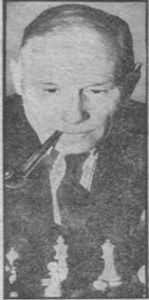 Claude Hybart, was made a Vice-President of the West Wales League in 1949 and remained so until 1959.
Port Talbot once again took part in the West Wales League and in the western section of the South Wales Chess Association Championships. These events were perhaps at their lowest ebb with sometimes only three teams competing. Nevertheless they did well to win on several occasions despite the might of Swansea chess club. They succeeded in winning the league in 1947, 1949, 1951, 1954, 1955 and won the western zone of SWCA 1946-7-8 and 1952-3-4.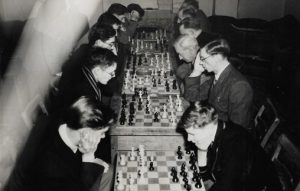 The Port Talbot team (right) in play against Swansea University c.1949
Port Talbot players from nearest to camera are Keith Peters, Gerald Jenkins and Noel Tomlinson.
Through all of this period they were led by Claude Hybart with his main support coming from Ebenezer Thomas, Noel Tomlinson and A. G. Llewellyn.
In 1946 they again lost in the final of the SWCA competition against Barry; but the following year, after finishing ahead of Swansea, Llanelli and Pontyates in the western section, they drew 3-3 with Cardiff in the final and edged the tie-break to take the title for the first time.
History repeated itself in 1948 when they again lost in the final to Barry. They reached the final again in 1952 but this time were well beaten 1-5 by Cardiff. They lost to the same club 2-4 the following year.
Their last hurrah was in the 1954 final when they drew 3-3 with Barry but won on tie-break. Their team on this occasion was Claude Hybart, Eb. Thomas, A.G. Llewellyn, Noel Tomlinson, Handel Jenkins and Keith Peters.
In the early 1950s the club benefitted from the membership of junior players. The formation of a Welsh Secondary Schools Chess Association in 1952 was the work of Brother Cyril and Mr. W. R. Lotwick of Port Talbot County Intermediate School. This school was one of the first in Wales to be awarded a British Chess Federation Schools' Shield in 1951.
Keith Peters was educated at Glan Afan Grammar School and played chess for Cardiff University after leaving the town. As with so many talented junior players his further education and career took him away from South Wales. His stellar career is subject to an article on the WCU website (Three Welsh Chess Geniuses). He was knighted and became Regius Professor of Physic in the University of Cambridge and head of the School of Clinical Medicine in 1987.
Several club members represented West Wales in the South Wales and Welsh Chess Union events:
1946 SWCA v. Monmouth Bd. 8 E. R. Thomas; Bd. 35 S. George
1953 SWCA v. Monmouth Bd. 20 Gerald Jenkins (Gerald was from Neath and transferred to the new club in his home town in 1954).
1954 West v. East : Handel Jenkins, Ivor Preece, E. R. Thomas, A. G. Llewellyn, Gerald Jenkins, and Keith Peters all played for the West.
1954 SWCA v. Monmouth Gerald Jenkins
1955 West Wales v. Monmouth Bd. 2 Claude Hybart; Bd. 4 Eb Thomas; Bd. 5 Noel Tomlinson; Bd. 6 A. G. Llewellyn; Bd. 12 Handel Jenkins; Bd. 14 G. D. Rees
1955 East Glamorgan v. West Wales Bd. 2 Claude Hybart; Bd. 4 Eb Thomas; Bd. 8 Noel Tomlinson; Bd. 14 J. C. Davies
1956 West wales v. East Glamorgan Bd. 3 Eb Thomas.
The loss of Gerald Jenkins in 1954 was a major blow. He had improved rapidly since his arrival in 1950 and later made his presence felt at several Welsh Championships. Other players were growing older and the club finally closed in 1956.
STEEL COMPANY OF WALES 1966-1969
A club was started within SCOW in 1966 and ran until 1969. They started play in Division Two as 'Abbey' and were led by R. Mahoney, M. J. Baker, B. H. Jones and L. Howells. They finished runners-up and were duly promoted though they struggled at the higher level. In their second year Colin Gilbert from Cwmbran played one game, drawing with the strongest player in the league, Graham Chesters. Due to loss of membership they spent their last season in a four-board Division Three. One of their players that year was T. Cattle who was probably the same Thomas Sidney Cattle (b. 1903), a chemist in the steel-works, who had led the Port Talbot club and been team captain in the 1937-8 season.
CHESS CLUB 1981-1986
The commencement of an annual schools' chess tournament – the Neath & District Junior Chess Championships – in 1978, led directly to a boom in the number of junior chess players in Port Talbot, Neath and the upper Swansea Valley.
In Port Talbot the Central and St. Joseph schools in particular had teachers (Viv Walters and John Basini respectively) who fostered the game and many of their students joined the Castell Nedd chess club. In 1981 two of the parents, John Walsh and Len Powell, set up a club in Port Talbot itself and this successfully participated in the lower Divisions of the West Wales League for about five years. The club met in Dyffryn Lower Comprehensive School.
The list of Welsh Junior Champions from Port Talbot is a reflection of the success of that club.
WELSH JUNIOR CHAMPIONS
1952 Under 14 Ivor Preece
1955 Under 18 Keith Peters
1981 Under 9 Christopher Walsh
1983 Under 11 Christopher Walsh
1984 Under 13 Christopher Walsh and Robert Wood
1985 Under 13 Aled Roberts
1986 Under 13 Emyr Roberts
1986 Under 15 Christopher Walsh
1987 Under 11 Andrew Harris
1987 Under 18 Christopher Walsh (shared)
Welsh Quickplay Champions – Bristol & West
1983 Under 11 Christopher Walsh (shared)
1984 Under 13 Christopher Walsh
1987 Under 13 Emyr Roberts
1987 Under 18 Christopher Walsh (shared)
1988 Under 15 Emyr Roberts
Christopher Walsh was undoubtedly the strongest player ever to come from the town. He went on to play for Nidum and was extremely successful in Junior International events.
REPRESENTING WALES
1949 Glorney Cup J. Graham T. Jones Bd 6 0/2
1950 Glorney Cup J. Graham T. Jones Bd 2 2/5
1951 Glorney Cup J. Graham T. Jones Bd 1 0/3, D. Rowe Jones Bd 5 ½ /2 (Rowe played for Bridgend in the early 1970s).
1953 Glorney Cup Keith Peters Bd 5/6 1/2
1954 Glorney Cup Keith Peters Bd. 1 ½ /2
1985 Christopher Walsh World U14 Championships, Argentine 5.5/9 6th
1985 Christopher Walsh Board 1 v. England U16s
1987 Christopher Walsh World Cadet (U16) Championships, Austria 5.5/9
1989 Christopher Walsh World Junior Championships, Colombia 6/13
1987-8-9 Christopher Walsh Glorney Cup
Attempts have been made since 1986 to resurrect a club in the town. David Merryweather of Castell Nedd and Briton Ferry tried unsuccessfully for several years to start a club in the YMCA.
A BRIDGEND/PORT TALBOT CLUB 2013-2015
Bridgend chess club applied to join the West Wales League in 2013. They were only allowed to join on condition that their home venue lay within the zone boundary. They found a home at Taibach Rugby Club (later moving to Trefelin Workingmens' Club) and spent a couple of seasons playing in Division One but failed to rise above the bottom few places. The team was led by Keith Thompson, Mike Cleaves and Neil Stuart.