The Mid Wales Chess Association was created on 21st March 1959 with just three clubs, Aberystwyth, Newtown and Welshpool, although there is a claim that the same clubs had already formed an association three years earlier. There was a club at Llandrindod Wells but they did not join at the start. The new organisation was to include any clubs in what is now Dyfed and also North Wales! At one time in the 70s there were clubs as far apart as Haverfordwest and Towyn in the same competition. Rev. Ivor Davies wrote in the first issue of Y Ddraig, "It is said that Llandysul and Welshpool once played by carrier pigeon. The bird was an intelligent one and would alight on Plynlimon to assess the soundness of the move it bore. Being bilingual, it was able to translate the Welsh notation used by the Llandysul captain (e.g., M-EB3 = Kt-KB3)."
This Association lasted until the 1980s but its size meant that it was doomed not to last. By 1983 all the clubs competing in Mid Wales were from Dyfed so it came as no surprise that a separate Dyfed organisation was created in 1985. An Aberystwyth league had also split away around 1983. For a couple of years, a Powys Chess Association survived but that was in name only and by 1988 that too had gone.
The modern administrative county of Powys was created in 1974 and includes the towns of Newtown, Brecon, Welshpool, Llandrindod Wells, Presteigne and Rhayader.
Powys may be the last area where the Victorian form of chess survives. Chess was first and foremost a social activity, played in middle class and upper-class houses and in gentlemen's clubs and only later developed a competitive edge. In Powys there are no universities or large industrial complexes from which players can be recruited. That, and the distances between clubs, has meant that match play often has come second to social chess as may be seen in the accounts that follow, particularly of the clubs at Newtown and Llandrindod Wells.
EARLY CHESS IN THE AREA
Thomas Henry Billington (1865-1928) was born in Welshpool in 1865, but that was his sole connection with Powys. He was brought up in the Midlands and won the North Wales Championship when playing for Llandudno (q.v.).
One of the first signs of any chess being played in the area came from the pen of John Bowen Jones (1829-1905) a Congregational minister and writer. He held a pastorate at 'The Plough' in Brecon from 1874 to 1903 and ran a ministerial preparatory school in the town. The chess columnist at The Cambrian newspaper received a number of problems from him which were published in July 1898. Unfortunately, there was no club in Brecon where he could develop his skills.
THE FIRST CHESS CLUBS
NEWTOWN 1891-1907
Newtown is the largest town in Mid Wales. It grew on the back of the flannel and woollen industries. Various snippets of information announced the start of an interest in chess.
A chess club had been formed by December 1891 when they met weekly on Wednesday evenings and a large attendance was reported, although, nearly a year later, the same newspaper commented that they were 'in the process of forming a chess club'.
On 3rd October 1893 the Montgomeryshire Express and Radnor Times announced that the chess club in Newtown, meeting at the Market Street Coffee House on Monday evenings, would resume their winter meetings. It stated that a club had been formed the previous year and endeavours were being made to encourage the young men of the YMCA to join. They hoped for a match with a neighbouring club and/or to arrange a simultaneous display by one of their members. The secretary at that time was Irishman, John Green Tooker of Kerry Road. The same Mr. Tooker was instrumental in establishing a YMCA in the town. He emigrated to Canada in 1894 and the chess club died with his departure. Nevertheless, he had kindled an interest in the game and the embers were kept alive for the next few years.
The social aspect of chess is reflected in a notice dated December 1893 regarding a meeting of the 'Hafren Habitation of the Primrose League' at the public hall. "Dancing commenced at 7.30. Cards, drafts, chess etc. were provided for non-dancers".
In February 1895 the following appeared under 'Newtown' in the Montgomery County Times:
The second annual winter chess tournament in connection with the Royal Welsh Warehouse Recreation and Improvement Society, terminated on 31st December last. Great interest had been maintained in the contests by the chess-playing members, and from its commencement in November, until its close, over 270 games were played. ….. The successful players were the following: 1st. Mr. B. Davies; 2nd. Mr. E. Davies; 3rd Mr. W. G. Cleeton."
'An Amateur' wrote to the same newspaper in November 1897 advocating the setting up of a club in the town. He commented, "I have been informed that many years ago a flourishing club existed here". The response was another letter stating that they already had a chess club, meeting 8 p.m. on Fridays at the Coffee House. The secretary of the club was Edward Parke, from the village of Aberhafesp, who was engaged locally as a surveyor and architect. A tournament with prizes was to be held with players handicapped in order to give novices a chance.
John D Chambers, the much-travelled former Scottish champion, visited the club on 25th January 1898. The previous evening he had given a display at Aberystwyth University. At Newtown he took on six players, winning four, drawing one and losing just one game.
Records of match activity are scarce, but when they played at Rhayader in March 1898 they were led by Rev. R. Gibbings who won his game. Their Board 2 was Alfred S. Tetley who drew his game and the match was won by Newtown 3-2. Their return match with the same team that November was held in the Bear Hotel, Newtown, when Rhayader gained their revenge and were victorious 5.5-3.5.
The Reverend Richard Gibbings (1833-1914) was an Irishman and moved to Llanmerewig in 1891. He had been a member of Cardiff chess club and was there ranked in the Class Two category of their handicap tournament. He was also on the committee of the South Wales Chess Association. Tetley (1868-1916) was Headmaster of the Newtown Boys' County School, having been appointed in 1894. He moved on to become head of a school in Scarborough.
A club probably continued to exist but nothing appeared in the press and it is likely that the only activity was internal. A final mention of the club is made in June 1907 when a match was arranged at Llanbadarn Fynydd against Llandrindod Wells. It was the first time that these two clubs had met. It being a fine evening, the Newtown players cycled to the venue and after tea in the New Inn, play commenced, Llandrindod running out the victors 7½ – 2½.
LLANDRINDOD WELLS 1898-1932
Llandrindod Wells was a spa town and, as such, visitors flocked there, particularly between May and mid-September, to take the waters and enjoy the serenity of the town and its environs. Like most holiday destinations, it was probably very quiet during the winter months and chess would have provided the long-term residents with some form of social life.
Several chess matches were reported in the press. In February 1899 the town played against Rhayader in Edwards Café. This was billed as a return match. Rhayader narrowly won by 4 ½ to 3 ½.
The March 1900 match between these adversaries took place at the Lion Hotel, Llandrindod, and the results, Rhayader first, were: 1. J. E. Edwards .5-.5 B. H. Crookes; 2. J. W. Madeley .5-.5 Abbott; 3. W. R. Jones .5-.5 W. Saunders; 4. G. Waterhouse 1-0 Spragg; 5. A. T. Coode 1-0 Humphreys; 6. O. J. R. Owens 0-1 E. Davies. Rhayader won 3½ – 2½.
From the above, the only local players identifiable are A. Grafton Sprague (Spragg) (1872-1948) who was a banker, William Saunders (1867-1925) who became Headmaster of the Intermediate School, and Elystan Davies, at 17, the youngest team player.
There was new opposition in September 1902 in the form of a combined cross-border combined team, Presteigne and Kington (Hereford) chess club. The match was played over five boards at the Town Hall, New Radnor. G. W. Gibson was playing on top board. The team lost heavily 1-7 with two games, including the top board, to be adjudicated. The Presteigne club was formed only that year and does not appear to have continued after the match.
George W. Gibson (1872-1948) was born in Lincolnshire and worked in Radnorshire as a compositor (printer).
The President of the Llandrindod club around this time was the rector, Rev. R. W. F. Davies and the vice-chair Dr. Stephen G. Floyd who left the area a year later after six years there as Medical Officer of Health.
The chess club amalgamated with the town Social club in October 1902 to form the Llandrindod Wells Chess and Social Club and their meeting place switched from Edwards Café to the more salubrious Granville Hotel.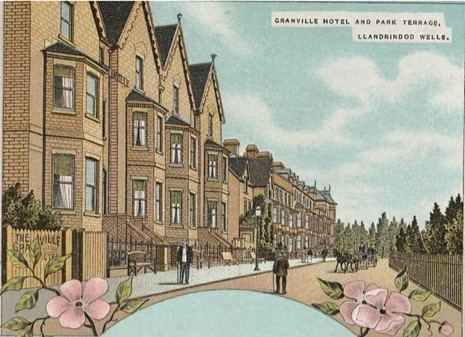 The Granville Hotel was one of the earliest homes for the chess club.
Town Guide 1904
A match with Kington, (mentioned later in Gibson's article below) took place in November 1904. Play didn't start until 8.30 after a meal at the home of their host, Dr. Pope. Play was over nine boards with adjudication at 11 p.m.. The result was a narrow win for Kington 5-4, with the match depending on an adjudication on top board where A. Passey (or Parry) defeated Gibson. Kington won the top five boards and Llandrindod the bottom four. The Kington team was again successful in the return encounter the following May.
In November or December from 1902 until 1906 the club was visited by William Collins. He was regarded as a strong amateur who played for Hereford chess club. He would arrive on a Saturday and, in the evening, take on up to six of the stronger players simultaneously. Sometimes a couple of the local players would team up and play a consultation game on one of the boards. On the Monday following he would take on all-comers and this could amount to over twenty boards. His success rate was not spectacular but the event was a welcome digression at the club. In 1906 he was heralded as the Herefordshire chess champion. Blackburne had played him at Hereford in 1897 (where Collins was club secretary) and, although the master was blindfolded, he announced mate in six!
Collins' display in March 1905 exemplifies his visits. The first session was over a display over just half a dozen boards but nevertheless took 3½ hours. He won both games against W. T. Arthur; one against G. L. Hughes; recorded a win and a draw with J. L. McHaig; a win and draw against A. E. Robinson; a draw with C. B. Davies; and won one and lost two with G. W. Gibbons. That was on the Saturday night and Collins returned on the Monday to contest twenty boards., winning 12 drawing 1 and losing the rest; play lasting 5 hours.
In January 1905 a match was played against a combined Brecon and Builth team at The Temperance Hotel, Builth. Llandrindod won 4-2 and the their team was: G.W. Gibson, W. T. Arthur, W. Vaughan Jones, A. E. Robinson, Frederick J. Bewers and G. Bowen-Davies. They won again in the return match in May.
Victor Wahltuch (1875-1953), billed as the Lancashire champion, visited the Chess and Social Club in November 1905. He gave a simultaneous display and out of 22 games played, won 20 and drew 2 against J. Eymer (of Stafford) and G. W. Gibson. He returned in March 1907 and gave a display on a Saturday night over six boards, "winning one or more games on each board". His only loss was to W. T. Arthur. On the following Monday he played 22 games; won 18, drew 2 and lost 2 to A. E. Robinson and J. E. Morris. The two draws were against W. Saunders and G. W. Gibson.
William T. Arthur was born in Gelligaer in 1886 and worked as a jeweller's assistant, living with his employer. He served as the club secretary and won the club tournament in 1907. During the war he joined the Royal Flying Corps as a mechanic.
A match against Newtown in June 1907 has already been mentioned.
Gibson's comment (see later) about the club declining into a social club seems to bear evidence in a report in 1908 of the annual dinner of the 'Chess and Social Club.' Although the newspaper gave lengthy accounts of the speeches there is no mention of chess! The chess section had its own meetings as well and in 1907 local businessman, Mr. W. Vaughan Jones, was elected team captain with W. L. Harper vice-captain. The club was said to be strong but "the only matter for regret is that owing to the dearth of chess players in the neighbouring towns, matches are very difficult to arrange."
The last occasion the club appeared in the local press was in October 1909 when, at the AGM of the Chess and Social Club, it was noted that "there had been a lack of interest in the literary, debating and chess sections." Gibson was still present but his only comments were in pursuit of a full-size billiard table. J. E. Morris felt that the club was in danger of becoming simply a centre for billiard playing and the chess side of the club needed strengthening.
&&&&&&&&&&&&&&&&&&&&&&&&&&&&&&&&&&&&
G. W. Gibson, writing in the Radnorshire Society Transactions in 1945, spoke about his time living in Llandrindod Wells in the 1890s. He moved there from Worcester and came to the area in 1898 as foreman in the printing office of the Radnorshire Standard newspaper. His article illustrates the chess scene in the town and that section is worthy of printing here. His editor, at least for the first year of his time there, was Waterhouse Kernick:
"Waterhouse Kernick was one of the oddest yet most likeable men I ever met, and although he only stayed in Llandrindod twelve months, and I never saw him again, I shall always remember him. A native of St. Ives, Cornwall, he had lived most of his life in Ireland, and in everything but birth he was a typical Irishman – fiery-tempered, quick-witted, and altogether a most interesting personality. He wore a cap with peaks back and front, rough tweed knickerbocker suit, and smoked Irish thick twist tobacco in a clay pipe with a metal top. He was also a staunch tea-totaller, and his only drink was strong 'tay', as he called it. His brogue was real Irish, and all the boys were 'gossoons' to him………………..
I had never been in Wales before, and coming from a lively city like Worcester, I found Llandrindod Wells deadly dull, especially on Sundays; with no trains, no newspapers, no 'pubs' open, and nowhere to go except church or chapel. After church on my first Sunday evening, I sat of the Common feeling lonely and miserable, and told myself I couldn't stick this place many moths. Yet over 46 years have rolled by and here I am still.
Kernick's great hobby, and one of mine too, was chess, and he soon found a worthy opponent at Llandrindod in Mr. S. C. Williams, then Headmaster at the National School. Corney Williams and his wife were then living with the latter's mother (Mrs. Evans, the Postmistress), at 'Hazeldene', at the bottom of Park Crescent. In July and August, when Hazeldene was full of visitors, Kernick and Williams used to play their chess in the bath, sitting on a cushion at either end, with the chessmen resting on a board across the middle of the bath.
Reading Room, which used to be on the ground floor of the Victoria Hall, opened soon after my arrival there, and Kernick and I started playing chess there. Several other townsmen were playing too, and a match was arranged against Builth Wells and played in one of the first-floor rooms at the front of the Victoria Hall. Six boards were contested, and Kernick tried to get me into the home half dozen, but failed, and I was an on-looker. S. C. Williams played top board for Llandrindod, and the other five, according to memory were Kernick, Rev. D. L. Edwards (curate), Dr. S. G. Floyd, A. E. Robinson and F. J. Bewers. Dr. Fry was at top board for Builth and the others were: Rev. David Owen (Vicar of Alltmawr); Messrs. Gwynne Vaughan, solicitor; Wern, schoolmaster; Price, auctioneer; and one other who I can't remember. The home side got a big beating, Builth winning five of the six games and drawing the other; the drawn game, again according to memory, was between Messrs. Price and Robinson.
After the Builth men departed, it was resolved to form a Llandrindod Chess Club right away, each member to play two games against every other member for the club championship. Play started that same evening, and I was left without an opponent until a man who had come with Dr. Floyd, and been an onlooker at the match like myself, suggested we should play each other. He was an older man than I, with a sandy beard, wearing a rough tweed coat and leather leggings, and I took him for a farmer or a gamekeeper or something of that. Consequently, I guessed he would not be much of a player, and anticipated an easy win but by the time we had made a dozen moves, I found I had made a big mistake. After a hard struggle, I managed to win the game, but he beat me in the return game a night or two afterwards, and turned out to be one of the finest chess players I had ever met. He was Mr. Bernard H. Crookes, son of the famous scientist, Sir William Crookes, a civil engineer on the Birmingham Waterworks Scheme, which was then in full swing. He lived in Llandrindod Wells for a year or two afterwards, and played at second board for our club in all its matches. He was in this position for our return match at Builth, a few weeks after the first, and I played third board against Mr. Gwynne Vaughan. We both won our games and Llandrindod won the return match.
During the winter we also played home and away matches with Rhayader, and I shall never forget the journey there. We travelled in Mr. Penry Jones' station bus, the interior of which seated three a-side and we were a team of eight. Kernick, whose twist tobacco was too strong for some of the others, rode on the box-seat with the driver; six of us sat on the inside seats; and S. C. Williams, who was tall and thin, lay across our knees, with his feet outside the back window of the bus.
In the first year our club consisted of twelve members: S. C. Williams (who was made captain); Rev. D. L. Edwards; Dr. Floyd; Messrs. Crookes, Kernick, W. Saunders (County School Master), Robinson, Bewers, A. Grafton Sprague,; John Wilding; Elystan Davies (eldest son of Dr. Bowen Davies); and myself. Of that dozen, I think only Sprague, myself and Elystan Davies are alive now. During the succeeding ten years, many new members joined; and some of the younger ones developed into fine chess-players. In that period, we held our own against such strong opponents as Builth and Brecon combined; Kington and Presteigne combined, and Newtown. We met the latter halfway at Llanbadarn Fynydd, and played at the New Inn there. One journey to Kington was made in late November, with a heavy snowstorm driving over Radnor Forest, leaving Llandrindod at four o'clock in the afternoon in two closed landaus and getting back home at four the next morning. Such was chess enthusiasm in those days.
Early in the present century the club was widened into the Chess and Social Club, with winter quarters first at The Granville (now the Masonic Hall) and afterwards at The Cambrian, High Street. The late Mr. R. Wellings-Thomas was its chairman, and the late Rev. J. A. Lewis, then Curate at Llandrindod and afterwards, for many years, Vicar of Cardiff, hon. Secretary. Its career ended when the Conservative and Liberal Clubs were opened in the town. "
&&&&&&&&&&&&&&&&&
For the next few decades there is very little mention of chess in the town.
The Rev. Russell Baker moved to Llandrindod in 1926 after fourteen years in Birmingham. In February 1929 he gave a simultaneous chess display, winning nine games, drawing two and losing two. The Reverend Baker was still living in the town in 1932 when he was elected President of the Central Wales Federation of United Churches. He commented at the time:
"My chief interest was chess playing. I became one of the strong players of the Mechanics Institute Chess Club, winning the Swindon Handicap Tourney in 1909 and in the same year tied twice for the championship of Wiltshire. I was eventually beaten by the late Bishop of Trinidad, formerly the Rev. J. T. Welsh M.A. of Warminster (sic John Francis Welsh). On several occasions in my career, I have played simultaneous chess, twice in Llandrindod Wells, the second time in 27 games at once." On that occasion he won 20, drew 5 and lost 2.
There was obviously an active club in the town although its activities were severely limited. Reverend Baker became President of the Llandrindod club.
In 1932 a Ludlow and South Shropshire chess team played matches home and away against Llandrindod. The home match was played in May at the Rainbow Café when the Ludlow team won fairly easily after three hours play. The local team was led by Rev. Russell Baker.
RHAYADER 1897-1900
With a population of about 2,000 in 2011, it seems unlikely that Rhayader ever had a chess team. The reason they did was that in the 1890s there was an invasion of thousands of workers involved in the building of a series of dams and reservoirs in the Elan Valley area, work commencing in 1893 and the system being opened in 1904. The project aimed at providing fresh water for Birmingham. A village of wooden huts was built for workers, a railway line built, a school was provided, a hospital to deal with injuries and an isolation hospital.
A record of some of their matches has already been shown under Newtown (1898) and Llandrindod Wells (1899-1900).
The club may have been short-lived but they were quite active. In April 1899 they held what was called their 'annual dinner' at the Lion Hotel. The President at that time was William Andrew Legg (born 1861). He had previously worked on the Vyrnwy Waterworks and was the engineer who drew up the plans for the Elan Valley water-works. He left later that year before construction began and by August was engaged in Cape Colony. In the early Rhayader chess teams, he played on Board 1. A presentation was made at the dinner to Gerald Edwards who had won their handicap tournament. The prize was a set of drawing instruments. They entertained themselves and the events of the evening included a harp solo by Mr. Roberts; a song – 'The Rhayader Chess Club' – by G. Waterhouse; songs from Hughes, H. Lapworth, J. W. Madeley and D. T. M. Hope Edwards; a sermon from Dr. F. Richardson, flute solo by Mr. Gell, etc…
The chess team was probably all connected to the water works and many of them would have come from over the border. Chess was something which briefly filled the quiet hours away from home and is not mentioned anywhere in the town after the engineers left Rhayader. Some of them went on to have illustrious engineering careers.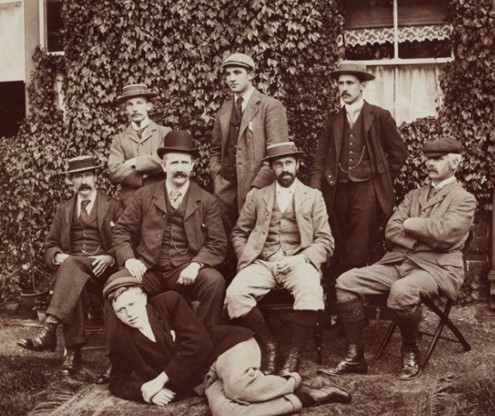 People's Collection Wales
The engineers of Elan Valley. W. A. Legg is believed seated second from the right.
Other members of the chess team could well feature as many of them were engineers.
One of their leading players was James Welby Madeley (1872-1946) who was born in Spanish Honduras. He was a civil engineer and went to India in 1907 to sort out the water and drainage systems in Madras (Chennai). J.W. Madeley, whose name is famously carried by a subway in T. Nagar, was instrumental in converting the open canal system of water supply in Madras into a system of closed raw water conduits. He was resident engineer at the Elan Valley Waterworks from 1897 to 1901.
On a lower board was Arthur Trevenen Coode (1876-1940) who came from Surrey to work on the Birmingham water supply. He worked on many projects in Britain, West Africa and the West Indies and during the war held the rank of Lieutenant Commander in the Royal Navy. After the war he went to China as part of an International Committee of Engineers to advise on river conservancy and flood prevention.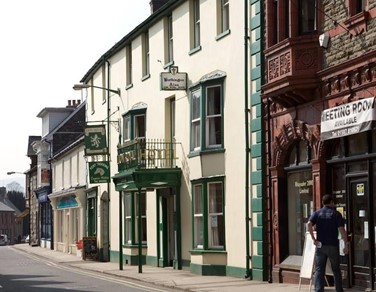 The Lion Hotel, Rhayader. The chess club played home matches here.
WELSHPOOL
Three attempts were made to form a club in Welshpool. A notice in the Montgomery County Times in September 1896, came to nothing and a year later a meeting was called to form a chess club at the Art Room in the Baptist chapel, on 13th November 1897. A further attempt was made a month later but there is no evidence that a club was created.
Maurice Whittingham, born in Welshpool in 1882, is shown in the newspaper 1896-8 as a regular solver of the chess problems. He is the only known Welshpool player of this time. His father was bandmaster for the Welshpool Brass Band and by 1901 they had moved to Twickenham. It is quite probable that Maurice's father was the person trying to start the chess club as when the family moved away there is no more mention of chess.
BUILTH 1898-1905
A club at Builth is mentioned just twice; firstly, in Gibson's account of Llandrindod Wells' match with them in 1898; and secondly in the combined match with Brecon against the same opposition, seven years later.
Their top player in 1898 was Sussex born Dr. William Walter Baldock Fry (1859-1927). He moved to Folkestone in 1915 after over twenty years living in the Builth area.
At the 1905 event, Rev. Howard A. Crosbie (1845-1918) played in the combined team on Board 2, and was the leading Builth player. He won his game. A Liverpudlian, he arrived in Builth in 1891 and stayed there until his death. He was noted as a composer of many hymn tunes. The other Builth players were Board 3 Rev. David Owen, Vicar of Alltmawr (lost); and A. Gwynne Vaughan who lost on bottom board.
BRECON 1905
Some sort of club seems to have been formed in Brecon by January 1905. On the 18th of the month a combined Builth and Brecon team played a match with Llandrindod Wells at the Temperance Hotel in Builth. The match was played over six boards with one game on each board and it resulted in a 2-4 win for the visiting side.
The combined team was led by 28-year-old Hugh Llewellyn Griffiths, the Brecon borough surveyor who was a native of Denbighshire. He drew his game. Brecon also supplied Board 4, W. O. Price, who drew, and Board 5 where E. L. Rea lost his game.
A month later a full Brecon team travelled across the border to Eardisley where they played a match with the Herefordshire team, Kington. The Brecon team was H. Ll. Griffiths, W. O. Price, E. L. Rea, A. W. Hughes, H. C. Rich and J. Lewenstein. Brecon won on Boards 1, 2 and 6 and the match was tied at three points each. Herbert Rich, a coachbuilder by trade, was at the time mayor of Brecon.
THE RENAISSANCE
BRECON CHESS CLUB 1962-1989
We do not know what happened to the Edwardian chess club in Brecon but a club was re-formed about 1962-3 and the town team joined the Mid Wales Association. One suspects that this new club was instigated through the enthusiasm of the Reverend Ivor Llewellyn Davies who served as secretary of the Mid Wales C. A. from 1965 to 1968 when his position was taken by his friend Tom Weston. Another early stalwart was David W. Foster who acted as Match Captain for the zonal team and was appointed president of Mid Wales C. A. in 1971, a post he held until his death. He was also chair of the Welsh Chess Union for a short while. His daughter, Suzanne, played for the first Welsh Faber Cup (Under 18) team in 1968.
There was a lot of chess activity in the vicarage of Rev. Ivor Davies at Talybont and the home of David Foster, but the club's regular meetings were in the Castle Hotel. There was huge enthusiasm for the game with players travelling large distances not only within the Mid Wales League but also to play in Hereford and even in the Birmingham Weekend League.
The club achieved quick success by winning the Mid Wales League in 1964. They would probably have been competing with teams from Aberystwyth, Newtown, the University and Lampeter. The club thereby qualified for the semi-final of the Welsh Challenge Cup where they met Cardiff and lost 1-5. They were led by Malcolm Jones who was born and bred in Brecon and attended the Brecon County Grammar School before leaving in 1960. The rest of the team was Rev. Ivor Davies, Graham Roblin, Terry G. Watson, David W. Foster and Anthony S. Williams
Malcolm Jones was to prove a stalwart of chess in Brecon and Mid Wales. He frequently turned out on one of the top boards for the Zone; was Boys Clubs of Wales champion in 1961 and 1962 and played in the national finals in London; won the Mid Wales Individual Championship in 1967 and 1968 (shared); and won the first Welsh Correspondence Chess Championship in 1966, retaining the title in 1967 (shared) and 1968. His career as a banker took him all round South Wales and in about 1964, he and Colin Gilbert formed the very successful Cwmbran club. He acted as treasurer for the new Welsh Chess Union in the 1970s.
The Reverend Ivor Davies (1923-2005) had his chess set with him throughout Word War ll in France and Germany and also for two years after the war during his time in Africa. He was Vicar of Talybont until about 1970 when he moved to become Vicar of Hay-on-Wye and he was also a Canon of Brecon Cathedral. He founded the Clergy Correspondence Chess Club in 1967 and had a huge interest in Lewis Carroll, writing a booklet giving a whimsical analysis of the chess game in Alice in Wonderland. He taught his daughter Cathy to play. She was a student at Brecon Convent School when she won the Welsh Under15 and under 18 Girls' championship in 1966; took the Under 18 title again in 1967 (shared) and 1968 and played on top board for Wales in the first Faber Cup competition in 1968. She was Mid Wales Ladies' Champion in 1968.
David Foster was a member of the same family that ran Foster Brothers men's clothing company, based in Birmingham, and he used to boast that a family member had scored a double century for England (probably R. E. Foster).
Tony Williams became the club's leading player and shared the Mid Wales Individual Championship in 1968. Briefly around 1970, the redoubtable John Thornton, played on top board for Brecon. A Yorkshireman by birth, he had twice won the East Glamorgan Championships whilst a student at Cardiff. Within a couple of years, he joined Caerphilly chess club.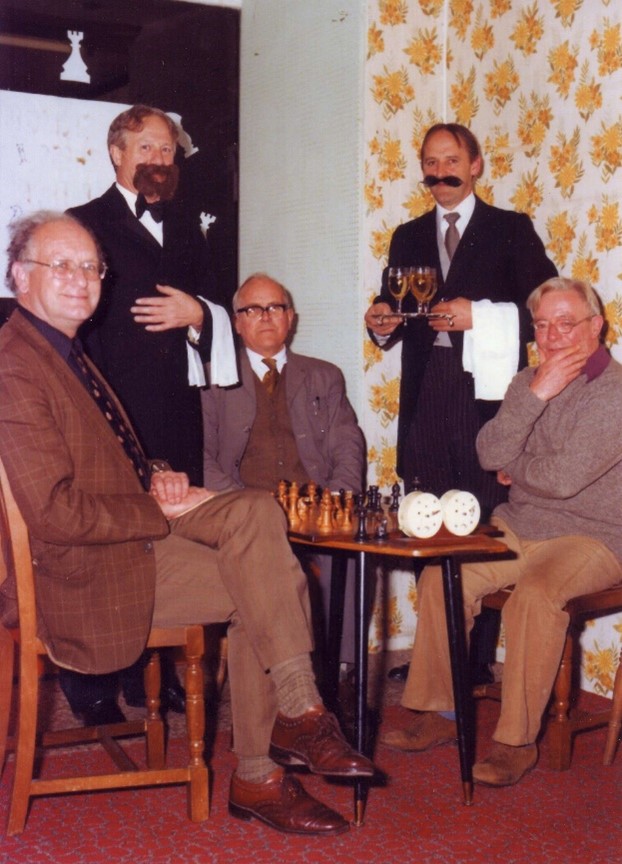 Rev. Ivor Davies (left) and Tom Weston (right) prepare for a chess overnight marathon, raising money for charity.
The Brecon club again won the Mid Wales title in 1968. They had better luck in the Challenge Cup, overcoming Pontypool 4.5-1.5 before facing Swansea University in the final. The semi-final team was: Malcolm Jones, Stuart Proctor, Tony Williams, David Foster, Rev. Ivor Davies and Tom Weston. In the final Robert Davies came in on Board 5 and Tom Weston dropped out. In spite of a valiant draw on top board by Malcolm Jones against Graham Chesters, the Brecon team lost 2-4.
Tom Weston, a dentist by profession, was quite a character and an international tournament was held in his memory in Cardiff 2018. The Tom Weston Shield, competed for at the Welsh Championships in the Open Major Tournament since 1990, is also in his memory. In the 1970s he acted as congress secretary for the very successful annual tournament at Gwbert. He, along with Malcolm Jones, was made a Life Member of the Mid Wales Chess Association. Both players lived longer than the Association!! He and Malcolm Jones represented the club in the Mid Wales team that took on mighty Leinster in July 1970 and came away victorious eight points to two.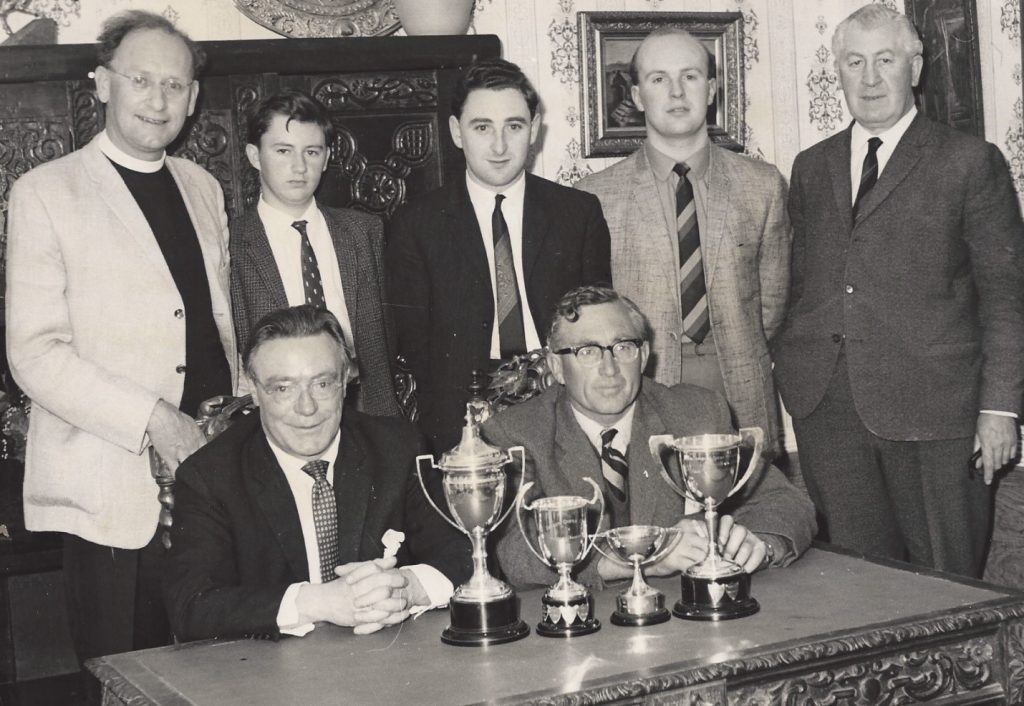 Photo: Robert Davies
Brecon Chess Club with their trophies in the 1960s
L-R Standing: Rev. Ivor Davies, Robert Davies, Malcolm Jones, Tony Williams, Graham Roblin
Seated: Tom Weston, David Foster
Robert Davies was another pupil of Brecon County Grammar School and he won the Welsh Boys Clubs of Wales title in 1966, 1967 and 1968.
Mathematics teacher Graham Roblin was the inspirational figure promoting chess in the school. He arrived from Cyfarthfa Castle Grammar School in about 1962 and left for Abergavenny in 1968. He played for the town club throughout the 1960s and 1970s and later for Gilwern in Monmouthshire.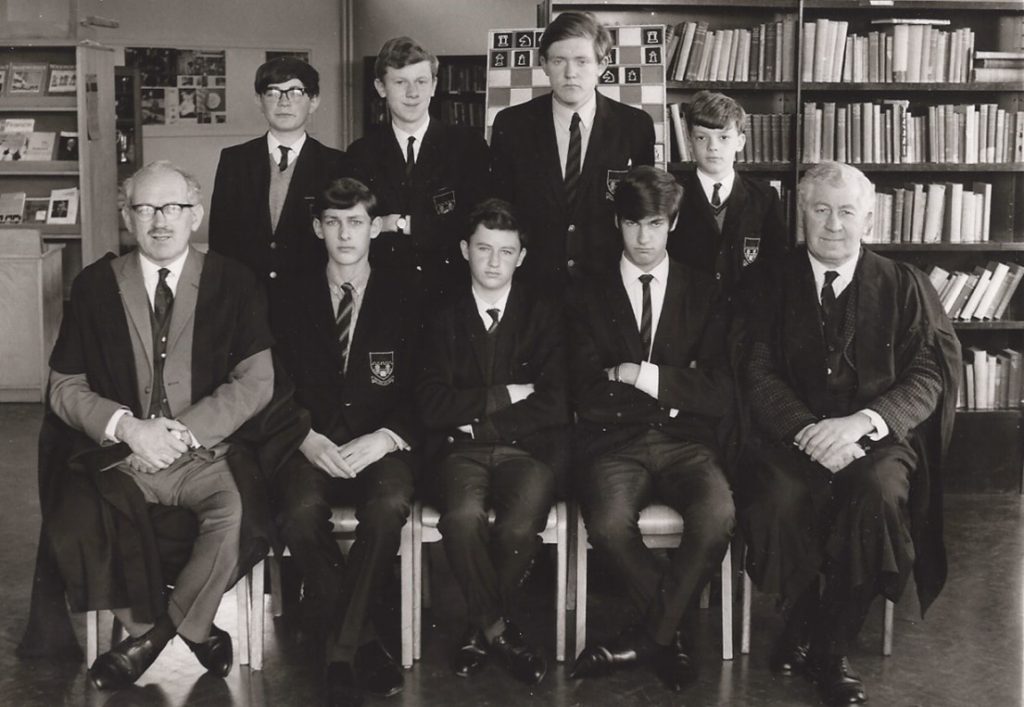 Photo: Robert Davies
Brecon County Grammar School chess team.
Standing L-R: Huw Morris, Patrick Ryan, John Hutchinson, Gareth Williams
Seated: Mr. Aneurin Rees, William Smith, Robert Davies, David Hughes, Graham Roblin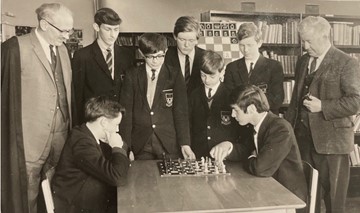 Photo: Gareth Roblin
Brecon County Grammar School team
Standing L-R: Mr. Aneurin Rees headmaster, William Smith, Hugh Morris, John Hutchinson, Gareth Williams,
Patrick Ryan, Mr. Graham Roblin,
Seated: Robert Davies and David Hughes
The chess club in Brecon met upstairs at the RAFA club but later moved to the Castle Hotel.
By the late 70s the club was in decline. Malcolm Jones, for so long the leading player, had left the area, members were that much older, and new dynamic clubs like Aberystwyth University and Llandysul were dominating the league. The Brecon team was still strong enough to finish 5th of the 11 teams in 1976 but they could not compete with the top teams. The club was boosted around this time by the acquisition of the services of Alan Hughes, a master at Christ's College. Other leading players were Tony Williams and G. R. Newrick, later of Gilwern, ahead of Rev. I. Davies, T. L. Weston, W. Hayes, J. Allcock, G. Roblin and T. G. Watson along with J. Hutchinson.
The club closed its doors sometime between 1980 and 1983 with the remaining members moving to Gilwern chess club, near Abergavenny. Those still playing at that time were: D. Rowe Jones, Tony Williams, Terry Watson, Rev. Ivor Davies and Graham Roblin. Rowe Jones had been a Glorney Cup player way-back in 1951 and had played for Bridgend chess club in the early 1970s.
Some sort of chess group must have continued in the town as 'The Breconian', the magazine of Christ's College, records that a match was played between the college and the Brecon club in 1986 and three years later saw the school and town clubs linking up to participate in a joint match against Hereford.
Christ's College, Brecon
The college was very fortunate to have some exceptionally talented masters in charge of the chess club in the sixties and seventies.
The college club joined the Welsh Secondary Schools' Chess Association and participated in the Sunday Times competition as well as the age-group Welsh Championships. They also played matches with other sporting rivals such as Llandovery College, Monmouth, Hereford Cathedral School and Dean Close (Cheltenham), chess being just one of many sporting contests between these schools. Hopefully many of the young players went on to share their knowledge with other young chess aspirants. Anthony Merrett for example, played for the college 1994-5 and was so enthusiastic that his parents had to drive him from his home in Kent to play in the Welsh Schools' Plate finals in Penarth. He is now a maths teacher at Brighton College where he nurtures their chess team.
Robin William Lewis (1937-2011) was a Yorkshireman, but he was educated from the age of 14 in Ludlow Grammar School. In his final year there he shared the 1957 Shropshire senior county chess championship and he played chess for the county. He furthered his education at Corpus Christi College, Cambridge, before teaching maths at Brecon from 1964 to 1988. Prior to his arrival the chess club numbered upwards of sixty members but he restricted membership to just eighteen, thereby ensuring more one-to-one tuition. His many talents included music, bee-keeping and bridge.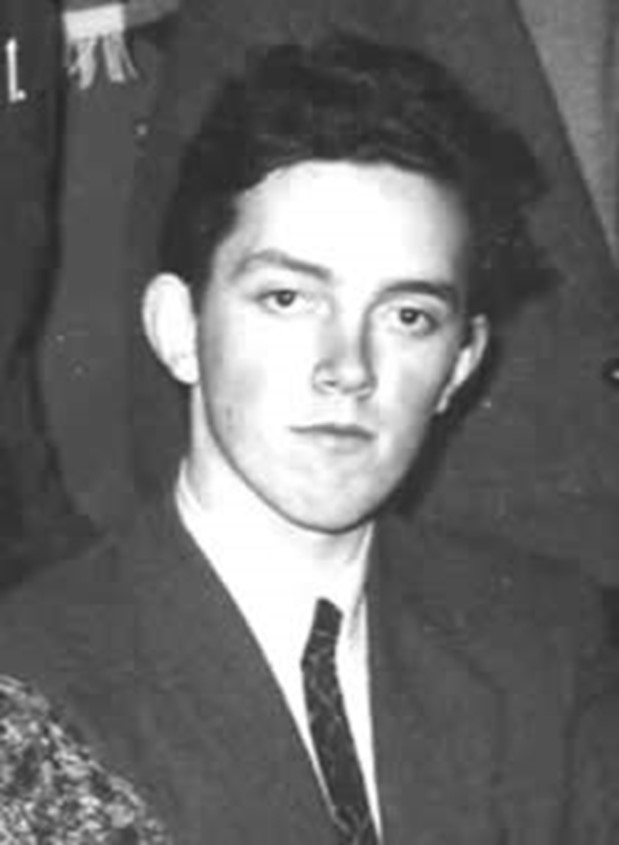 Robin W. Lewis
Alan J. Hughes took over responsibilities for chess in 1973. Alan was a very talented player who never played much competitive chess after leaving school. He won several Welsh titles whilst a student at Cardiff High School – Under 12 in 1960, under 13 in 1961, under 14 in 1962 and shared the Welsh Under 18 title in 1965. He also finished 7th in the British Under 16 Championships and played in the Welsh Glorney Cup teams of 1964 and 1965.
Another talent linked to the college was Beryl Williams who played in the Brecon club and shared the Welsh Ladies' Championship with Shirley Mills in 1965. She was married to Bryan Williams who was a chemistry master at the college from 1963 until his retirement in 1991.
LLANDRINDOD WELLS 1959-1970s
There was a simultaneous display in the town on 10th March 1965 when the CHESS, Sutton Coldfield journal owner and editor, Baruch H. Wood was making one of his extensive tours of the country. He took on 21 players and conceded a draw with Graham Roblin and lost to Malcom Jones and T. G. Watson of Brecon and to Oscar Serck of Knighton.
The last named was a retired civil engineer who spent his retirement indulging in his passion for the game. He played in the Birmingham Chess League for City and Erdington club and was noted as the only Welsh competitor at Hastings 1957. He was head of the family business Serck Radiators and died in 1970.
Another star player from the town was Mark Stumbles. He marked his arrival on the chess scene by winning the first Mid Wales Under 12 Championships which was played alongside the zone's first one-day congress in November 1970. Jeremy Fox, also from Llandrindod, placed second. Despite his youth, Mark shared the Welsh Under 18 title in 1972, the result that year being an unprecedented six-way tie. The following year he shared the same title with Clive Trevelyan of Bridgend. He continued to improve and led the Mid Wales Under 21 team. Sadly, he died at the age of 20 in 1978.
The town team in the early 1970s played in the Hotel Metropole and was led by P. D. Hughes, L. Perry and Gwilym Cadwallader. Mark Stumbles and Jeremy Fox turned out on the lower boards. The Mid Wales Congress was also held in this hotel before its move to Gwbert-on-sea.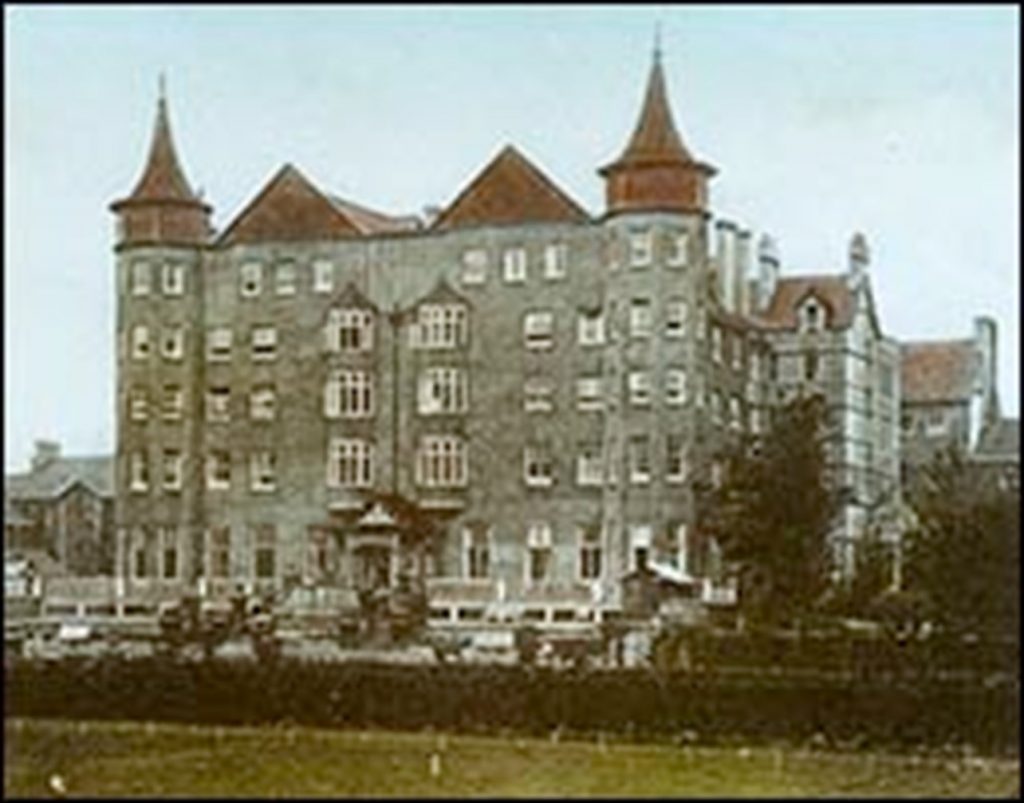 Hotel Metropole
NEWTOWN 1958-1987
Newtown was one of the founder members of the Mid Wales Chess Association, having re-formed as a club in 1958. With Linhard and Samworth both having several tilts at the Welsh Championships, there was sufficient strength for them to win the Mid Wales League in 1961. That however was to be their only success with first the University and then Llandysul dominating the competition.
Gustav Linhard was secretary of the Mid Wales Chess Association from 1962 to 1965. He was the first Zone champion in 1960, defeating Roy Clues of Aberystwyth in the knock-out final. He was made a vice-president of the Association. One of his best achievements was finishing joint seventh in the 1960 Welsh Championships.
Roy Scammell of Newtown shared the Welsh Under 18 championships of 1961. On the strength of that performance, he was elevated to top board in the Welsh Glorney Cup team. He had been regarded as scarcely able to play when he joined the Newtown club and yet, within a year, he won the Welsh Junior Championship and found himself playing for Wales.
The 1961 Mid Wales champion, Jim Samworth, played for Newtown and Shrewsbury and was in the Shrewsbury team that won the Shropshire League 1965-6-7. He also served as the first secretary of the new Mid Wales Chess Association from 1959 to 1962. He shared the Welsh Championship Reserves in 1960 and played several times in the Welsh Championships.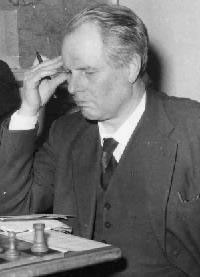 1961 Mid Wales Champion. J. A. A. Samworth
The promptings of the new Mid Wales Chess Association, led to a meeting in 1961 to re-establish organised chess in North Wales. Mr. Samworth of Newtown acted as convener at the meeting
The secretary of the Newtown club in 1975 was Stan Turner, a hairdresser of Llanidloes. He also turned out on Board 1 and a team list from November 1975 saw the rest of the team listed as I. Grant, T. Leach, R. Roberts, A. Griffiths and A. Harpam. They lost 0-6 which gives some idea of their strength.
Lack of recruitment was always going to be a problem at Newtown and at the end of the 1975-6 season they announced their withdrawal from the league. They were not the only club in difficulties.
The club was still in being in 1987 when Keith Tabner moved to the area from Shropshire. He found a small club run by a local businessman, Mr. Grant, but the club only played social chess. They did not have sufficient numbers to enable them to enter competitions. Tabner played in a Welsh team that entertained Ireland at Cardiff during his stay at Newtown.
The club secretary was Imants Grant (1927-2020) of Grants Studio in Newtown. Club numbers slowly dwindled with the club meeting in the college and finally consisted of the gathering of a few friends in the home of Mr. Grant.
Chess was being played in Newtown High School at least in the 1990s when matches are recorded in the Capital Cabs Welsh Schools' competition.
WELSHPOOL
A Welshpool chess club existed when the Mid Wales Chess Association was born in 1958, but their participation was short-lived. They were certainly not playing in the league in 1970.
D.J. Thomas of Welshpool chaired the Mid Wales Chess Association in 1960 and again in 1968, as well as acting as treasurer in 1959. He also played a few times in the Welsh Championships.
UP TO DATE
PRESTEIGNE
Today (2022) the only club that seems to exist in the Powys area is at Presteigne. The club there was formed about twenty years ago but it was only in 2019 that they finally took the step towards competition by joining the fledgling Marches Chess League.
This cross-border competition was set up by Lee Davis of Hereford Chess Club to encourage chess between clubs in neighbouring counties. In its first season Herford, Abergavenny, Malvern and Presteigne participated. Play commenced with the first match on 13th October but we all know what happened next. COVID. Presteigne, under the leadership of David Hancock had played just three matches when play was halted. The Presteigne team in that first encounter with mighty Hereford was: David C. R. Hancock, Mike Home, Jim Thomas and Brian Marriott. Further developments wait on the conclusion of the pandemic.
With thanks to Malcolm Jones, Felicity Kilpatrick (Christ's College), Yorkshire chess archives, John Stumbles, Keith Tabner, Robert Davies and Gareth Roblin.
Martyn Griffiths