The small Rhondda chess club deserves a place amongst the pantheon of Welsh clubs as, although the first club there lasted only a little more than a decade, they succeeded in winning the South Wales Championship on two occasions.
Large quantities of coal had been found in the Rhondda early in the 19th century but it was not until Lord Bute became involved in 1850 that there was rapid development of the industry.
In 1851 the total adult population of the area was numbered at 951. By 1921 that figure had exploded to over 162,000. There are two valleys both about 12 miles long, Rhondda Fawr and Rhondda Fach and they cover 16 separate communities. The difficulties of valley travel and the spread of the population meant that many of the club's chess matches were played at neutral venues.
UNITED RHONDDA
The first club to represent the Rhondda quickly established two centres at Ferndale and Pentre. The Ferndale group met on Wednesdays at the Victoria Hotel in Ferndale and the Pentre group met the following night at the Pentre Hotel.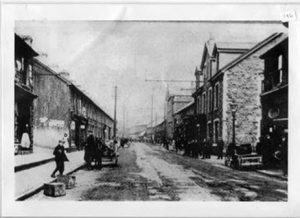 The Victoria Hotel is on the right hand-side.
The club was built around the Parry brothers who came to the area from North Wales. Thomas William Parry (1849-1922) was the son of a Corris slate quarry agent. He qualified in Edinburgh as a doctor and moved to Ferndale in the early 1870s when the area was little more than a village. The family home was in Rock House, near Rhondda Fechan farm. He was appointed surgeon to the collieries and earned a high reputation, being awarded the Medal for Distinguished Merit of the BMA for heroic conduct and self-denial. His bachelor brother George, thirteen years younger, lived with him and worked as his assistant and dispenser.
In October 1886 it was decided to form a club at Ferndale. Dr. Parry was appointed President and Walter Parfitt of Mardy was the first club secretary. Parfitt (1864-1934) was a teacher in Tylorstown at this time and became headmaster of the Board School. A match was arranged between Ystrad and Ferndale which the former won 11-3. A month later another match was organized which indicated the spread of the game: Greater Rhondda 17.5 v Lesser Rhondda 11.5.
Several friendly matches were organized before the formation of the South Wales Chess Association in late 1888. The Rhondda teams played against Penarth in December 1886 before combining to play a match against Cardiff in January 1887. There was a return match with Penarth at the Porth Hotel in February. The Rhondda team was: Dr Warburton, Dr Parry, R. T Jones, R Thompson, A. G Howell (probably should read W. G. Howell), and Richard Jones.
The first simultaneous display given in the Rhondda valleys was at Pentre on 16th October 1889 by the British veteran, Henry Bird. He played 15 opponents and completed 26 games, losing just one to Rees T. Jones of Ton. However, W. G. Howell's obituary claims that he also defeated Bird. This may have been at a display elsewhere but there is no record of this win.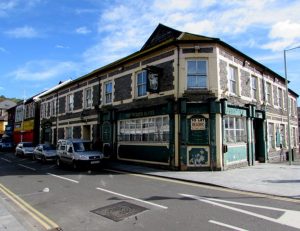 cc-by-sa/2.0 – © Jaggery – geograph.org.uk/p/5560776
The former Porth Hotel on the junction of Station Street and Pontypridd Road (2017)
The scene of displays given by Henry Bird (1889) and Joseph Blackburne (1891)
'Rhondda United' was among the six teams to play in the first Challenge Cup competition alongside Cardiff, Swansea, Newport, Aberdare and Merthyr. In the first year they lost to Swansea in Round One. In the 1889-90 season they had their first success, beating Penarth 7-5, but that was probably a friendly match as was their 4-6 loss to Aberdare. It is likely that their Cup game was played in November at the Park Hotel when they lost 4-6 to Cardiff. The now familiar team of Dr. Parry, Richard Jones, George Parry, Rees T. Jones, W. G. Howell and Walter Parfitt, was not quite strong enough. 1890-1 saw another early exit at the hands of Llanelli, the match being played at half-way house, the Castle Hotel in Neath.
Rees T. Jones (1857-1907), Headmaster was a native of Ebbw Vale. He became Head of Ton Boys School.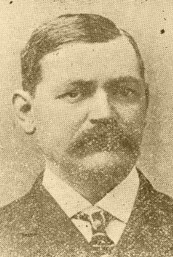 Rhys T. Jones, died 1907
William Griffith Howell was clerk to old school board and became Head of Pentre British School. He claimed to have defeated Blackburne and Bird in displays. He died in 1905.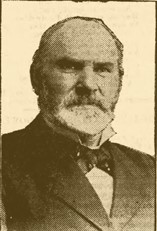 W. G. Howell, died 1905
There was a change in the club's fortune in the 1893-4 season when they were led by a new player, W. D. Gwynne. The club reached the final where unfortunately, they were without Dr. Parry, and lost 3-7 to Cardiff. W. D. Gwynne chaired a number of meetings of the S.W.C.A. but it is difficult to identify him. He was playing for Aberdare 1890-1893, living in Pentre later on and played for both Pontypridd and Rhondda clubs. He had started playing for the club in 1890 and was strong enough to take a point off anybody.
Blackburne's first visit to the Rhondda was on 7th December 1891 at the Porth Hotel. He was surprised by the standard and declared it to be the best performance by any club in Wales. He only played against nine opponents but drew two against W. D. Gwynne and Rees Jones and lost to Dr. Parry.
Bird returned on 20th February 1893 played 21, drawing one game with George Parry, and losing to his brother, Dr. Parry.
1894-5 was to be one of the club's best years. Playing at the Red Lion Hotel in Aberavon in January 1895, the team beat Swansea 6-4. The team was W. D. Gwynne, Richard Jones, H. O. Wells, T. R. Evans, George Parry and Weiburt Heitzman. In Round Two, playing at the New Inn, Pontypridd, they beat Aberdare 7-4; and in the final, playing at the same venue on 21st February, they defeated mighty Cardiff 6.5-2.5. The team in the final was the same that had played in Round One.
Mr. Heitzman (1860-1936) was a German immigrant who worked as a jeweller and silversmith in Pontypridd.
He ran a chess column in the Evening Express between 1890 and 1899 and in the Examiner News 1892. He may also have been the chess editor for the Weekly Mail from 1884. Herr. Heitzman of Pontypridd and James Glass (Swansea) represented the West of England in a correspondence match against Ireland 1892 – 1893. He played for Rhondda chess club 1894-7 but before that and after 1897 he played for his home town, Pontypridd.
Germans residing in Britain during the Great War were very badly treated. There was much abuse and even anti-German riots. In 1915 Heitzman (by then retired and living in Ton Pentre) was so agitated that he sent a letter to the press in which he said that he had left Germany 40 years earlier and renounced his German citizenship about seven years later. He added that he had served in a Volunteer Battalion of the Welsh Regiment for 26 years, retiring in 1908 as color-sergeant but was willing to 'shoulder the rifle' in defence of his adopted country.
Lasker gave a display against members of the Rhondda club at Pontypridd in November 1895 when he made a clean sweep with twenty wins.
The club was boosted for the 1897-8 season by the arrival of 21-year-old Harry Lorie. He was born in the Rhondda, the son of a Polish Jew who was engaged as a pawnbroker and outfitter. The family claimed descent from a famous Talmudic commentator of the 16th century, Rabbi Shlomo Luriaial. Lorie must have been a fine player as, after an introductory match against Merthyr in November the previous season, he was immediately given top board spot and, although he lost to William Cann of Swansea in the final, his position meant that the regular players could play against lesser opponents and the Rhondda narrowly won the match. En-route to the final he had beaten D. R. Jones of Llanelli and drawn with George Lennox of Cardiff.
Sadly, he left the club to go on active service in the Boer War and after returning home in 1902 moved to Birmingham. After the First World War he became involved in the early film industry with his brother-in-law.
Blackburne returned to the Rhondda in January 1898, winning 16 games and losing to W. D. Gwynne and Llewellyn Jones.
The Boer War 1898-1902 coincided with a break in the activities of the South Wales Chess Association and when normality resumed in the chess world it seems that the Rhondda was no longer an affiliated club. There was however a five-board match held in Pontypridd in December 1903 between Rhondda and Pontypridd. This was probably just a friendly match. The Rhondda team was much diminished from times of yore and its star players of the past were all absent. The only players to have survived were Llewellyn Jones on Board 2, who had drawn with Blackburne five years earlier, and Walter Parfitt of Maerdy, the club's first secretary, who played on Board 5. They lost heavily to a not particularly strong Ponty team and disappeared from view for another 12 years.
The mere fact that a club did not participate in the SWCA Challenge Cup does not mean that the club did not continue to meet. However, its activities, if any, would have been only rarely reported in the press and no other records survive.
PORTH & CYMMER
On 1st May 1915 a friendly match was held at the Cymmer Institute between Cymmer Institute, Porth and a combined team from Porth, Tonypandy and Ystrad. None of the old guard featured in the match. The Institute was led by Dr. Charles E. Cochrane (born Bombay 1867 d. 1917), C. Davies and Dr. L. Lewis whilst the top boards for the combined team were W. J. Davies, Clifford Sugg, a collier, and R. Thwaites.
This was the age of the Institutes and manual workers were being encouraged to gain some further education at such establishments.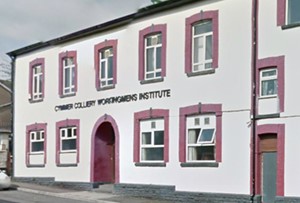 Cymmer Institute
The Porth & Cymmer club entered for South Wales competition between 1922 and 1927. The only survivors from the friendly match of 1915 were their now top board, F. Hemmings plus H. Townsend and J. Thomas. A W. Gwynne turned out for the club on bottom board. Was that the same W. D. Gwynne of yesteryear? Certainly, he was not as strong as his namesake but age does that to a player!
Their top player, Frank Hemmings (1884-1946), was a Secondary School teacher. He was born in Birmingham and his parents had moved from there to Swansea.
The club was very much one of the also-rans of the competition and a series of defeats are recorded. They lost to Swansea in 1922 and again in 1923, this time 0-6, the clubs top boards being W. Sedgemore and F. Hemmings. In 1924 they took Bridgend to 3-4 with Hemmings defeating G. E. Chappell on top board; and finally, in 1925 lost 1.5-5.5 to Cardiff. From 1923 these were all-play-all sections but details of other matches are not known. Their final season was 1926-7.
There was one outstanding player from Porth during this period and it is likely that he played for the club at some time. His name was David Philpott.
The shock winner of the 1930 South Wales Championship was David Philpott of Tonypandy. He won ahead of competition stalwarts Claude Hybart, Arthur Harper and Robert Seel. At 28 years of age, he was the youngest player ever to win the Championship. He had taken up chess whilst at Cardiff University in 1922, and had won first prize in a club tournament at the Y.M.C.A. However, from 1925-1928 he was away in Berlin studying to become an analytical chemist and therefore he was not very well known in Wales. Indeed, in July 1924 when he turned out for South Wales in their match against Somerset, Bristol and Clifton, he languished on Board 26 of a 33-board match. Shortly after winning the South Wales event he moved to Liverpool. In 1947, as the now Dr. David Philpott M.Sc, Ph.D (Wales), R.R.I.C, D.I.P. Ed (Bristol), he was appointed bio-chemist at Northampton General Hospital.
He wasted no time joining the Northampton Chess Club and was noted in the minute book as 'Champion of Wales'. He captained the club side and won the Club Championship 1949, 1950, 1952 and 1953 as well as winning the county championship in 1953 and 1954. His team won the county championship five times before he left the club about 1957.
Dr. Philpott died in 1971.
F. D. Yates first visited Porth on 7th December 1923 when he beat 24 and drew one game.
On the 18th February 1925 the British Chess Master, F. D. Yates again visited the club at Porth. He took on 22 opponents, did not lose any, and drew with F. Hemming, R. Ellis and the miner Cecil Trevethin.
TREHERBERT
In 1966 a new Rhondda valley club was formed at Treherbert. They played in the First Division of the East Glamorgan League and had some initial success, finishing 5th of the 12 teams in 1968. They were led by Robert Havard who that year finished joint runner-up to John Thornton in the East Glamorgan Championships; and Leon Kozielski who had previous experience playing for the Reading Polish Club that won the Berkshire league in 1957. Havard later moved to Aberystwyth where he was senior lecturer in Spanish at the University and played for the town chess team,
The team was relegated in 1970 and never regained top-flight status. By 1972, having lost their star players, they were playing in Division Three.
By 1973 there were two Rhondda clubs (as in 1886). The Treherbert club, also known as Upper Rhondda, met at the Upper Rhondda Workingmen's Club in Treorchy. The driving force behind this club was Mike Williams who at one time lived in Abertillery and played in the Gwent, East Glamorgan and West Wales Leagues (where he had a hand in Castell Nedd winning the title in 1982). Derek Jones joined the club in 1979 and, whilst a member, twice won the Welsh Correspondence Chess Championship title – 1984 and 1985. Derek Jones changed clubs in 1985 moving to Bridgend, then Aberdare and today Cardiff for his chess. Mike Williams left for Harrow a few years later.
The other club, known simply as Rhondda, played in the Windsor Castle Hotel, Ton Pentre. They went straight into Division Two in 1973 and won that Division ahead of Pontypridd, losing just one match. Bob Havard, Ian Barclay and Phil Smith were among the leading players. By 1990 both Rhondda clubs had folded.
Ian Barclay was one of several talented juniors from the Rhondda. He played for the Welsh Glorney Cup team in 1976, 1977 and 1978 by which time he was on top board; and he represented Wales at the Haalsberg International Junior Tournament in Sweden 1977-8, finishing =5th/32. He also went to an invitation international tournament in Glasgow and another at Sas van Gent in Holland. Ian left for university in 1978. Later he played for King's Head in Bayswater where the first team had the likes of Jon Speelman, Andrew Whiteley, John Cooper, and one of the Rayner brothers. He gave up active chess after moving to Hitchin but achieved a grade of 2626 in 1997 playing in the BPCF.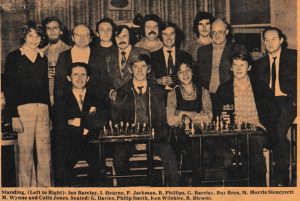 Rhondda Chess Club taken from Rhondda Leader 1st November 1974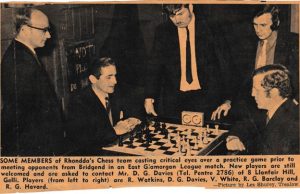 The most recent incarnation of the Rhondda club (re-formed about 1999) plies its trade in the lower regions of the East Glamorgan League. There are no 'star' players and the club is rarely in the contest for honours but 'chess is a sea in which a gnat may drink and an elephant may bathe.'. Chess is for everyone and long may it remain so.
(My thanks to Derek Jones for information received about club's post 1970 and to Ian Revitt of Northampton for information about David Philpott)