by
David Castledine
(Published in 'The Cheshire Hundred 1888-1988)
(Illustrations from David Castledine's booklet North Wales Chess)
Comments in italics are additions by Martyn Griffiths
.
Rhos is a village of some 9,000 people, three miles south of Wrexham. The population expanded quickly during the last century because of employment prospects in the local collieries and brickworks. Vauxhall Colliery closed in 1928 and Hafod Colliery closed in 1968. Rhos has been described as "the village of all the talents" and chess was only one activity in which the inhabitants excelled.
The early history of Rhos chess club was closely linked with that of the Ruabon chess club (1882-1914) two miles away, and a number of Rhos players were members of Ruabon teams. From c.1885, the Rhos chess pioneers met at Gwalia House, Hall Street, the home of William E Jones (1856-1928), tailor. Games were played by him against Richard Mills (1846-1903) a printer, also of Hall Street; George Saint (1857-1921), founder of Ruabon chess club, and Charles Simpson (1857-1917) of Cefn y Wern, Hill Street, a clerk at Vauxhall Colliery. Later they were joined by Dr George Frederick Jones of Bank Street, Ponciau. They met in the tailor's workshop and it was later recalled that games were played in a dense cloud of smoke, probably till the early hours of the morning.
Richard Mills (1840-1903)
Editor Rhos Herald
Co-founder Rhos chess club
William Edward Jones (1856-1928)
Co-founder Rhos chess club
Teams were raised in Rhos in 1893 to play against Ruabon and Wrexham, but it was not until 1900 that chess gained increasing popularity in Rhos at the Athenaeum. Young players were encouraged to take up chess by Dr John C. Davies (1859-1942) of Plas-yn-Rhos. Strong players included Edward Stanton Roberts (1878-1938) a teacher at Ponciau, and S Anderson Duce (1882-1924) from Hall Street, a nephew of William Jones, and J. T. Edwards (1879-1950) from Duke Street, Ponciau, later checkweighman at Vauxhall Colliery, County Councillor and Alderman. J. T. Edwards drew with Frank Marshall at Wrexham in a display 25th October 1912.
E. Stanton Roberts (1878-1938)
Teacher at Ponciau
Played for Rhos and Ruabon
Smith Anderson Duce (1882-1924)
Played for Rhos and Ruabon
In Spring 1908, World Champion Emanuel Lasker toured Britain and the chess section of Rhos Esperanto Society invited Lasker to give a simultaneous display at Wern School in late March. The arrangements were made by G. Meirion Griffith; D Thomas; AO Mills; RW Hughes, Bryntirion; J.T. Edwards; J Johnson and E.S. Price. Lasker gave a lecture on chess then played sixteen players from Wrexham, Ruabon and Rhos, winning fifteen and drawing only against George Saint. This was at the National School on 24th March. The charge was two shillings and six pence per player and one shilling for spectators. Another account reports a whitewash. (See later newspaper report).
After the formation of the North Wales Chess Association in 1908, Rhos players continued to play for Ruabon in Chambers cup matches, winning the trophy in 1909 and 1910. (They also reached the final in 1911 when they were to play Bangor, led by J. E. Parry, at Chester in March, but the result is not known.) The Ruabon club failed to survive World War 1, but during the war, chess was played at the young Liberal League in Hall Street and Gwilym Griffiths was the champion. From 1918 a new generation of young men played chess at the British Legion Club in Church Street. Their play was strengthened by the encouragement of experienced players like George Saint and Dr G. F. Jones. Dr. Jones had drawn with Blackburne in a blindfold simultaneous display in Wrexham in 1898.
The NWCA was revived in 1922 and North Wales clubs competed annually for the Silver Rook trophy from then up to 1933. Rhos lost in the final to Rydal School, Colwyn Bay, in 1922 but then won the trophy seven times (1923-30), receiving a duplicate of the trophy to mark their success. The mainstay of the team was formed by several strong players: – Stan Pritchard of Swan Street and Tal Read of Hope Street, both colliers; T. E. Jones, B.A., a school teacher from Ponciau; Llew Green; Tom Bennett; Arthur Mills and Fred Mills (brothers working at the Rhos Herald); two brothers, John Alun Williams and E. T. Williams, headmaster at Penycae; and Simon Williams. Messrs Mills ensured detailed reporting of Rhos successes in their newspaper, especially the frequent wins against near neighbours, Wrexham.
Rhos won the Silver Rook Trophy in 1923-24-25-26-28-30-32. T. E. Jones lost in the Individual North Wales Championship final of 1927. Stanley Pritchard was the only Rhos player to win the title, doing so in 1939.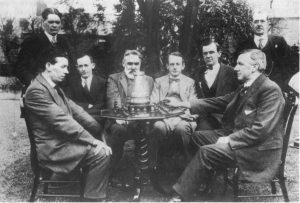 Winners of the Silver Rook Trophy 1923
Standing: G. Griffiths, W. E. Price
Seated: T. Bennett, S. Pritchard, Dr. G. F. Jones, A. G. Mills, F. W. Mills, J. T. Edwards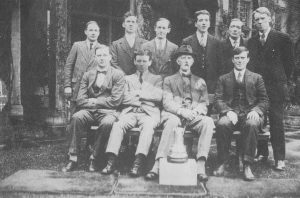 Silver Rook winners 1924
Back Row: Ll. Green, S. Williams, S. Pritchard, Tal Read, T. E. Jones BA, J. A. Williams
Front Row: F. W. Mills, T. Bennett, F. W. Soames, E. T. Williams
On 23rd March 1925 the Polish Grandmaster Akiba Rubinstein visited Grange School, Rhos and took on 26 opponents, losing two to Tom Bennett and T. E. Jones, the Rhos top board, and drawing with Dr. G. F. Jones.
Chess was revived by Stan Pritchard and Tal Read, as Captain and Secretary respectively, after the Second World War. Long reports on the club's history were submitted to the Rhos Herald in 1945, and improved facilities at the Rhos Miners' Institute were secured. Tal Read arranged for R. Hugh Jones to design a magnificent illuminated list of Rhos chess pioneers and current players, and this was formally presented to the Institute in 1948. Stan Pritchard travelled to the Isle of Man to play Mieses in a simultaneous display in 1946 or 1947. B. H. Wood was invited to Rhos to give a simultaneous display in 1948, and his only loss was to Robert Davies of Ponciau. Mr. Davies was given an annual subscription to 'Chess' for his success.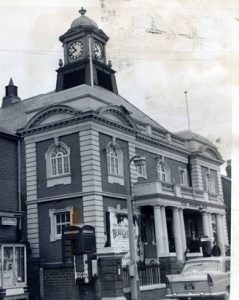 Rhos Miners' Institute
Rhos continued to play friendly matches against local sides, usually winning easily. In 1954-55 season the club played in the first season of the Chester and District League. Rhos and Wrexham were the only North Wales clubs entered. However, declining numbers meant that the club folded in the mid-fifties.
The popularity of television and especially ITV meant that people were not so keen to go to the Institute on winter evenings to pursue social activities. Some of the older players continued to play socially at Penycae at this time.
____________________________________________________________
The following excerpts are taken from reminiscences in the Rhos Herald and are well worth repeating if only for the colourful descriptions of some of the players. Perhaps reports on modern-day matches would be more delightful if such personal characteristics were illustrated. How many players in your club could you liken to George Saint or William Jones?
T. R. writing in the Rhos Herald, Saturday, 3rd March 1945:
"Sixty years ago, the Rhos Chess players were merged in the Ruabon Chess Club. The Rhos players of those far off days were Wm. Jones (tailor), R. Mills (Printer), Geo. Saint (Manager, Vauxhall) and Chas. Simpson (clerk, Vauxhall). The headquarters was Wm Jones's tailor's shop in Hall Street, where many a great battle was fought to decide who was to be top board player for Rhos. The issue usually lay between Geo. Saint and Wm. Jones, the tailor sometimes winning and other times the colliery manager being the victor. On the occasion of these grim battles, Mr. Mills and Mr. Simpson would look on watching every move through a haze of tobacco smoke. So evenly matched were these two players that one game often lasted three hours. Three hours of concentration, with never a spoken word until the final checkmate uttered triumphantly by the victor.
The two men had totally different styles. George Saint was daring and brilliant, with flashes of inspiration which frequently won what looked like a lost game. Wm. Jones was careful and cautious, patient and watchful. He never risked even a pawn, and slowly massed his pieces for the final knock-out blow. It was pity help the opponent who made a little slip! No mercy!"
He also commented on the visit of Lasker to Rhos in 1908 after which he reckons that the two clubs – Ruabon and Rhos – went their separate ways:
J. T. Edwards brought Lasker to Rhos and "great was his surprise to find that the great Dr. Lasker was a very small man, dressed in a very well-worn suit, a Jew by the way, but with a massive brow and head and two flashing black eyes, and withal, one of the most modest and unassuming men in the world." He played 14 opponents and only conceded one draw to Mrs. Annie Davies of Plas-yn-Rhos, the wife of Dr. John Charles Davies.. "Dr. Lasker stayed at Plas-yn-Rhos, and we rather suspect he allowed huis hostess to make a draw from curtesy! The morning after the match, Dr. Lasker, together with Mr. J. T. Edwards and another player, took a walk up the fields towards Huxley's farm, and forgetting all about chess, he spoke of his early life in Germany, and how he came to take up chess. It was a fascinating talk and before the walk finished, we discovered that the Dr. was as great a philosopher and thinker as he was a chess-player."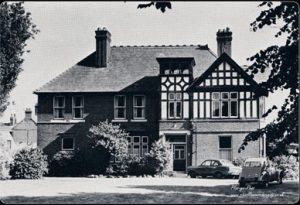 Plas-yn-Rhos where Lasker stayed in 1908
I.D. H. writing in The Rhos Herald, Saturday 28th April 1945.
"I saw the champions on more than one occasion engage in mortal combat at the Liberal Club. William Jones, solid and dour – of Cromwellian mould; George Saint, gay and debonair – a veritable Prince Rupert. They were both formidable champions and the contrast in their approaches and styles added to the interest in their play. The player who gave me most delight was Dr. G. F. Jones, The Square. The doctor aimed at a 'coup d'état', a series of brilliantly conceived moves which suddenly crumbled his opponent's laboriously constructed defences to the dust. He was probably not as sound and cautious a player as some of the other champions and his schemes, like those of men and mice 'went aft agley' but it was a sheer delight to me to watch him. A splendid loser and always helpful and generous to younger and less experienced players.
I was pleased to read the tribute paid to those two brilliant players, T. E. Jones BA, and Gwilym Griffiths, a tribute which they well deserved. The late Mr. Stanton Roberts was another brilliant exponent of the game."