The story of Tredegar chess club is virtually the story of three men – William Pemberthy, Bruce McPherson and Harry Pugh. Each of them was regarded as one of the finest players in the Principality but unfortunately their eras barely overlapped and there is no record of the three men ever playing together. If they had, then Tredegar would have had many more successes.
The South Wales Valleys teams Rhondda, Blaina and Tredegar enjoyed a great deal of success and much of it must go to the rise of the Institutes which enabled the working man to have some education and to broaden his horizons.
The Tredegar club is first mentioned in January 1875 when their Literary Society played a match against their contemporaries in Blaina at the Tredegar Institute. The Tredegar team was: Robert Morgan, Edward Mills, Evan Benjamin, W. Thomas, David Hopkins. The conditions of the match were that that each player would play three games i.e., 15 in total, the match winners being the first team to score 8 points. A breathless silence was reported during play which lasted about 90 minutes and play concluded after 14 games with Blaina declared the winners.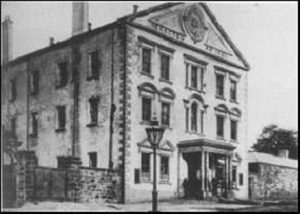 The Institute built 1860
There is some information that a club was re-formed in 1887 but very little else is heard for the next twenty years.
On the 2nd December 1904 another match between the Tredegar and Blaina Institutes was reported. The match was again played at Tredegar and once more Blaina were victorious, this time by 12 games to 5.
Reports were well spaced out relating to chess activity in the town, possibly because they did not enter for the South Wales Cup which was the only competition at the time. April 1907 reported Blaina winners by 9 games to nil.
In December 1907 their first reported Challenge Cup match saw a 3-3 tie between the same two rivals. Later that season the men of Tredegar played Barry chess club at a neutral venue in Newport. Barry won 5-2 but at last the names of the Tredegar team appeared: William Pemberthy, Charles H. Richards, E. Evans, J. Morgan, W. McGrath, A. Forster and Thomas Fleet.
William Pemberthy was born in Cornwall in 1861. He played in the BCF congress from 1908 to 1913 and again in 1920. He won a Class Three event and in his last appearance in Edinburgh he tied first in the Second-class, winning 7, drawing 2 and losing just one game. In 1926 he was regarded as favourite for the South Wales Championship but his play was not up to his usual standard. Pemberthy played many times on a high board for South Wales and was made a vice-president of the Association. He worked in the colliery as pump man and miner and died in 1940.
1912 the American Grandmaster, Frank Marshall, gave a display at Tredegar, winning 24 and losing only to a Mr. R Mackenzie. Pemberthy drew his game when Marshall gave another display in neighbouring Blaina.
A match was reported in the Western Mail in February 1914 between the Staunton Club, New Tredegar and Tredegar itself. The Staunton club won 5-2.
In 1919 the Cuban, Capablanca, played in Cardiff. E. Evans from Tredegar travelled to play against the future world champion but was unsuccessful.
November 1920 saw the formation of the Monmouthshire Chess League at a meeting in Brynmawr Institute. Representatives from Blaina, Tredegar, Brynmawr and Cwm attended and J. Morgan of Tredegar took the chair. The league was renamed a year later the 'Borders League' when clubs from North Glamorgan were included. The league was expanded to two Divisions and there was also an individual championship. Pemberthy is believed to have won the inaugural event and certainly won in 1922, beating J. E. Jones of Brynmawr in the final.
The club regularly played in the SWCA Challenge Cup and reached the final in 1921, beating Blaina and Newport on the way. In the final they lost to Cardiff. The team is unknown but when beating Newport their team was W. Pemberthy, E. Evans, J. Pemberthy, D. Jenkins, J. Morgan and D. Prescott.
In Feb. 1922 Boris Kostic visited the town but no results are known. On his visit to five other South Wales clubs during his tour there is no record of any loss.
The British Master F. D. Yates visited in 1923, winning 17 and drawing 1. On this tour Yates won 214 games, drew 12 and lost just one at an exhibition in Cardiff. He was billed as the world's quickest player at 15 seconds per move.
Thomas Fleet, a miner (1874-1943) captained the Tredegar team when they won the South Wales Challenge Cup in 1924. They beat Swansea 3.5-2.5 in the final which was played at Cardiff YMCA. For the two years prior to this their rivals, Blaina, had been the champions so this was a particular moment to enjoy.
Pemberthy 1 D. Jones 0
Bruce McPherson 0 Moy Evans 1
John Pembrey 1 Brown 0
Davidson 1 Stan Cole 0
David Prescott .5 W. Loxton .5
Thomas Fleet 0 M. Gwynne 1
The future Gwent number one player, Harry Pugh, features in a photograph of the club members taken that year but did not make the finals team. One member of the Cup winning team, S, Davidson, is absent from the photograph.
In the same year they were Borders League champions, a title they won again in 1927 and 1929.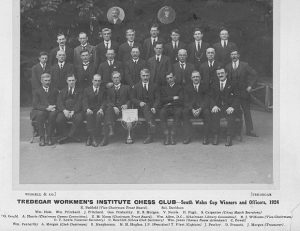 J. Bruce McPherson (1897-1974) was a teacher at Earl Street School and a councillor. He served in WW1 with South Wales Borderers. He was the last secretary of the Borders League 1929-30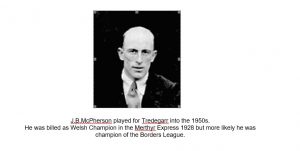 Yates came again in 1925 and won all ten games played. He had toured in 1924 but there is no record of him visiting Tredegar. He was not quite so successful on his 1925 tour, losing four games at the six clubs he visited.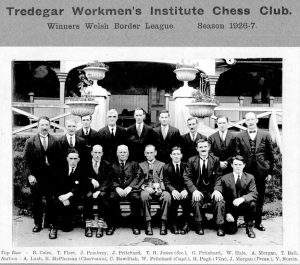 (Medal photos provided by Myra Pritchard)
The match in November 1927 between Tredegar and Blaina was noted as marking the fiftieth anniversary of their first encounter although the original match was in fact in 1875. Blaina had won that original match but Tredegar won the anniversary fixture 4.5-2.5.
For just a few years from 1934 the club had the availability of Ivan F. Grix. He had experience playing for the Broadstairs chess club in Kent. He came to South Wales having been appointed secretary of the Dowlais Gas & Coke Company. A few years later he moved to Cornwall and there played on one of the top boards for the county. He also became President of the Torbay Chess League.
Harry Pugh, a miner for much of his life, was Welsh through and through. He was born in 1900. He played for Tredegar from at last 1924 right through until the club collapsed.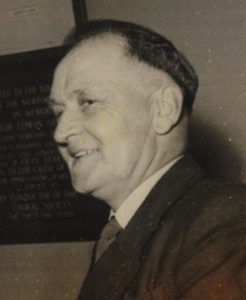 Harry Pugh
In the 1950s he worked in NORAL (Northern Aluminium) at Rogerstone and helped the NORAL team, led by Henry Golding, to win the Monmouthshire League from 1953 to 1955, and end as losing semi-finalists in the British Works' Team Championships of 1954. He retired in the early 60s. Co-incidentally, Senni Jones lived in the same street as Harry Pugh and was Welsh draughts' champion.
Harry had two sons, both of whom emigrated. The younger son, Eddie, went to Canada and the elder, John, to South Africa.
He was Match Captain for the county team from 1948 to 1953 though for the last two years he shared the duties with Arthur Griffiths of Blackwood. Harry dominated Gwent chess, winning the individual title 1937, 1938, 1946, 1949. 1952, 1953 and 1954 and it seemed that his only rival was Dr. Fine of Newport who won the title five times.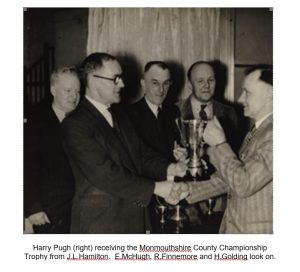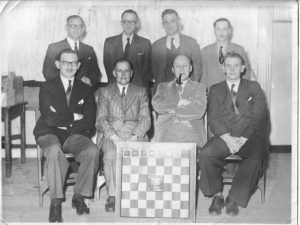 Noral Chess Team, winners of the Newport League 1953
Rear: J.L.Hamilton, A.G.White, F.R.Jackson, H.B.Davies
Front: R.G.Cable, H.Pugh, H.Golding, E.Osment
1935 saw the formation of the Monmouthshire County Chess Association with clubs from Newport, Blaina, Tredegar, Oakdale and Abercarn. After the war the only clubs surviving were Blackwood, Newport, Blaina and Tredegar. Tredegar remained members of the MCCA until 1953 though a Yearbook of 1955 described the club as 're-organising'.
McPherson (Board 2) and Pugh (Board 8) played for Monmouthshire in the county's first ever county match, played against Gloucestershire on 9th November 1935.
With their own league to compete in, the clubs of Gwent did not participate in the Challenge Cup between 1935 and 1954(and indeed, Tredegar did not take part after 1927). Full details of results in the Monmouthshire league are not available and so the only knowledge of the names of Tredegar players for this period is obtained from their participation in county matches. Thus, we have I. F. Grix (1935-7), D. Reardon (1937-1953), J. Morgan, W. Hale and T. Fleet (all 1937), W. J. Williams (1946-1954), G. H. Snow (1946), E. B. Morgan, B. Williams, W. A. Owen and R. Williams (also 1948) and Dr. T. R. Perkins (1951-2). The stalwart McPherson continued to play until 1951 whilst Harry Pugh stayed until the club closed.
Dr. Tom Perkins was one of the few Tredegar players who transferred their skills elsewhere, moving to the Pontypool club. He played in the Welsh Championships both over-the-board and at correspondence chess and in the postal match between Wales and Kazakhstan in 1964. He shared the Monmouth Individual Championship title in 1956 and again in 1962.
The final simultaneous display recorded at the club was in February 1946 when the veteran Jacques Mieses lost to D. Price of Blackwood, George H. Snow, Jenkins and Harris.
The last hurrah for the club was in 1949 when they tied with Newport, sharing the Monmouthshire County League title. By this time Harry Pugh was firmly established as the club's number one player but McPherson continued to play.
Both Pugh (Board 2) and McPherson (Board 3) were in the Monmouthshire team that beat Hertfordshire in the final of the Stevenson Cup county competition, played at St. Brides' Institute, London on 6th May 1950. Also from Tredegar in the team was Daniel Reardon (Board 8).
The only player from Tredegar to represent Wales in the (Under 18) Glorney Cup was Robert E. Wood. He played on bottom board in 1965 and lost both his games. It was quite an achievement for someone from outside the main chess centres in South Wales to even get selected so his final results do not do him full justice.